SINGAPORE: A heavy downpour snarled traffic across Singapore on Tuesday (Aug 24) morning and caused flooding in several areas – including inside a mall. 
A video circulating on WhatsApp showed water dripping from the ceilings and escalators in Bukit Timah Plaza, and shoppers walking in large puddles.
When CNA visited the mall at 12.30pm, most of the shop tenants on B1 were mopping their storefronts and using blower machines to dry the floor.
A security guard at the mall, located at 1 Jalan Anak Bukit, said that the flooding started at about 10.30am from the B1 exit.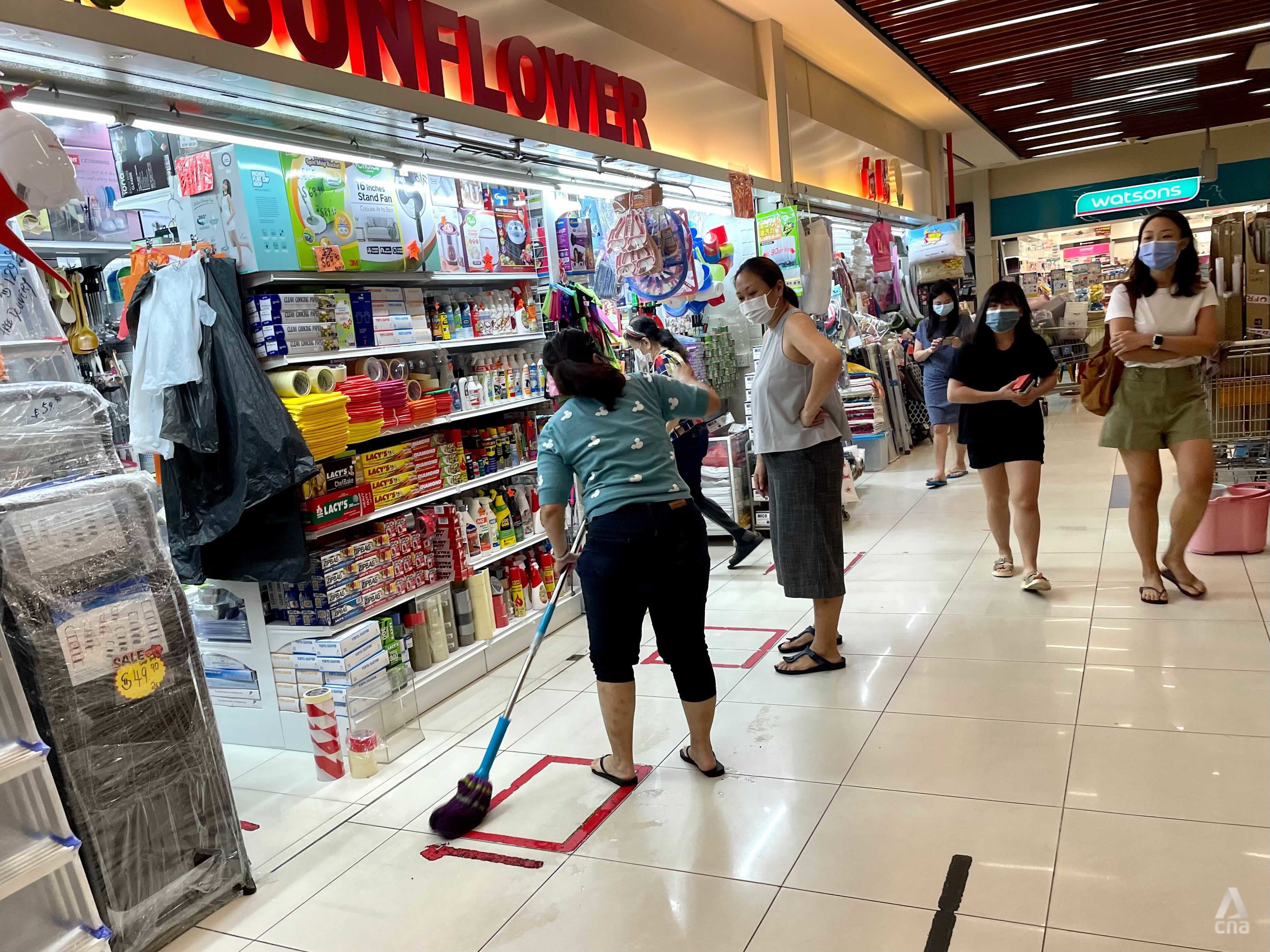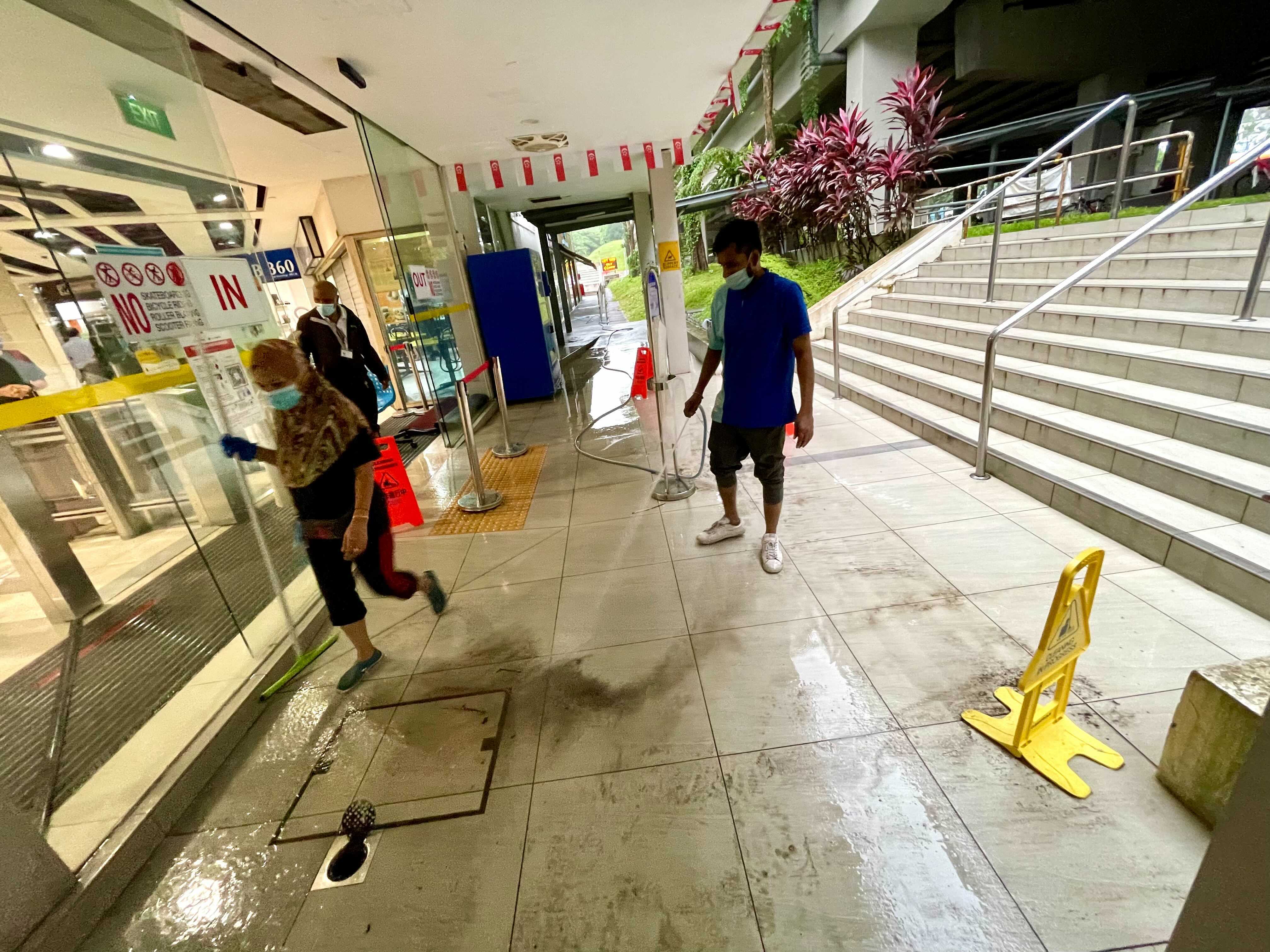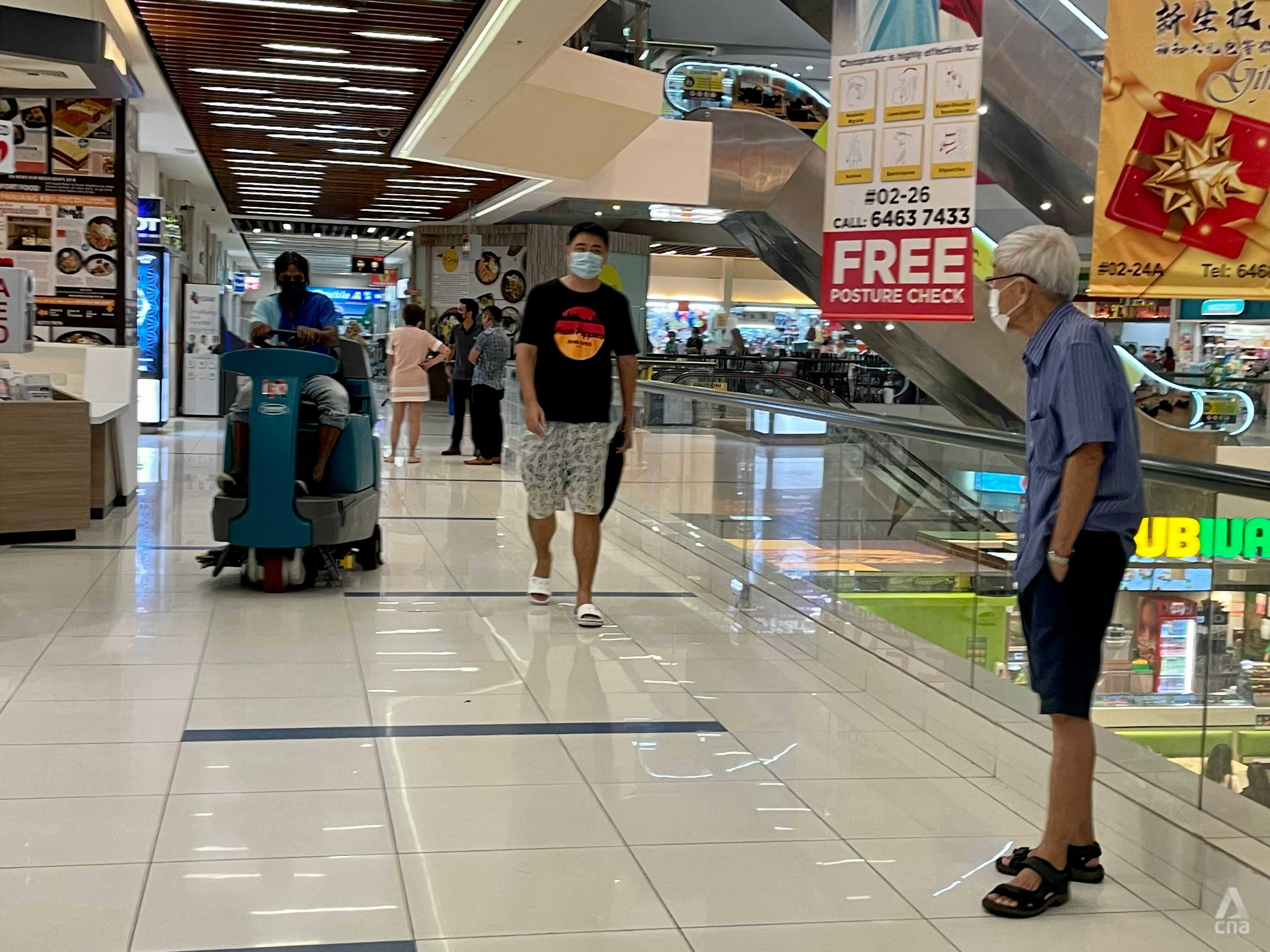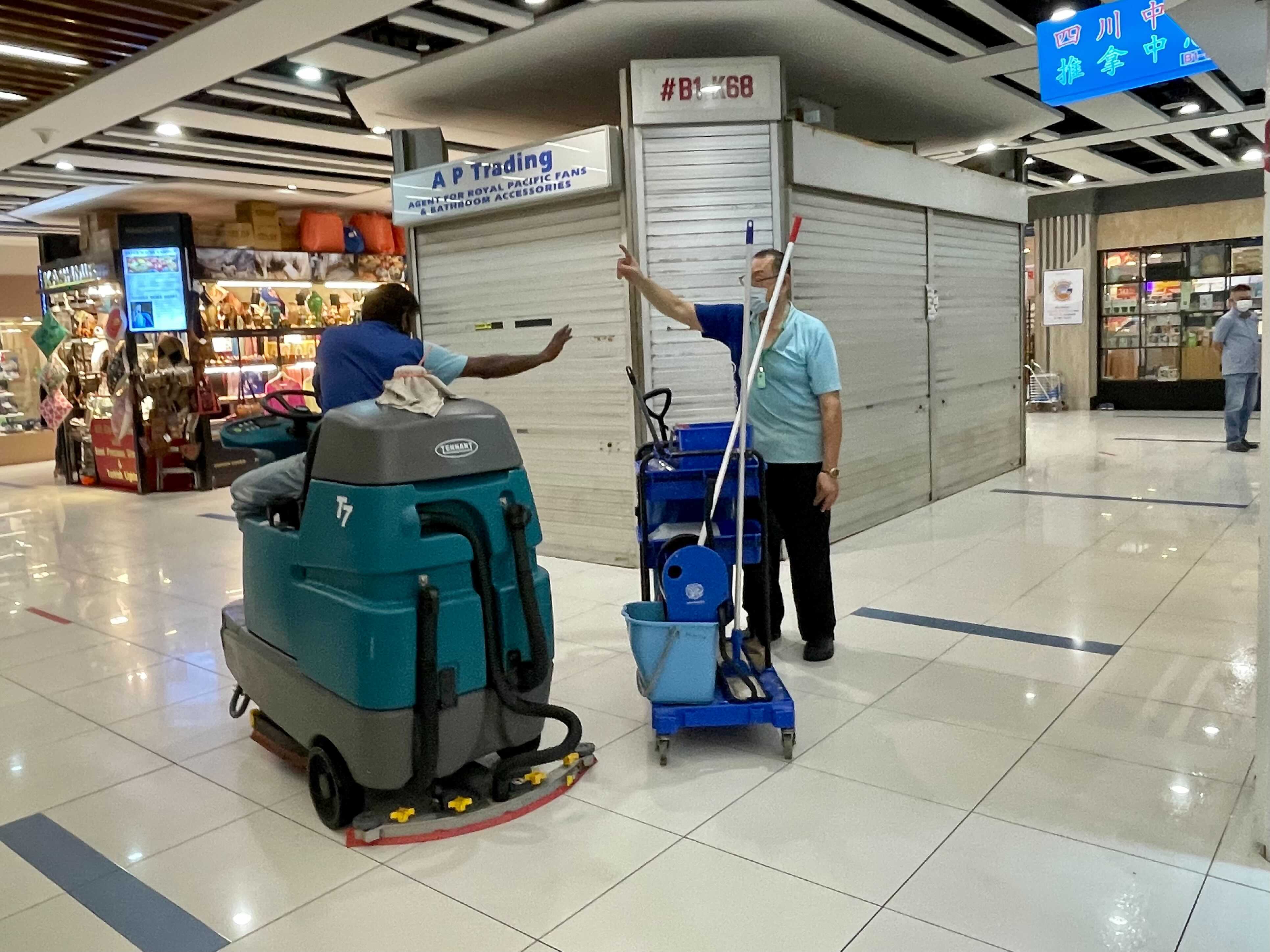 The water from the heavy rains had flowed into the mall from a pedestrian walkway nearby, rising to about 6 inches high, he said.
The flood began to subside at about 11.30am.
Ms Shallah, whose husband runs two stores in the mall selling Turkish lights, jewellery and homeware, said that by the time they arrived at 11.15am, there was water pooling outside their shop on B1.
The carpeted floors of their stores, and most of the items inside were soaked – including woven carpets they had laid out on the ground for sale.
The first thing they did was to unplug the lights to avoid any electric shocks, she told CNA.
"It was just such a shock. The entire carpet (floor) was wet," she said.
At their other shop on the same floor, which carries home furnishings like pillows and rugs, most of the items were also wet.
"I haven't assessed the full damage yet because my partner has gone to get a vacuum for carpets to ensure that I won't have serious collateral damage. I have a couple of carpets that are really wet," she said.
"It was a big shock and I don't even know how it happened. I would like the management to get back to us about what happened and what they are going to do to help us."
Mr Simon Seah, who runs clothing store Traces Collection on B1, said that when he arrived at about 12pm, he found that the water had swept items in his shop all over the floor. 
"When I got the call, I was already on the way here. I came in and saw all the water, I got a shock," he told CNA, adding that he requested a blower machine from the mall management. 
"All my apparel, all those inside the paper bags, sure wet. But those inside the plastic boxes on the floor should be okay," he added. 
The vinyl flooring at his shop will probably also need replacing, said Mr Seah. Water was still leaking from the floor cracks, he said.
A portion of the ceiling below the escalators between B1 and B2 in the mall also collapsed at about 10.30am, said Ms Wang, who works at Mun Mun Street Cafe next to the escalators on B2. 
"The water started dropping down, and there was a lot of water. Then suddenly the ceiling collapsed. We heard the sound, it was quite scary," she added. 
Nearby shop owners swept the debris into one spot, mopped the floor and left a dustbin there to collect the dripping water, said Ms Wang. 
As of 1.30pm, debris from the ceiling and puddles of water were still on the floor. Water was still dripping from above. The escalator was cordoned off and not in operation.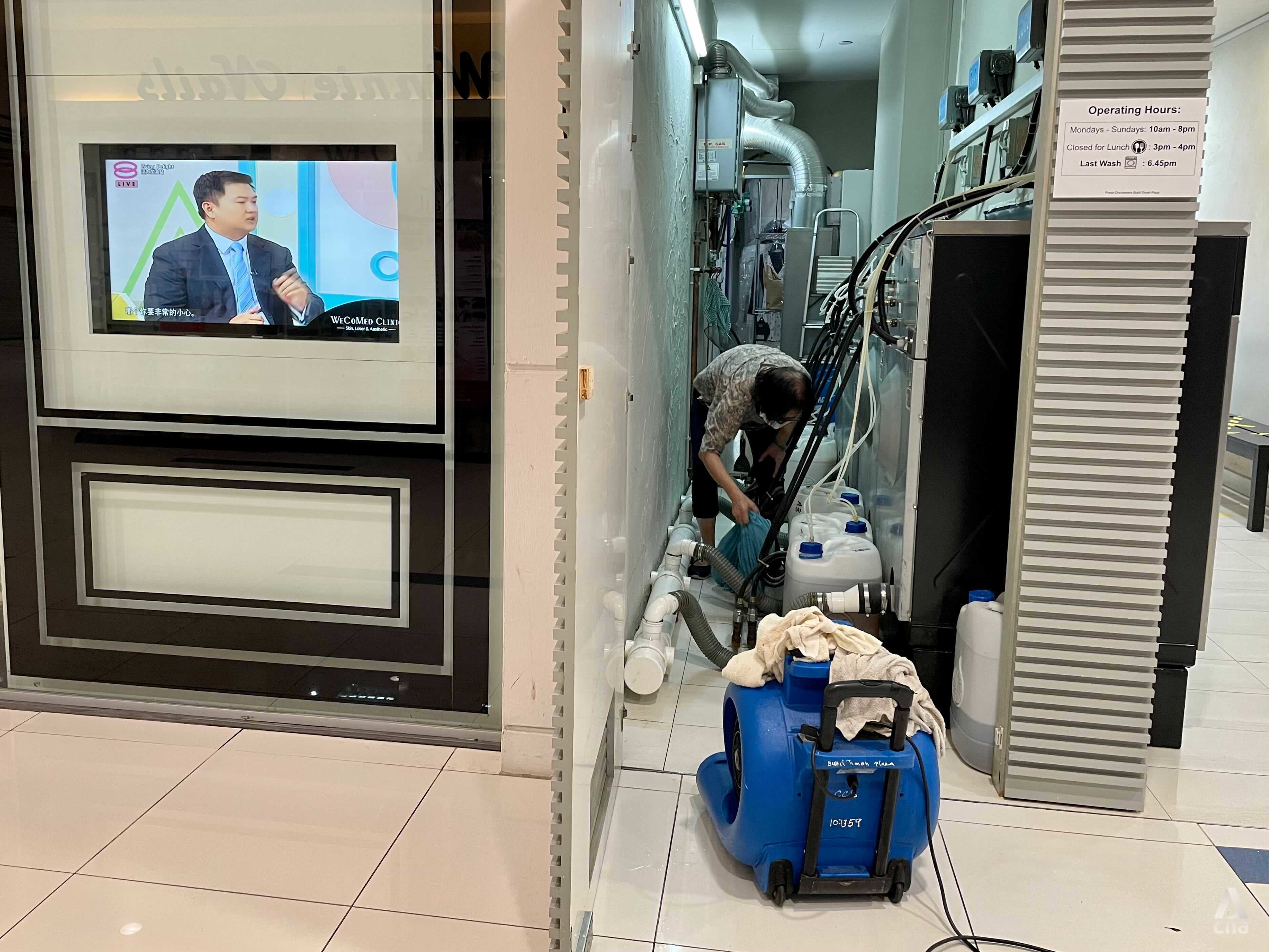 National water agency PUB said in a Facebook post that flash floods occurred at Dunearn Road from Sime Darby Centre to Binjai Park at 10.08am, before subsiding at around 10.50am. 
The agency also issued flood risk warnings at four locations where water levels in drains and canals reached 90 per cent – Upper Bukit Timah Road from Hazel Park Terrace to Chestnut Drive, Kranji Expressway at Woodlands Road exit, Sime Darby Centre and Sunset Drive/Sunset Way.
The heaviest rainfall recorded in western Singapore was 159.8mm at Bukit Panjang Road rainfall station from 7.50am to 10.40am. This corresponds to 109 per cent of Singapore's average monthly rainfall in August, and lies within the top 0.5 per cent per cent of maximum daily rainfall records since 1981, PUB said.