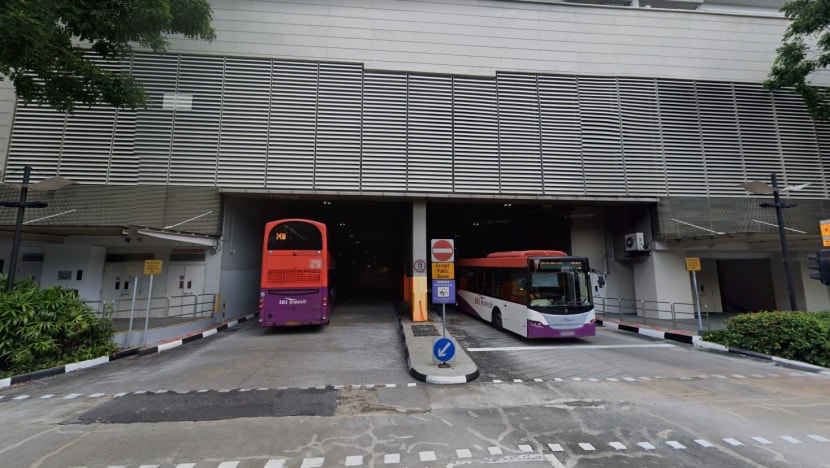 SINGAPORE: More than 100 bus drivers across eight interchanges in Singapore have tested positive for COVID-19 since the first two clusters were announced just over two weeks ago.
Tampines bus interchange is the latest cluster that was announced on Monday (Aug 30).
Before this, the Land Transport Authority (LTA) said earlier on Monday that 120 bus captains across seven interchanges had tested positive since Aug 14.
The recent clusters have prompted additional precautions for workers, and the LTA is working with public transport operators to minimise the impact on bus operations, the authority said in response to queries from CNA.
Singapore has about 9,500 bus captains, said LTA.
Sengkang and Bishan bus interchanges were first named as clusters on Aug 14, with Toa Payoh, Punggol, Clementi, Jurong East and Boon Lay bus interchange announced as clusters between Aug 26 and Aug 29.
Toa Payoh interchange is the largest of the eight clusters, with 70 cases linked to it as of Monday night.
LTA told CNA that more than 99 per cent of frontline public transport workers have completed their first dose of vaccination, with more than 95 per cent fully vaccinated.
With the exception of four bus captains, the bus captains who recently tested positive are fully vaccinated, with most asymptomatic or showing only mild symptoms.
"Once a cluster at a public transport node is detected, deep cleaning and disinfection is carried at the location as well as on all affected buses and common facilities. This is in addition to the stepped up cleaning regime that operators have put in place since last year," LTA's spokesperson said.
"We are working with public transport operators to minimise impact on bus operations."
The authority also said that operators are taking additional precautions for mask-off activities for workers in light of recent developments, including ensuring they take their meals and smoke breaks alone, even if they are fully vaccinated.
As of Monday, 229 COVID-19 cases have been linked to the eight bus interchange clusters, including bus captains, staff or their household contacts.
Here is a timeline of how the clusters unfolded:
AUG 14: FIRST TWO BUS INTERCHANGE CLUSTERS ANNOUNCED
Bishan and Sengkang bus interchanges were identified as clusters in MOH's daily COVID-19 update on Aug 14.
At the time, a total of nine infections were linked to Bishan bus interchange, and 13 to Sengkang.
AUG 15 - AUG 20: BISHAN AND SENGKANG BUS INTERCHANGE CLUSTERS GROW
The day after the Bishan and Sengkang bus interchange clusters were announced, the LTA said that all affected bus captains and staff members from the two locations were asymptomatic or only showed mild symptoms.
At the time, nine bus captains from Bishan interchange as well as five bus captains and two staff members from Sengkang interchange were infected, it said in a press release, adding that all 16 individuals were vaccinated and that most of the cases were picked up early through routine proactive antigen rapid tests (ART) by SBS Transit.
SBS Transit's senior vice president of corporate communications Tammy Tan also told CNA on Aug 15 that 97 per cent of bus captains at the company had been vaccinated.
Intensive cleaning and disinfection of both bus interchanges had been intensified, with strict safe management measures in place, said Ms Tan.
Between Aug 15 and Aug 20, both clusters continued to grow. On Aug 20, there were a total of 15 cases in the Bishan cluster, and 22 in the Sengkang cluster.
AUG 24: FOUR NEW CASES FOR BISHAN BUS INTERCHANGE
There were no more cases for either cluster until Aug 24, when MOH reported four new infections for the Bishan cluster, taking the total to 19 cases. There were no new cases for Sengkang bus interchange.
AUG 26: TOA PAYOH AND PUNGGOL BUS INTERCHANGE CLUSTERS
Toa Payoh and Punggol bus interchanges were announced as separate workplace clusters, with a total of 25 and 11 cases respectively.
"All staff of both interchanges will be tested for COVID-19, and all close contacts of the cases will be placed on quarantine," said MOH at the time.
Bishan bus interchange also added two more cases, bringing the total number of infections in the cluster to 21.
AUG 27: CLEMENTI BUS INTERCHANGE CLUSTER
MOH identified Clementi interchange as the fifth bus interchange cluster with a total of seven cases.
The Toa Payoh, Punggol and Bishan bus interchange clusters continue to swell, with five, four and three new cases respectively.
LTA updated on Aug 27 that 34 bus captains had tested positive for COVID-19 at the Toa Payoh and Punggol bus interchanges, with all but one of the captains being fully vaccinated.
Most of them were "asymptomatic or showing only mild symptoms".
Most of the cases were detected through proactive antigen rapid test (ART) by the public transport operators - Go Ahead Singapore at Punggol and SBS Transit at Toa Payoh, added the spokesperson.
AUG 28: JURONG EAST BUS INTERCHANGE
Staff at the Jurong East bus interchange formed the sixth cluster, with a total of 14 cases.
According to LTA, all cases were bus captains. They were fully vaccinated and were asymptomatic or had only mild symptoms.
Tower Transit, which operates Jurong East bus interchange, said that all other interchange staff members had taken a polymerase chain reaction (PCR) test and would continue to take an ART every seven days.
It had conducted deep cleaning and disinfection of the interchange and buses, and stepped up the frequency of disinfection for high-touch points and toilets.
"Further measures include a suspension on dining-in at the interchange canteen except for interchange staff who may dine in individually," said Tower Transit.
The Clementi, Toa Payoh, Punggol and Sengkang bus interchange clusters also detected more cases, with one, three, four and one new infection respectively.
SBS Transit's Ms Tan said on Aug 28 that half of the 25 bus captains at Toa Payoh interchange who had tested positive for COVID-19 were housemates.
AUG 29: BOON LAY BUS INTERCHANGE
Boon Lay bus interchange became the seventh such workplace cluster, with a total of 15 infections.
Seventeen new cases were added to the Toa Payoh interchange cluster, bringing the total to 51. 
There were six new cases for the Clementi bus interchange cluster, adding up to 14 cases in total, three and four new cases were added to the Punggol and Jurong East cluster respectively, taking the total to 25 and 21 cases.
AUG 30: TAMPINES BUS INTERCHANGE
Tampines bus interchange was named as a new COVID-19 cluster, with 11 infections. 
Toa Payoh interchange remained the largest cluster, with 18 new cases reported on Monday, bringing the total number of infections linked to it to 70.