SINGAPORE: The Public Transport Council (PTC) has announced the first fare hike for buses and trains in two years. 
After deciding against increasing fares in last year's fare review exercise due to the COVID-19 pandemic, the PTC opted in this year's review to grant the maximum allowable increase of 2.2 per cent.
To find out what this means for you, read on to keep up with the fare changes.
ADULT COMMUTERS
When the increase kicks in on Dec 26, adult commuters paying by card will pay 3 cents more for journeys of up to 14.2km, and an additional 4 cents for journeys longer than 14.2km.
This means a trip between the Sengkang and Raffles Place stations, which is about 14.2km, will cost S$1.67 for adult commuters using travel cards, up from S$1.64 currently. 
Meanwhile a trip from Boon Lay to Pasir Ris on the East-West Line will increase from S$2.13 currently to S$2.17 in the future. 
Feeder services will also increase by 3 cents.
STUDENTS, SENIOR CITIZENS AND PERSONS WITH DISABILITIES
Students and senior citizens fall under the group of people under concessionary fares, along with those with disabilities and lower-wage workers. 
Card fares will rise for this group as well, but will be capped at a 1 cent increase, on a per journey basis.
"Around 2 million commuters, or more than half of all Singaporeans, will continue to enjoy subsidised fares of up to 70 per cent off adult fares," said the PTC. 
Low-wage workers will continue to enjoy discounts of up to 25 per cent off adult fares, said the Transport Ministry in a release. 
Fares for commuters with disabilities will continue to be pegged to that of seniors, or up to 55 per cent off adult fares.
CASH FARES, MONTHLY CONCESSION OR TRAVEL PASS USERS
Prices for monthly concession and travel passes will remain unchanged.
A hybrid monthly concession pass for primary school students currently costs S$43.50, while that for secondary and polytechnic students is S$54, and S$90.50 for university students and Full-time National Serviceman. Senior citizens pay S$64.
Monthly travel passes for adults cost S$128.
Those who use cash to pay for their bus fares or purchase single trip tickets for train journeys will also enjoy unchanged fares.
Currently, bus fares (trunk services) and single trip MRT and LRT tickets for adults start at S$1.70 for shorter journeys of up to 3.2km, rising to S$2.80 for longer journeys.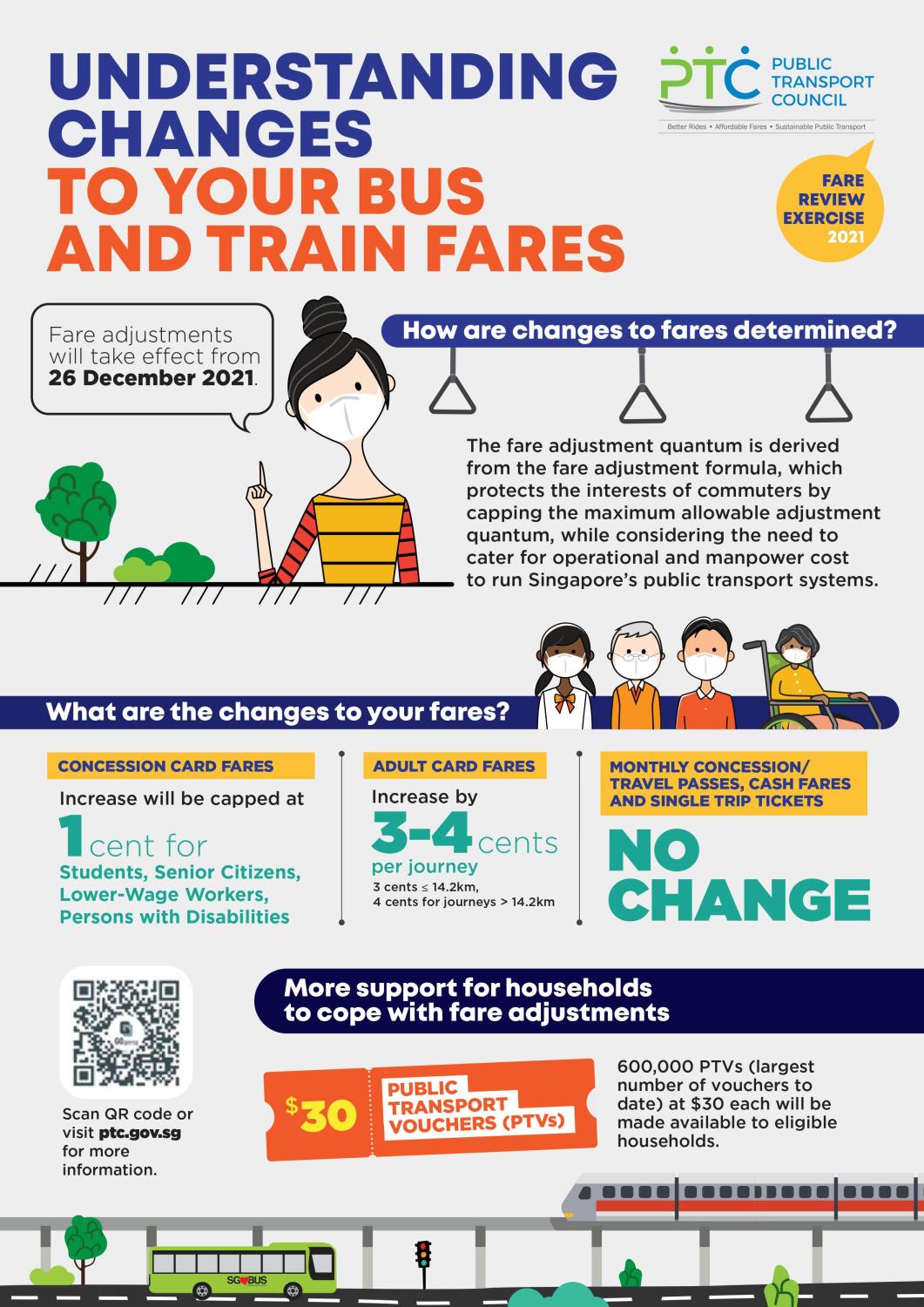 MORE PUBLIC TRANSPORT VOUCHERS TO HELP HOUSEHOLDS IN NEED
The PTC on Wednesday also announced that the Government will provide a total of 600,000 Public Transport Vouchers - the largest number of such vouchers available to date to help cushion the impact of the fare adjustment for eligible households. 
The vouchers are valued at S$30 and can be used to top up fare cards or buy monthly concession passes. 
This year's Public Transport Vouchers exercise will cover resident households with monthly household income per person of not more than S$1,600, compared with S$1,200 in the 2019 distribution.
In a joint press release, the Transport Ministry and People's Association said that this is "in view of the exceptional impact COVID-19 has had on many households".
Taking safe management measures into account, the vouchers will be disbursed in two stages.
In the first stage, households that received the vouchers in 2019 will automatically receive a notification letter through the mail, without having to apply. This will be done by end-December.
In the second stage, which will start from early 2022, households that meet the higher income criteria but did not receive a voucher in the first stage can apply for them online. 
In the final stage, those who prefer to apply in person or require additional help can apply at their local community centre.
All vouchers must be redeemed by Mar 31, 2023.
WHY ARE FARES BEING INCREASED?
Public transport ridership has fallen "drastically" since the onset of the COVID-19 pandemic, leading to lower fare revenue, said the PTC.
Despite that, trains and buses have continued operating largely at pre-COVID-19 operating hours and frequencies, in order to cause minimal inconvenience to commuters, said PTC.
Adding to that, public transport operators have also seen costs go up "significantly", because of measures taken during the pandemic to keep commuters safe. These include cleaning and disinfecting regimes and deploying service ambassadors to promote good public safety practices, the council added.
"In 2020, both rail operators would have incurred significant losses if not for the broad-based Government support," PTC said.
The PTC said it decided to grant the fare increase to help public transport operators "mitigate the costs of running public transport services".
It added that these operators have also faced rising cost pressures amid Singapore's economic recovery, noting that energy prices in particular had risen by more than 30 per cent in the first half of 2021.