SINGAPORE: It's supper time at Changi Village Hawker Centre on the last night before the food centre is closed three months for renovation.
A table of middle-aged men are drinking beer and singing along to The ETC as they belt out oldies, many on request by this group of tipsy fans. 
The men ask for English songs like Beautiful Sunday, as well as songs in Hokkien and Cantonese. It's not long before they get up and start dancing, faces red, eyes bleary – clearly enjoying their last hurrah before they have to find somewhere else to hang out on weekend nights.
Buskers are now a common sight again in Orchard and central areas – for instance, the crowds that gathered outside The Cathay for busker Jeff Ng. But they have also made their comeback in heartland areas.
The ETC, a twosome comprising Tristan Ong and Joey Wee, are a fixture at AMK Hub but came to Changi Village to bid farewell to the hawker centre. Their performance was well-received by the regulars who were sad that the hawker centre will be closed for a while.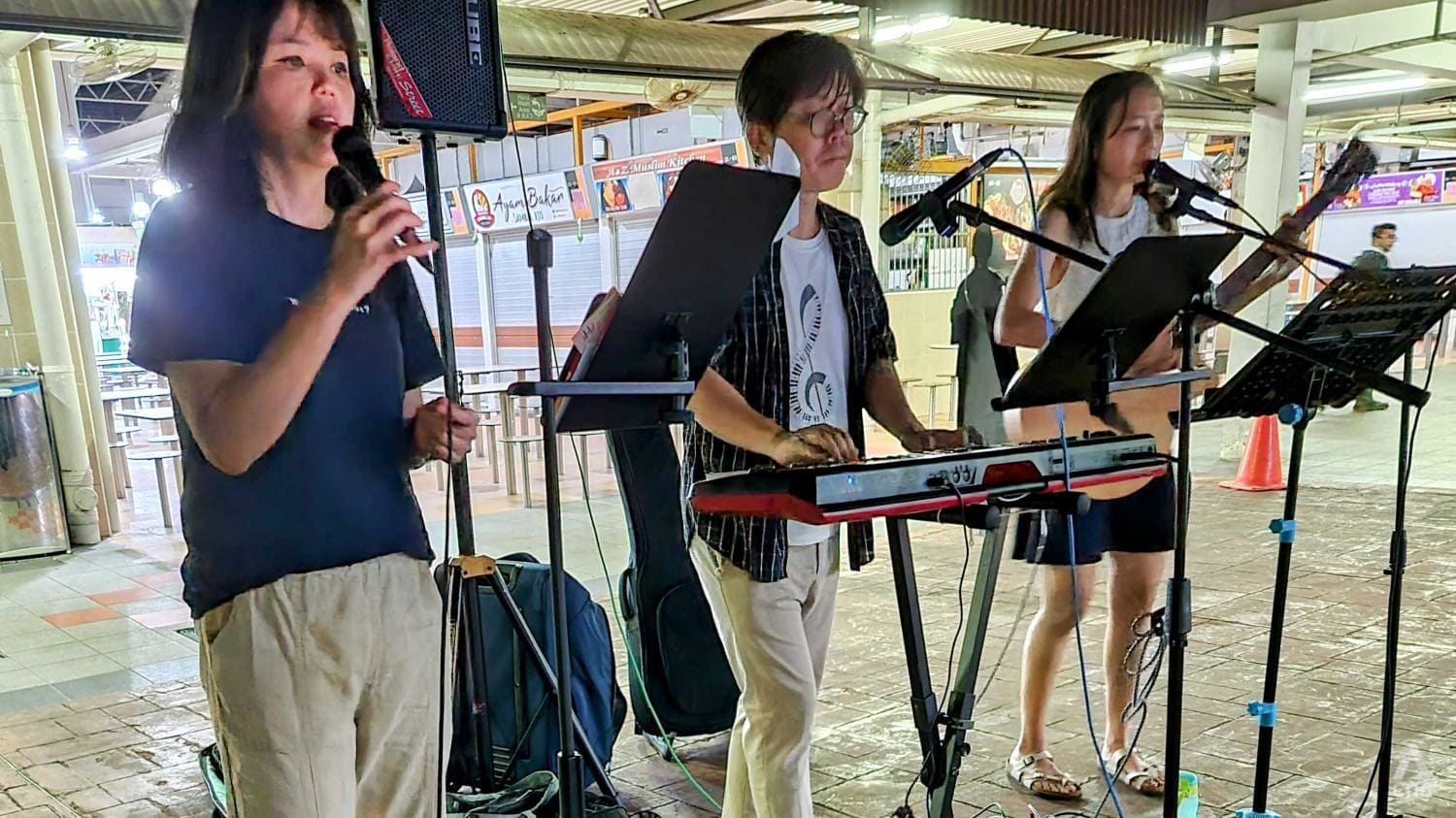 Mr Ong, 46, said that he has tried performing in Orchard but prefers the "heartland vibe".
He admitted that when he first started his music career, he did not think of busking professionally, and he thought only tissue sellers sang at MRT stations.
"Eventually, slowly, we realised that our songs and maybe our vibe is more suitable for the heartlands," he said.
People in the heartlands tend to show more appreciation and stopped more often to listen,  he said, while people in central areas are often in a hurry.
Post-pandemic, buskers have more choices where to perform as the National Arts Council (NAC) has launched a booking portal for buskers. While this was piloted during the COVID-19 pandemic, it has now come fully online with the resumption of busking activities.
Before, each busker got five locations that they can busk at, and there wasn't a way to book. There was always a possibility that someone else would get there before they did.
Busker Norman Mohd Yusof, who has been busking for 10 years, has had this experience. He went to check the venue and it was available, but after he parked his car and went to get his instrument, someone came and started busking in the spot in the five to 10 minutes that he was gone.
"With this (e-booking) system, that should not happen," he said. "To me, it's very fair because it allows you to be sure before you go to the location, unlike before."
With the new booking system, he and his partner Rahmat Daros can be sure they have a slot when they book one online.
The regulars at Woodlands and Admiralty, who busk under the moniker Norm and Matt, also said that they prefer heartland audiences who will sit and listen, rather than rush by.
For example, they like busking at a restaurant at Woodlands Waterfront where they will sing birthday songs for anyone celebrating their birthday there. On Aug 9, when they sing National Day songs, people sing along, said the 57-year-old.
"The ambience is nice as it's near the sea … and if you look behind, it's actually Johor Bahru … the scenery is nice, so we come in, bring in the music, so I think they enjoy it," he said.
"They tend to sit longer than usual, have their beer and food … it's almost like we're a resident band there."
With the new booking system, they also want to try other areas that they've not busked at before.
However, it does not mean they will always get the places they want as some popular spots are quickly snapped up. For busking spots that are hot property, there is a balloting system. This includes spots along Orchard Road, at Paya Lebar Square and in Ang Mo Kio.
GREATER VARIETY OF ACTS
There are about 300 buskers registered with the NAC, and they need to audition to get a busking licence. In the past, the five locations each busker was allotted would be printed on their busking cards.
With the e-booking service, they can choose from more than 70 locations across Singapore.
"There's more surety of their locations and their busking slots," said Ms Koh Jau Chern, assistant director for access and participation at NAC.
In the past, without a booking system, some buskers hog a location for the entire day, she added. 
The change came after feedback from buskers about their challenges, Ms Koh said. The new booking platform helps buskers, who are already subject to the whims of the weather, plan ahead.
Since the new system was launched, there has been a greater variety of acts at popular, high-traffic locations, according to the NAC. For example, 25 buskers performed at AMK Hub in August, with just about 7 per cent of the slots not used.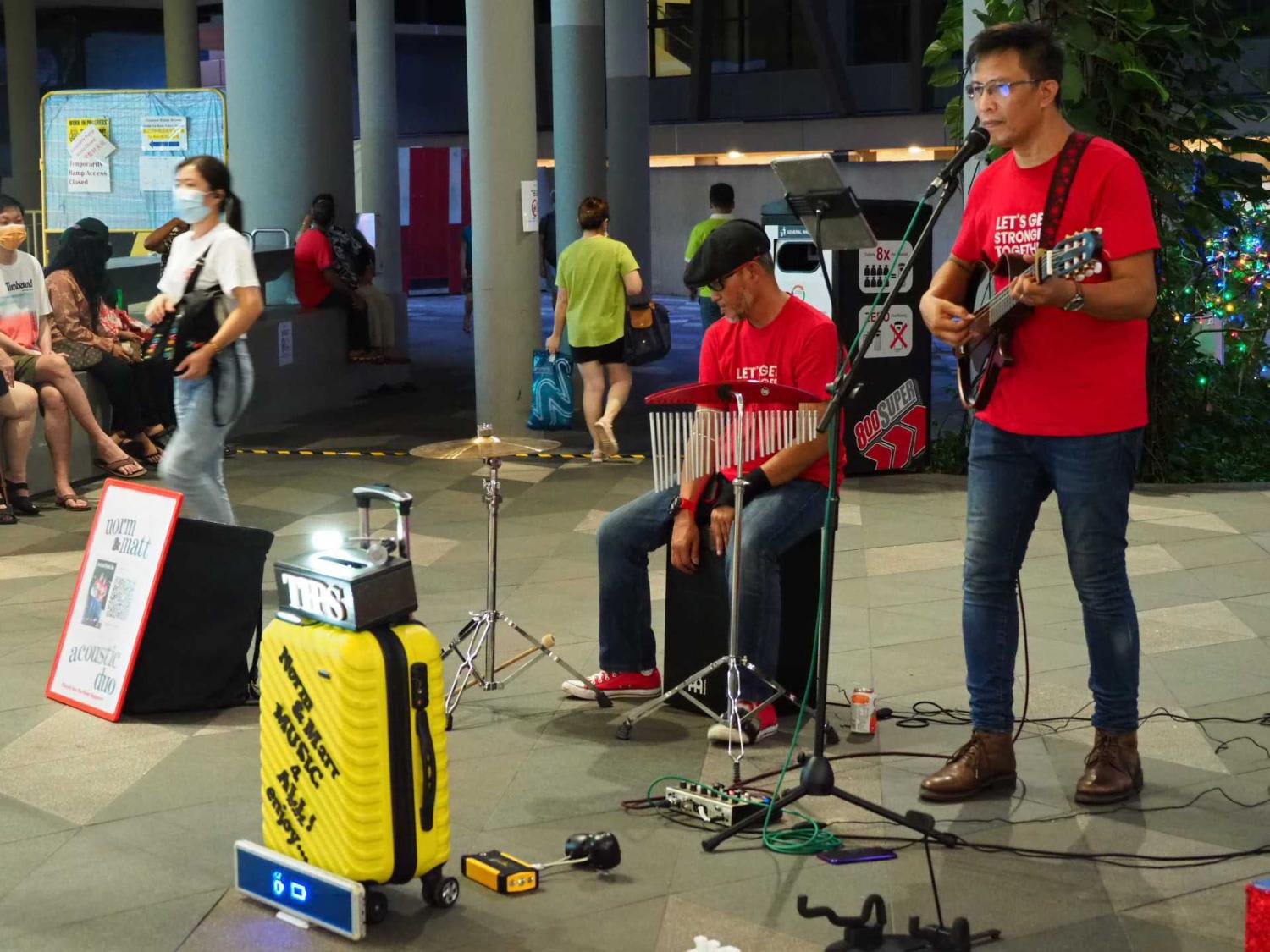 At a night out at Kampung Admiralty, buskers Norm and Matt serenade residents with English and Malay ballads. Some walk past with barely a glance, others stay for a while to enjoy the music.
Ms Ramlah Awang, who is sitting at the town square with her husband, stops to listen. She says buskers make the area more lively and she's glad they're there.
She thinks it would be nice if there can be a schedule of what and when the performances are, as she only finds out that there's something on if she passes by or hears about it from her sister.
"I will come down, and I can take a photo (of the schedule) and text my friends so more will come," she said.