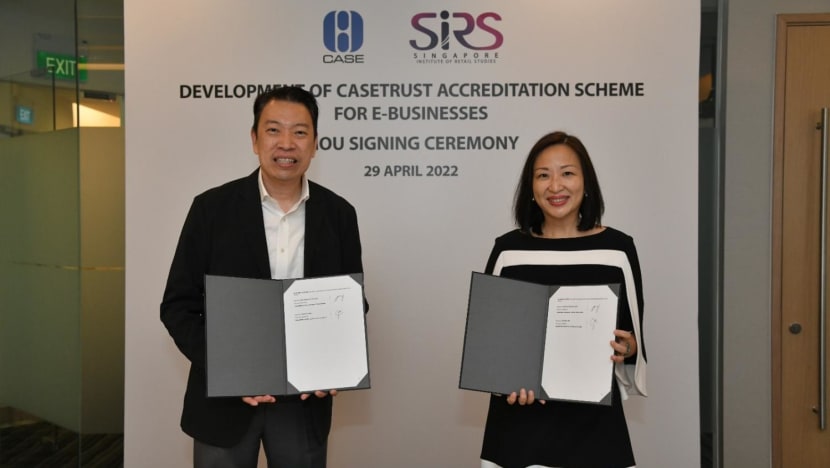 SINGAPORE: The Consumers Association of Singapore (CASE) and Nanyang Polytechnic's Singapore Institute of Retail Studies (NYP-SIRS) signed a memorandum of understanding (MOU) on Friday (Apr 29) for the development of a new CaseTrust accreditation scheme for online businesses.
The scheme, which will be launched in the second half of this year, will help customers to easily identify reliable online merchants, CASE and NYP-SIRS said in a joint press release.
It will cover the "entire range of e-commerce practices from pre-sale to post-sale, and address common consumer pain points when shopping online".
"The accreditation will also serve as an industry benchmark for e-businesses in Singapore which are committed to fair and transparent business practices," they said.
"E-businesses which are CaseTrust accredited will be able to provide greater assurance to consumers, and stand out from their peers in the crowded e-commerce space."
Singapore has seen an increase in online shopping since the start of the COVID-19 pandemic, CASE and NYP-SIRS said.
They added that Singapore's e-commerce market is projected to grow at a compound annual growth rate of 16.2 per cent to be worth around S$14.2 billlion in 2025.
"As the volume of e-commerce transactions grows, CASE has observed a general increase in the proportion of complaints related to e-commerce transactions from 4 per cent in 2017 to 14 per cent in 2021," they said in the press release.
Most of the complaints received by CASE in 2021 involved defective or non-conforming goods, delivery issues, missing products and misleading or false claims made by businesses.
Both parties will jointly develop the scheme for e-businesses and its corresponding evaluation framework.
It will include CaseTrust requirements such as ethical advertising, price transparency, good sales and after-sales service, as well as business integrity.
Also incorporated will be relevant guidelines from CASE's standard despute management framework for e-marketplaces and relevant guidelines from the national standard for e-commerce transactions.
Retailers who pass this evaluation framework will receive the CaseTrust mark.
As part of the MOU, NYP-SIRS will also assist to develop a one-day workshop to give e-businesses an overview of what the accreditation scheme entails and the corresponding assessment criteria.
It will also curate one-on-one mentorship programmes for e-businesses to "help them identify and address gaps in the consumer experience they are offering online, before guiding them through the accreditation application process".
These will be made available to the public in the third quarter of 2022.
Reiterating the need for an accreditation programme, CASE president Melvin Yong said more businesses have set up retail websites or online shops to "cater to the growing number of consumers shopping online".
"Unfortunately, the low barriers of entry, coupled with the lack of minimum service standards, have led to an increasing number of complaints against e-businesses," he said.
"Currently, there is a lack of a comprehensive accreditation scheme that encourages and guides e-businesses to adopt fair-trading practices and safeguards the interests of online shoppers."
He added that the new accreditation scheme aims to "put in place a framework whereby consumers will be able to recognise e-businesses that have adopted the requisite e-commerce standards and consumer-friendly practices".
NYP principal and chief executive officer Jeanne Liew added that the school's partnership with CASE will "help e-businesses identify and address the gaps in their business practices to become more consumer-friendly".