There were 46,196 reported cases in 2021, about 24 per cent higher than in 2020
Scam cases surged by 53 per cent to hit 23,931 – making up about half of all cases
Physical crimes declined, with some crime classes hitting a 37-year low
A discerning public is the best defence against scams, a large majority of which originate from overseas, said the police
SINGAPORE: Crime levels in Singapore rose in 2021 with reported cases up nearly 24 per cent from the year before, fuelled by a large spike in scam cases, said the police on Wednesday (Feb 16).
Of the 46,196 reported cases in 2021, more than half – or 23,931 cases – involved scams, increasing from the year before when scams made up about 40 per cent of all cases.
These figures from 2021 also marked a 53 per cent surge from 15,651 scam cases the year before.
"Scammers have been constantly evolving their tactics and taking advantage of the COVID-19 situation to prey on the public's increase in online activities, and also their heightened sense of vulnerability and uncertainty," said the police.
As a result, Singapore's overall crime rates also rose to 847 cases per 100,000 people in 2021, up from 656 cases per 100,000 people in 2020.
JOB SCAMS MOST COMMON
Job scams were the most common scam type with 4,554 reported cases last year, skyrocketing from only 132 reported cases in 2020.
The amounts cheated soared to at least S$91 million in 2021, up from at least S$217,000 the year before.
Police noted four main variants of job scams, with one example requiring victims to download fake mobile applications to grab the job and then top up funds into their account.
After being promised commission for completing tasks, their account would also reflect some sums, but victims would then be unable to withdraw the money.
Alongside job scams, non-banking related phishing scams, e-commerce scams, investment scams, loan scams and banking related phishing scams also "remain of particular concern", said the police.
The total number of reported cases for these top six scam types nearly doubled compared to 2020.Overall, the total amount cheated for the top ten scam types rose to S$504.4 million last year, from S$175.2 million the year before.
Top ten scam types in Singapore in 2021

|   | Cases reported |   |
| --- | --- | --- |
|   | 2021 | Change from 2020 |
| Job Scams | 4,554 | + 4,422 |
| Non-banking related phishing scams | 2,783 | + 2,139 |
| E-commerce scams | 2,707 | - 652 |
| Investment scams | 2,476 | + 1,380 |
| Loan scams | 2,274 | + 296 |
| Banking related phishing scams | 2,237 | + 897 |
| Social media impersonation scams | 1,614 | - 1,305 |
| Internet love scams | 1,099 | + 276 |
| China officials impersonation scams | 752 | + 310 |
| Fake friend call scams | 685 | + 685 |
NON-BANKING RELATED PHISHING SCAMS, E-COMMERCE SCAMS
Non-banking related phishing scams increased more than four-fold to 2,783 cases in 2021. Victims were cheated of at least S$15.3 million in 2021, a jump from at least S$984,000 in 2020.
In most of these cases, culprits got victims to hand over their banking credentials, card details or one-time passwords (OTPs) using reasons such as checks on a parcel's delivery status or a refund for unauthorised transactions, said the police.
As for e-commerce scams, the number of reported cases fell by about 20 per cent to 2,707 cases in 2021, with the amount cheated also decreasing to at least S$5.8 million.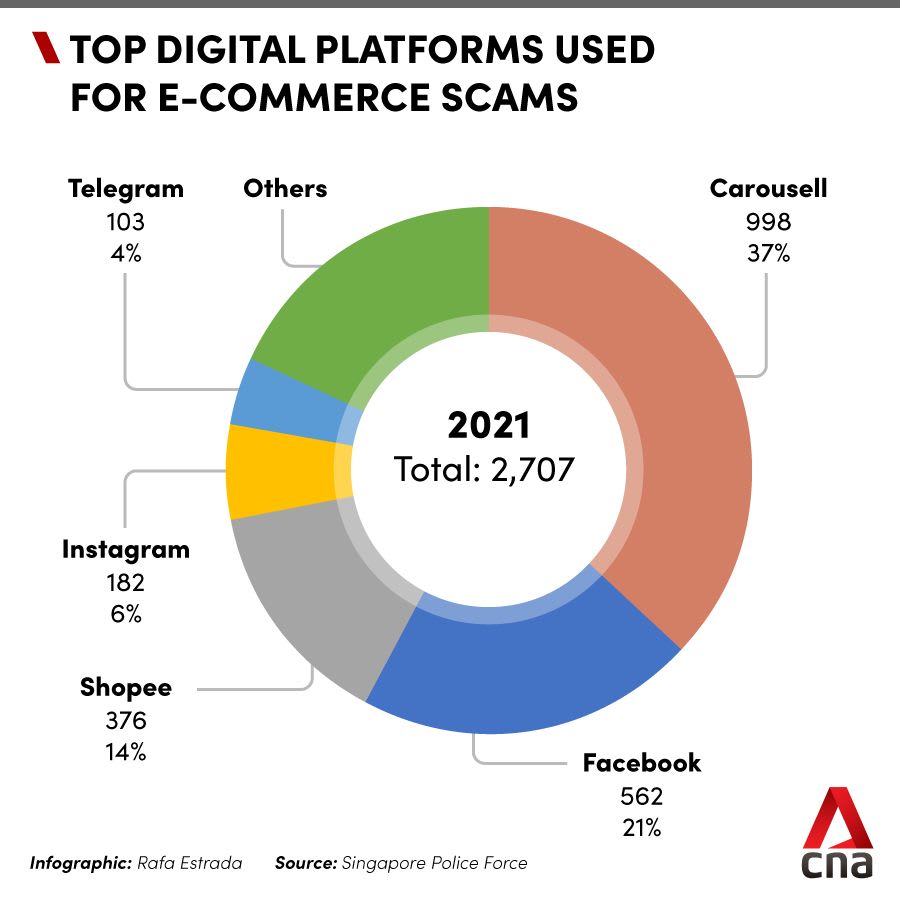 INVESTMENT, LOAN, BANKING RELATED PHISHING SCAMS
In terms of amounts cheated, investment scams were the costliest in 2021, with victims losing S$190.9 million.
The number of investment scams also more than doubled in 2021 to 2,476 scams, up from 1,096 cases in 2020.
As for loan scams, cases increased by 15 per cent to 2,274 cases in 2021, while amount cheated rose to at least S$18.3 million.
For banking related phishing scams, cases swelled by about 67 per cent to 2,237 in 2021, while the amount lost tripled to at least S$19.4 million.
CYBER EXTORTION CASES "A CONCERN"
Cyber extortion cases, where perpetrators typically coax victims into performing compromising acts in front of a camera and then extort them for money or credits, also increased.
There were 420 such cases in 2021, up from 245 the year before. Victims lost at least S$1.3 million.
The most common social media platforms where these cases took place were Facebook, Instagram and Tinder.
DECREASE IN PHYSICAL CRIME
But 2021 saw a decline in physical crimes, said the police.
In particular, two types of crime classes fell to a 37-year-low. Housebreaking and related crimes fell by about 24 per cent to 160 cases, while theft and related crimes declined by 8 per cent to 6,843 cases.
Police said this was largely due to "continuous crime prevention efforts, police presence on the ground and the use of technology to deter crime".
RISE IN VOYEURISM CASES
There were 467 voyeurism cases in 2021, nearly 20 per cent more than the 394 cases in 2020.
Police noted there were fewer recorded cases in 2020 "likely because of the lower ridership on public transport, lower footfall at shopping malls, and the closure of public entertainment outlets during the Circuit Breaker".
About two-thirds of all voyeurism cases happened in residential premises (179 reported cases), within the public transport system (79 reported cases) and in shopping complexes (57 reported cases) in 2021.
MORE CASES INVOLVING OUTRAGE OF MODESTY
As for cases involving an outrage of modesty, figures rose 12 per cent to hit 1,480 in 2021. Police said this increase was partly due to fewer cases having been recorded in 2020 due to the Circuit Breaker period.
Overall, outrage of modesty cases accounted for more than 42 per cent of all sexual crime cases reported in 2021, they added.
The police also noted that the number of these cases taking place within the public transport system "remains a concern". In 2021, there were 148 such cases in this setting involving culprits unknown to the victim.
EFFORTS TO FIGHT SCAMS
With scams significantly contributing to overall crime in 2021, the police said they have stepped up enforcement against these operations.
"In 2021, the police conducted 26 islandwide anti-scam enforcement operations, leading to the investigation of more than 7,500 money mules and scammers," they said.
In addition, the police's Anti-Scam Centre received more than 23,800 reports with losses amounting to S$520 million in 2021. But it recovered more than S$102 million and froze more than 12,600 bank accounts.
Using technology, the centre was also able to detect and alert potential victims before they fell prey to the scam, resulting in more than 6,900 "successful interventions" between May and December last year.
Going beyond Singapore's borders, the police said they worked with foreign counterparts such as Interpol and the Hong Kong Police Force to conduct joint operations against transnational scams.
In doing so, the police said they took down 16 scam syndicates in 2021 - comprising "nine job scam syndicates, four China/Government Officials impersonation scam syndicates and three internet love scam syndicates". This led to the arrest of more than 230 people who were responsible for more than 1,350 cases.
NEW E-COMMERCE TRANSACTION SAFETY RATINGS
As e-commerce scams are still one of the top scam types, the Inter-Ministry Committee on Scams will introduce E-commerce Marketplace Transaction Safety Ratings later this year.
"They will provide an indication of the extent to which different e-commerce marketplaces have in place anti-scam measures that the Ministry of Home Affairs (MHA) assesses to be most critical in combating e-commerce scams," said the police.
This will allow consumers to decide which marketplace to use, based on the availability of safety features, added the police.
PUBLIC VIGILANCE ESSENTIAL IN FIGHTING SCAMS
The police noted that at least 90 per cent of scams in Singapore originate from overseas, and these scammers "are syndicated, well-resourced and technologically sophisticated".
"Such cases are difficult to investigate and prosecute, as our efforts will be dependent on the level of cooperation from overseas law enforcement agencies, and their ability to track down the scammers operating in their jurisdiction.
"Where monies have already been moved outside Singapore, recovery is very difficult."
Given the rate at which new scam types are emerging, a discerning and well-informed public is the best defence, said the police.
They added they continue to work with the National Crime Prevention Council and other stakeholders on public education, focusing their efforts online – where most scams are taking place.