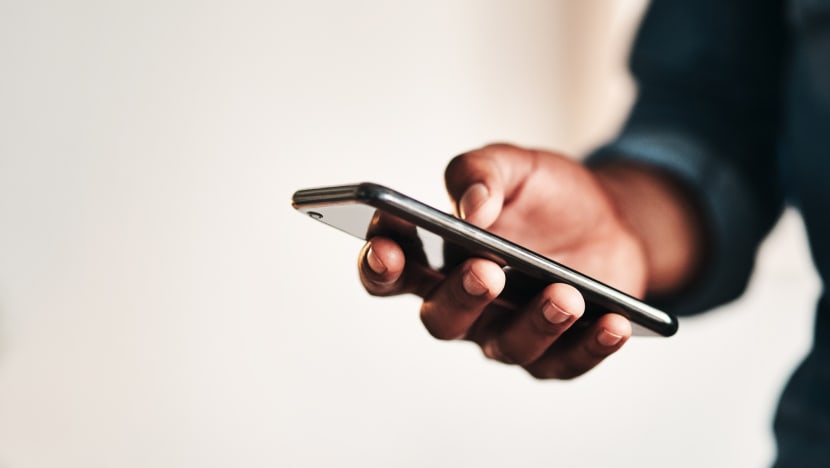 SINGAPORE: Chris was sceptical at first when he received a WhatsApp message about an easy part-time job that could earn him a few hundred dollars a day.
But the 23-year-old, who did not want to use his real name, thought that he was tech savvy enough not to be phished or tricked by scammers, so he decided to find out more.
He now regrets that spur-of-the-moment decision, after losing more than S$300,000 of his and his mother's savings over just five days in November last year.
On Nov 18, Chris was offered a job "buying" goods online in order to boost the sales and ratings of e-commerce merchants. 
The scammer, who called herself Dorris, added him to a WhatsApp group with 10 other people who Chris now thinks are scammers like her, or other victims. But at the time, he thought they were people who wanted to make some money on the side, like him.
"They will keep on prompting the group, saying: 'Is this a scam?'" he said. "So I thought, they're also just like me … they actually sent photos of their daily lives."
Besides sharing tips about the part-time job, the group members also sent food photos, bantered and joked in the chat shown to CNA.
Chris said that he Googled the company and it seemed like a legitimate firm with a professional looking website. He also called the firm but no one picked up.
He was still hesitant, but Dorris offered to let him use her account and her funds to "buy" goods at first. The payments were sent to various bank accounts which she claimed were the merchants, then the company paid Chris back the amount paid for the goods as well as a commission.
Dorris then asked him to start an account and put in money. The purchases they sent to him to "complete" also became more and more expensive.
As the other people in the chat group asked questions, chatted casually about their lives and sent screenshots of funds that they had purportedly earned from this gig, he started to get sucked in.
He become convinced it was real when he received his first payment of S$1,670 from the transactions he completed for the company. 
He said that each transaction averaged about S$10 at first, then the goods became appliances like refrigerators, which could cost hundreds. The most expensive item offered to him was a Rolex watch costing S$80,000.
At this point, the company also started promising him more commissions and bonuses if he could put in more money. They also told him that his account would be frozen unless he completed a certain number of transactions.
When he reached about 30 transactions, he realised he had used up all his own savings, so he asked his mother to send them money on his behalf.
Chris showed CNA screenshots of the money he sent via various local bank accounts, adding up to more than S$300,000. He also showed CNA the police report which he filed on Nov 22, 2021, which detailed the dozens of transactions.
The amounts grew from less than S$100 to thousands, then to tens of thousands, and the largest amount was more than S$116,000.
Chris told CNA that he wanted more income as he wanted to help his family pay for his 88-year-old grandmother's medical bills.
Each time he sent the scammers money, they would ask for more, offering him bonuses and telling him that his money would be "frozen" unless he completed a certain number of transactions, he said.
After this happened a few times, he realised that it must have been a scam and reported it to the police.
When he told the scammers that he had made a police report and wanted his money back, they taunted him. He said he wanted to tell his story so that others won't fall for the same scam, he said.
"I thought it would never happen to me (but) I was wrong," he said. "It can happen to anyone."
When contacted, the police confirmed that a report was lodged and investigations are ongoing.
VARIATION OF SCAM USES MOVIE TICKETS
On Jan 19, the same day that CNA spoke to Chris, this reporter also received a message on Telegram asking if I was interested in a "new Position offer".
Instead of asking me to buy goods, the person asked me to buy movie tickets to boost their box office numbers.
She sent me a website spoofing a legitimate digital marketing firm, which has since put up a warning on its website that its name is being used in a scam. 
Free credits were provided for new users to earn some commission without having to put in any money.
When I replied, I was added to a chat group with nine members. Once I joined, a few people sent messages welcoming me to the group.
One of the members invited another member to dinner, but she replied: "Next time, willing to work late a bit, earn more income."
One person messaged me separately to get "acquainted", asking for personal details like my age and occupation. The group member, who called himself Ryan, shared that he could earn S$5,000 to S$6,000 a month with this "job".
I messaged most of the members in the group separately, asking them if this was a scam. They all said no.
One replied saying that they had been working on this for 11 months and that "you are the first one who have doubt with our platform".
Another texted me "siao", which means "crazy" in Hokkien.
I stopped texting the scammers when they asked me to key my bank details into the website to transfer commissions to me. A few hours later, they removed me from the chat group.
TYPES OF JOB SCAMS
According to scamalert.sg, jobs scams often start with unsolicited job offers via messaging apps or social media. They can come in many forms and the case outlined above is an "Affiliate Marketing" jobs scam.
This is where victims are asked to help boost sales of sellers by paying for products in advance in return for commissions. Such payments are often made to private bank accounts.
There are also scams where victims are asked to process fund transfers, open bank accounts or receive a donation into their personal bank accounts in return for a small commission.
Scammers sometimes also place online job ads for assistant purchasers, stock takers or participants for a system trial on popular classified websites like Gumtree.
Participants are asked to reveal personal details, phone security codes and one-time passwords, information that allows scammers to access the person's mobile phone lines to purchase online credits.
Yet another type of scam involves job ads for male escorts, and applicants are told they would be introduced to wealthy female clients, but only after they pay a registration fee.
The scammers also ask victims for other fees such as for insurance and membership before disappearing with the money, according to scamalert.sg.
Latest police statistics show that the amount cheated in job scams increased to S$6.5 million in the first half of 2021, from S$60,000 in the same period in 2020. The number of such scams jumped more than 16 times to 658, from 40 in the first half of 2020.
The number of scam cases, in general, has been on the rise. In December, nearly 470 people fell for SMS phishing scams involving OCBC, with total losses amounting to at least S$8.5 million.