Crowds descend on Woodlands Checkpoint as people cross Causeway to celebrate Chinese New Year
"Hopefully we can make it in time for dinner," says one traveller, who will be driving from Singapore to Malaysia with her family on Saturday (Jan 21) afternoon. 
SINGAPORE: Crowds thronged the Causeway land crossing on Friday (Jan 20) as people in Singapore began their journeys north to Malaysia for the Chinese New Year weekend. 
At about 2pm, Singapore's Immigration and Checkpoints Authority (ICA) said that there was heavy traffic at its Woodlands Checkpoint due to tailback from Malaysia. 
"Delays are expected and travellers are advised to check traffic conditions before embarking on their journey," the border control agency wrote on Facebook.
By Friday evening, the estimated waiting time for cars to get from Singapore to Malaysian customs stretched to up to more than three hours - similar to the peak of the Chinese New Year period in 2019.
On Monday, ICA advised those travelling to Malaysia via bus or car between Jan 16 and Jan 20 to factor in additional time for immigration clearance. 
Traffic flow through land checkpoints has returned to pre-COVID levels during peak hours, ICA said, with about 361,000 travellers crossing daily during the 2022 year-end holiday season. 
On Friday, Malaysia's home minister said Singaporeans entering Johor via the two land checkpoints could now use electronic gate facilities. 
Mr Saifuddin Nasution Ismail said that this would benefit between 30,000 and 50,000 Singaporeans who visit Johor Bahru city for social purposes.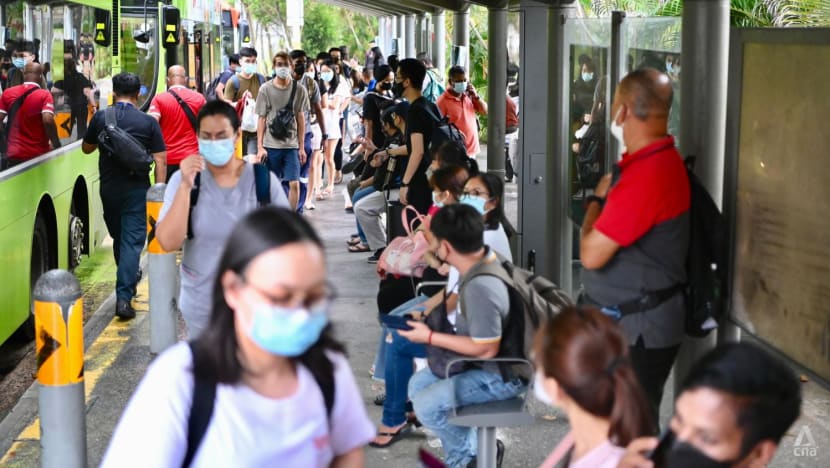 When CNA visited Woodlands Checkpoint on Friday evening, all the buses arriving at the bus stop outside the train checkpoint were full. 
There was also a long line of cars waiting to drop people off. 
At 5.15pm, the Checkpoint.sg mobile app estimated that the wait for cars to get from Singapore to Malaysian customs was between 115 to 170 minutes.
At 6pm, it started to rain, and the estimated time increased to 120 to 180 minutes. 
The rain stopped about 30 minutes later. Still, at 7pm, the estimated wait to get from Singapore to Malaysian customs extended to 125 to 190 minutes. 
Husband and wife Mr Brandon Tan and Mrs Lynn Tan arrived at Woodlands Checkpoint by bus at about 5.10pm. They were heading to Johor Bahru to visit their respective parents, who live there. 
Asked how long they thought it would take for them to reach Malaysia, Mrs Tan chuckled and said she had no idea. 
"We just finished work, so we (can only) go in now," said her husband. 
This will be their second time returning to Johor Bahru for Chinese New Year, since the COVID-19 pandemic hit. 
Mr Lee Jing Seng, 33, arrived at Woodlands Checkpoint by bus at about 5.20pm, with his young daughter in tow.
The Singaporean was heading to Perak state via Johor Bahru, to visit his parents and extended family for Chinese New Year. This will be his first time celebrating the holiday with them since the pandemic. 
Mr Lee said he had not checked traffic conditions and was also unsure how long his trip across the Causeway would take.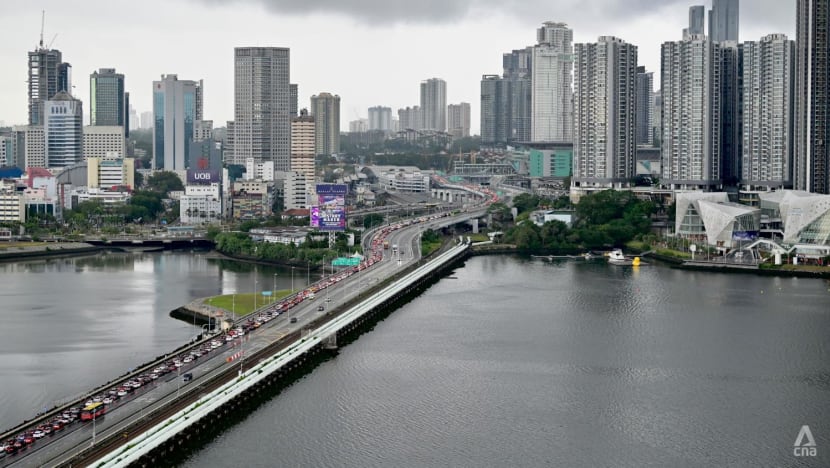 BEATING THE RUSH
Others in Singapore have taken measures to avoid the Causeway jams over the Chinese New Year holiday. 
Singaporean Tian Yufan drove into Johor Bahru with his parents and brother at about 1am on Thursday, to beat the crowds. 
"For a 1am crowd, it was actually quite bad. We waited 30 minutes (to cross the border)," he told CNA. 
"That's actually quite long, because usually at 1am there's no waiting at all. I think it'll get worse over the next few days." 
The family then took a flight to Kuching on Friday, which they booked for RM400 (S$123) right after Malaysia announced its reopening of borders last year. 
"If we go one day earlier, at least some shops are still open for us to buy any last minute stuff, or eat some food outside because a lot of shops will close during the New Year," said Mr Tian. 
This will be his first time heading back to Kuching to celebrate Chinese New Year with his father's family, since 2020. 
"I'm looking forward to it, it's been a really long time. I think because everyone over there didn't really celebrate for the past two years, so a lot of people are going back, and we'll get to see a lot of people," Mr Tian said. 
Ms Lee Yun Xuan, 27, plans to leave Singapore with her parents, siblings and uncles at 2am on Saturday, and make the drive to Melaka via Woodlands Checkpoint.
"Usually, the way we have always been heading back (is) about 4 to 5am, always wake up early and head back to Malaysia to avoid jams," she said. 
"For this year, we are thinking that there might still be jams ... so we wanted to do it even earlier." 
They hope to cross the border by 3am, and reach Melaka early on Saturday morning. 
This will be Ms Lee's first time going back to Malaysia since the pandemic. 
"I just got my Singaporean citizenship, so it's kind of just nice," she added, sharing that she could not return to Malaysia previously because she had not gotten her passport. 
"I'm excited because it's been long since we had that whole extended family in Malaysia, kampung kind of vibe. I'm definitely looking forward to it." 
Malaysian Hoo Yan Han, 28, will also be driving across to Johor Bahru - and then on to Muar - on Saturday, but later in the afternoon. 
Her family members cannot leave any earlier because of work commitments.
They hope to reach Muar in under five hours. 
"We were actually strategising how to avoid the jam, and we were thinking this year maybe we'll try going later. Because Muar is kind of near Singapore, it's closer than Kuala Lumpur," said Ms Hoo, adding that it's usually a three to four hour drive.
"So we were thinking maybe we can try leaving in the late afternoon ... hopefully we can make it in time for dinner."