Heavy traffic at land checkpoints, tailbacks from Malaysia expected over Chinese New Year holiday period
Motorists taking the Woodlands and Tuas Checkpoints are reminded to maintain lane discipline and avoid queue cutting.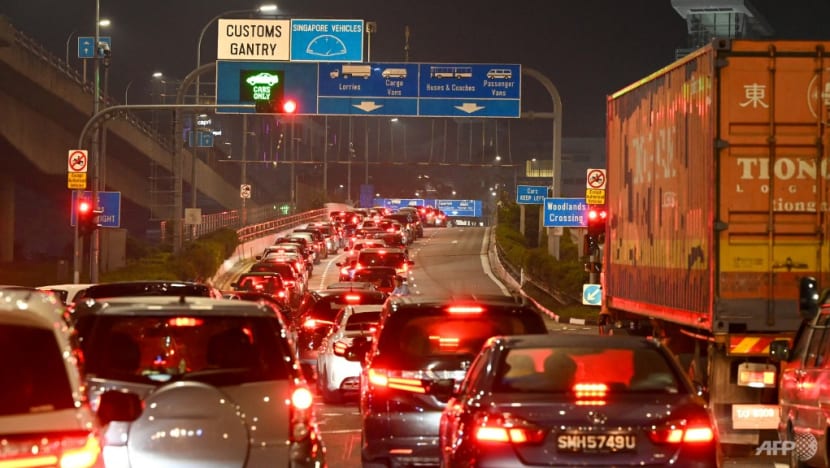 SINGAPORE: Continuous heavy traffic through the Woodlands and Tuas Checkpoints is expected over the upcoming Chinese New Year holidays.
Tailbacks are also expected from Malaysia, said the Immigration and Checkpoints Authority (ICA) on Monday (Jan 16). 
Those travelling to Malaysia via bus or car between Jan 16 and Jan 20 are advised to factor in additional time for immigration clearance. 
Bus travellers who are eligible to use the automated lanes at the passenger halls are also encouraged to do so. 
ICA said traffic flow through the land checkpoints has returned to pre-COVID levels during peak hours.
"During the year-end holiday season in 2022, more than one million travellers passed through both land checkpoints, with about 361,000 crossing daily."
The authority added that during the peak of the Chinese New Year period in 2019, the average waiting time for travellers departing or arriving by car via the land checkpoints was about three hours.
ICA reminded motorists to avoid queue cutting as it can cause "severe congestion" and compromise the safety of other motorists.
"They are advised to observe traffic rules, maintain lane discipline, and cooperate with officers on-site.
"ICA works closely with Traffic Police to ensure road discipline at the critical junctions leading to the land checkpoints," said the authority.
Motorists are advised to check the traffic situation at the land checkpoints through the Land Transport Authority's (LTA) One Motoring website or via the Expressway Monitoring & Advisory System installed along the Bukit Timah Expressway (BKE) and Ayer Rajah Expressway (AYE). 
Updates are also available via ICA's Facebook and Twitter accounts, as well as from local radio broadcasts.
FIRECRACKERS, BAK KWA AMONG PROHIBITED ITEMS
ICA reminded travellers to not bring in prohibited items such as firecrackers, "Pop-Pop", weapons, imitation tobacco products such as electronic cigarettes and vaporisers, or controlled items such as bak kwa and potted plants.
"Those bringing in dutiable or controlled items such as tobacco products must proactively declare them to our officers prior to being checked," it said. 
Those driving Singapore-registered cars into Malaysia should observe the "three-quarter tank" rule. Failure to do so may result in a fine of S$500 or prosecution in court. These drivers will also be turned back at the checkpoints, and not allowed to proceed with their journey into Malaysia. 
Drivers of foreign-registered vehicles must have a valid Vehicle Entry Permit, the LTA approval email and an Autopass card to enter Singapore.
For smoother immigration clearance, travellers should ensure that their passport has a remaining validity of at least six months. 
Singapore permanent residents who have renewed their passports will have to transfer their Re-Entry Permit to the new passport.
All short-term visitors must submit their Singapore Arrival Card and health declaration within three days prior to their arrival in Singapore. 
Singapore residents – citizens, permanent residents and long-term pass holders – are exempt from submitting a health declaration if they are returning to Singapore via the land checkpoints.
The Singapore Arrival Card can be submitted online via the ICA website or the MyICA Mobile application. 
Editor's note: In an earlier version of this article, ICA referred to eggs as a controlled item which travellers should not bring in to Singapore from Malaysia. ICA has clarified that a maximum of 30 eggs can be brought in.