Inconsiderate driving adds to congestion at Singapore's land checkpoints: Shanmugam
In a written reply to a parliamentary question, Home Affairs Minister K Shanmugam also details ICA's efforts to manage traffic at the Woodlands and Tuas checkpoints.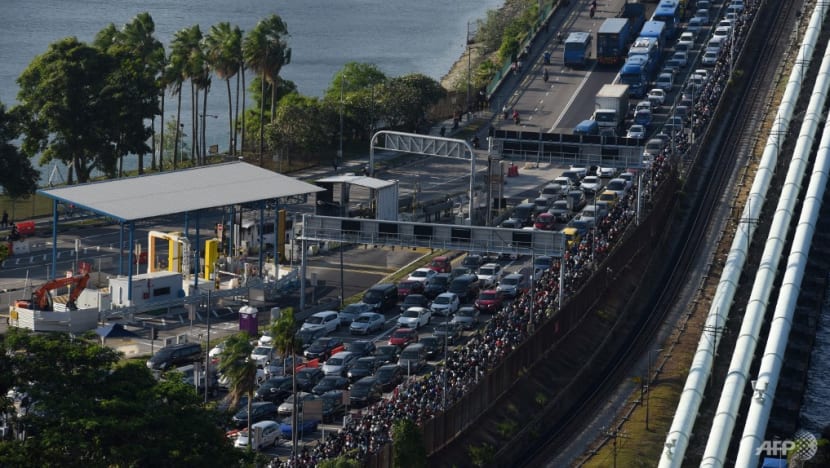 SINGAPORE: Incidents involving inconsiderate drivers have contributed to congestion at Singapore's land checkpoints, Home Affairs Minister K Shanmugam said on Monday (Jan 9).
He was responding to a parliamentary question from Member of Parliament Murali Pillai (PAP-Bukit Batok).
Mr Murali asked about the number of immigration counters at the Woodlands and Tuas checkpoints; the average number of counters in use in December 2022 and their operating hours; and the steps that the Immigration and Checkpoints Authority (ICA) intends to take to reduce checkpoint congestion without compromising security.
In a written reply, Mr Shanmugam said ICA works closely with the traffic police to ensure orderly traffic flow toward land checkpoints.
"There have been incidents of inconsiderate drivers, such as those attempting to cut queues or driving in the wrong lanes, that add to the congestion," he added.
The minister also revealed that there are 302 counters at Woodlands and 276 counters at Tuas for immigration clearance of travellers at those checkpoints.
"Traffic at the land checkpoints during the December peak period ... has returned to pre-COVID levels," he said. "Close to 400,000 travellers passed through both checkpoints daily.
"On average, about 92 per cent of the vehicle clearance counters were manned during this period."
In his answer, Mr Shanmugam also detailed four ways in which ICA has worked to reduce congestion at the checkpoints.
"First, ICA adopts a dynamic approach in managing traffic at the land checkpoints. Officers are deployed dynamically to areas which require more support to manage traveller volume, while ensuring that other objectives, such as managing security and checking for contraband and security-sensitive items, are not compromised," he said.
"In addition, clearance lanes are converted flexibly for different modes of conveyance based on the traffic situation. For example, during car departure peaks, more manpower resources are deployed to the car departure zones, and lorry departure lanes are converted for car departure clearance."
There are, however, limits to the effectiveness of dynamic deployment, Mr Shanmugam added.
"For example, heavy departing car traffic from Woodlands Checkpoint to Malaysia during (the) year-end period has led to frequent tailbacks at the Causeway, all the way from the Malaysian CIQ (customs, immigration and quarantine) to our departure car counters," he said.
AUTOMATED IN-CAR CLEARANCE TO BE INTRODUCED
ICA has also used technology to improve clearance throughput, said Mr Shanmugam, with 100 per cent automated clearance for all motorcyclists at the land checkpoints implemented since January 2017.
"Following successful live trials, ICA is now working to introduce automated in-car clearance for car travellers," he added.
A trial of the Automated Passenger In-Car Clearance System (APICS) took place at Woodlands Checkpoint between June and October last year, with authorities saying they would announce more operational details at a later date.
"Third, ICA is transforming its clearance processes under its New Clearance Concept, where automated clearance will be the norm," Mr Shanmugam continued.
"To support this, ICA has introduced the Automated Clearance Initiative to allow visitors from eligible countries, including Malaysia, to be automatically eligible to use an automated lane for subsequent departure and visits to Singapore, after they have obtained clearance at the manual counters."
Finally, ICA will continue working closely with partners to ensure smoother traffic flow during peak periods, he said.
These include the Traffic Police as well as the Land Transport Authority (LTA) and cross-border bus service providers such as SBS Transit and Causeway Link, to schedule more buses to cope with increased traveller volumes.
Mr Shanmugam also highlighted the upcoming Johor Bahru-Singapore Rapid Transit System Link and the redevelopment of Woodlands Checkpoint as longer-term factors that will help to alleviate congestion.
"Meanwhile, we urge travellers to also play their part. Heed the advisories which ICA issues periodically, informing when the peak days and peak hours are likely to be," he said in conclusion.
"Avoid travelling during these times, if possible, or if not possible, please do be patient. There are infrastructure and manpower constraints that limit the extent to which we can open up more counters.
"We also need to make sure that our ICA officers have sufficient rest, and a reasonable working schedule that allows them to balance their work and their family and personal life."