Looking to avoid the traffic jams when travelling to Malaysia? Consider these travel options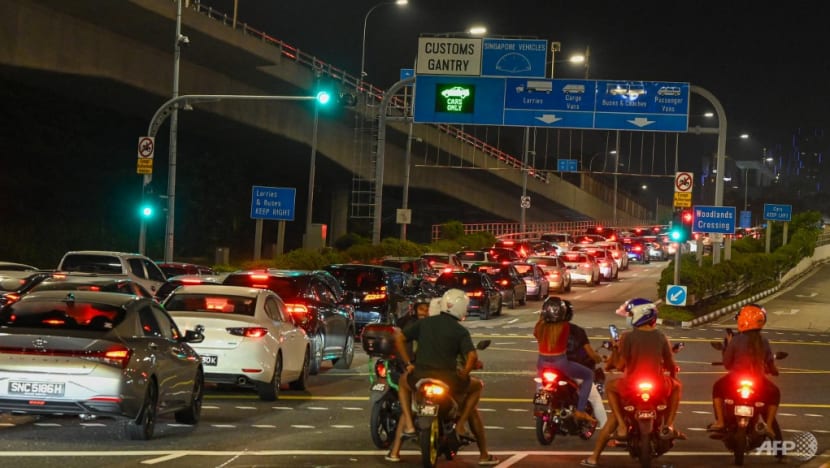 SINGAPORE: Singaporeans and Malaysians rejoiced as land borders between the two countries finally fully reopened on Apr 1 after two years, but in recent weeks authorities have released several advisories about traffic jams. 
Traffic has soared since fully vaccinated travellers were given the green light to travel between Singapore and Malaysia via private vehicles such as cars and motorcycles.
More than 33,000 travellers cleared the Woodlands and Tuas checkpoints on the first day of the border reopening. This has climbed steadily to 149,000 travellers a day during the Good Friday weekend in April, 224,000 travellers a day during the Vesak Day weekend in May and 267,000 a day over the Jun 10 to 12 weekend.
On Wednesday (Jun 15), the Immigration and Checkpoints Authority (ICA) again warned travellers about potential heavy traffic at the land borders for the rest of the June school holiday, advising them to adjust their travel plans where possible.
It also suggested that travellers consider taking cross-border bus services to avoid getting caught in traffic jams.
Train rides between Johor Bahru and Woodlands will also resume this Sunday, adding another travel option for those looking to travel to Malaysia. 

There are just over two weeks left until the end of the June holidays. If you are still thinking of crossing the border for a short break but yet are concerned about traffic jams, here are the various transport options you may want to try to avoid the congestion.
BY TRAIN
If you have never travelled by train to Malaysia, then here's your chance.
The Keretapi Tanah Melayu (KTM) train service will resume this Sunday after a two-year suspension due to the COVID-19 pandemic. 
The train service, also known as the Tebrau Shuttle, takes five minutes to get from Woodlands station to Johor Bahru Sentral station.
There are currently 31 trips daily – with 18 from JB Sentral to Woodlands, and 13 from Woodlands to JB Sentral.
Tickets for the JB Sentral to Woodlands route are priced at RM5 (S$1.58) while those for the Woodlands to JB Sentral route cost RM16.25.
About 7,000 passengers are expected to use this train service daily, with a maximum capacity of 320 passengers for each trip. So, make sure to plan ahead.  
Those purchasing their tickets online will be allowed to buy a maximum of six tickets per transaction.
You will need to register your passport number when purchasing a Tebrau Shuttle ticket. Your passport will then serve as your boarding pass for check-in at JB Sentral station and Woodlands station.
So, make sure to double-check if you have your passport on hand.
If you are buying tickets over the counter, you will be able to purchase four tickets per transaction. Counters will stop selling tickets 20 minutes before the train's departure time.
Children under four years old travel for free but will be required to register at the ticket counter before departure.
BY BUS
If you want to avoid getting caught in traffic jams, you can also opt to take the cross-border bus services provided by public bus operators. 
It's pocket-friendly and will also give you an opportunity to meet other like-minded people. 
Cross-border bus services between Singapore and Malaysia resumed on May 1, about two years after operations were suspended due to the COVID-19 pandemic.  
With the reinstatement of the services, you can travel to JB via SBS Transit bus services 160, 170 and 170X, as well as SMRT bus service 950. 
Singapore bus operator Transtar Travel has also resumed the operation of its TS1, TS3, TS6 and TS8 services.
The bus services 160, 170, 170X and 950 operate between 5.20am and 12.30am.  
SBS bus service 160 plies the route between Jurong East bus interchange and JB Sentral bus interchange via the Causeway.
Service 170 travels between Queen Street Terminal and Larkin Terminal in Johor Bahru, while 170X travels between Kranji MRT station and JB Sentral.
SMRT bus service 950 travels between Woodlands Temporary Bus Interchange and JB Sentral Terminal. 
Bus Services 160, 170 and 950 operate at a frequency of up to 20 minutes during peak hours, and up to 25 minutes during off-peak hours.
Service 170X operates at intervals of up to nine minutes during peak hours and up to 17 minutes during off-peak hours.
You can also check LTA's MyTransport.SG app or operators' websites for more information on bus operating hours and arrival timings.
BY TAXI
If you have bulky luggage and are looking for a little more comfort, then a taxi might be a viable option. 
Ever since cross-border taxi services resumed between Singapore and Malaysia on May 1, you can hop over to JB by either boarding a taxi at the Queen Street taxi terminal or by booking a ride through taxi companies with licensed cross-border taxi drivers. 
While this option won't help you avoid the traffic jam during peak hours, you won't have to do the driving yourself and can take a little snooze during the journey.
According to TaxiSingapore, you can expect to pay about S$48 to book a taxi for a single trip from Ban San Street Terminal to Larkin Taxi & Bus Terminal.
This works out to about S$12 per person if you have four people in the taxi.
BY PRIVATE CAR CHARTER
If you are looking forward to travelling with your extended family, then a private car charter service might be feasible. 
These car services can pick you and your family up anywhere in Singapore and drop you off at your desired location in Johor Bahru.
According to Limousine Transport, you can book a 10-seater economy minivan to drop you off at JB city centre for a flat rate of S$140.
If you are travelling in a smaller group, a six-seater economy MPV from Singapore to JB city centre will cost S$100. 
The rates are inclusive of fuel, insurance and toll charges. 
If you are travelling with small children and elderly parents, this option will provide the convenience of not having to get down or change vehicles for immigration clearance. 
According to its website, Limousine Transport offers private car charter services to about 35 drop-off points in Johor Bahru.
Another company, SGMYTRIPS charges S$260 for a round trip from anywhere in Singapore to JB Sentral for a 10-seater car charter service.
BY CAR
Finally, if you prefer the comfort of your own car and want to use your own vehicle to travel around Malaysia for a few days, load up on snacks and music to keep yourself alert during the drive - and potential traffic jams.
At the peak of the June school holidays in 2019, travellers had to wait nearly two-and-a-half hours before they were cleared through immigration, said ICA. 
This can mean cranky toddlers and frustrated parents - keep an ample supply of entertainment, books and toys in the car for a smoother, less stressful trip to Malaysia. Passengers who are sensitive to noise may even want to consider bringing along earplugs.
Before leaving your home, check the traffic situation at the land checkpoints through the Land Transport Authority (LTA)'s One Motoring website or via the Expressway Monitoring & Advisory System (EMAS) installed along the BKE and AYE.
You can also check ICA's Facebook and Twitter accounts for updates on the traffic situation at both land checkpoints.
As always, make sure to factor in additional time for immigration clearance. 
Make sure too that you have a valid Touch 'n Go card to pay for road charges, checkpoints and highway tolls in Malaysia. 
Car owners must also make sure their fuel tanks are three-quarters full before reaching the checkpoints or risk being turned away. 
You may be issued a composition fine of S$500 or be prosecuted in court if you fail to comply.