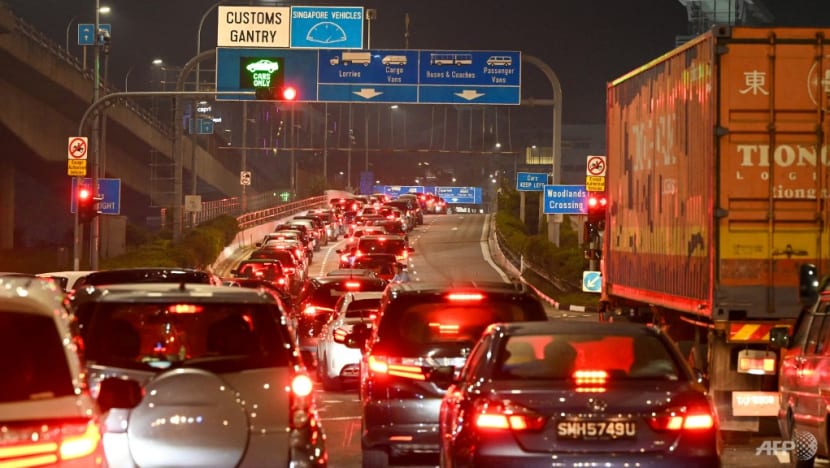 JOHOR BAHRU: The Johor Bahru-Singapore Rapid Transit System (RTS) Link project is expected to absorb at least 35 per cent of the traffic at the Causeway once it commences operations in January 2027, said the chief executive officer of Mass Rapid Transit Corp (MRT Corp).
Mr Mohd Zarif Hashim told reporters on Wednesday (May 18): "The RTS is able to transport 10,000 people per hour, each direction. If you look at those numbers … we are able to absorb at least 35 per cent from the Causeway traffic (at pre COVID-19 levels)."
"That's the least we should be able to achieve," he added.
Prior to the pandemic, around 350,000 people commuted daily between Singapore and Malaysia using the Causeway.
MRT Corp is the developer and owner of the civil infrastructure for the Malaysian section of the rail project.
Mr Mohd Zarif added that construction for the Malaysia side of the project was on schedule and the pace is "picking up".
In December last year, he stated that progress was on track despite two minor setbacks - a land acquisition issue at the Wadihana area as well as the movement of water pipes from the construction site of Bukit Chagar station.
On Wednesday, Mr Mohd Zarif said that these issues have been resolved and that the project will be completed as planned by December 2026.
"What we are looking at now is to reduce travel time from JB to Woodlands North. If possible, we would like it to be 'five, five five'," said Mr Mohd Zarif. 
"Five minutes to clear immigration, five minutes for waiting time and travel and another five minutes to move out of the Woodlands North side. So 15 minutes overall travel time, this is what we are aiming for," he explained. 
To achieve this, MRT Corp would have to work closely with various government departments, such as immigration, customs as well as the Ministry of Health when it comes to pandemic-related matters, he said. 
HOPE FOR SINGAPORE-JB CORRIDOR TO BE ON PAR WITH HONG KONG-SHENZHEN CORRIDOR
Mr Mohd Zarif also said that the RTS Link project is set to be a "game changer" for Johor Bahru in terms of attracting foreign investment. 
"The project is not just to allow free flow of people between Singapore and JB, but in line with that, we hope it will attract foreign investors to invest in JB in areas such as healthcare, higher education and hospitality services," said Mr Mohd Zarif. 
"Foreign investment is key for the long term. In the next 10 years, we hope that the Singapore-Johor Bahru corridor will be on par with the Hong Kong-Shenzhen (Western) corridor," he added. 
He also stressed that the value of the RTS Link project should not just be viewed from the construction costs perspective, but also in terms of the investments it will attract.
"What we are doing today is to let people around the world know that there are opportunities to invest in JB as a result of this RTS project."
He added that the fares for the RTS Link have not been decided yet. But he said that they will be "competitive". 
"We have to benchmark it correctly. To be able to cross the borders in 15 minutes, there will be a premium," said Mr Mohd Zarif. 
"It should at least cover operation costs. We need to break even, when you talk about investments in public transport, the objective is to ensure it is sustainable for a long time," he added. 
The RTS Link aims to connect Bukit Chagar in Johor Bahru to Woodlands in Singapore, serving about 10,000 passengers per hour each way to help ease traffic congestion on the Causeway. 
RTS Link tunnels will be connected to a viaduct running 25m above the Straits of Johor, connecting the Woodlands North station in Singapore to the Bukit Chagar station in Johor Bahru.
The Bukit Chagar station will feature a four-storey building, encompassing the train platform and an immigration, customs and quarantine complex (CIQ).
It will be part of a transit-oriented development with an adjoining transport hub and mixed property development.
The project had originally been scheduled for completion in 2024, with the Malaysia and Singapore governments signing a bilateral agreement to build the link in 2018. 
However, the project was suspended a number of times after the Pakatan Harapan government came to power in Malaysia. 
The project officially resumed in July 2020, with a bilateral ceremony to mark the occasion held on the Causeway. Singapore Prime Minister Lee Hsien Loong and his then-Malaysian counterpart Muhyiddin Yassin were both in attendance. 
The project is estimated to cost RM10 billion (S$3.25 billion), with Singapore bearing 61 per cent of the cost.