'Stop pushing!': Crowds at Malaysia immigration at the start of Deepavali long weekend
Videos shared on social media showed crowds at the arrival bus platform in Johor Bahru, with some travellers shouting and pushing.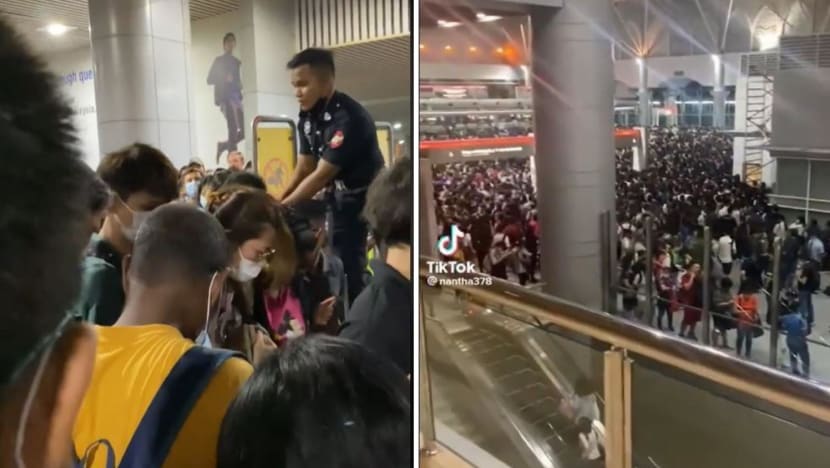 SINGAPORE: Crowds of Causeway bus travellers from Singapore were seen at Malaysia's immigration building in Johor Bahru on Friday evening (Oct 21), ahead of the Deepavali long weekend.
Videos shared on the Facebook page Malaysia-Singapore Border Crossers showed a crush of commuters jostling for space at the bus platform. 
Shouts could be heard as people pushed forward to walk up the escalator and staircase into the arrival immigration hall. 
A video shared by Facebook user Gugan Zizou at about 10.40pm showed a Malaysian official standing on a platform. 
"Stop pushing, stop pushing!" the uniformed official was heard saying as he attempted to control the crowd.
A separate video taken by Facebook user Revathi Rajagopal showed how the travellers were standing shoulder to shoulder. Voices could be heard urging the crowd to stop pushing. 
"There is a person who is about to fall," a man was heard saying. 
Other footage shared on social media showed long queues at the Bangunan Sultan Iskandar immigration hall for arriving bus passengers from about 6pm. 
Long lines also extended from the arrival bus bay onto the road at about 9pm. 
"The arrival hall for bus travellers is congested, but still under control," the Bangunan Sultan Iskandar Immigration Office said in a Facebook post at 10.30pm on Friday.
"For the comfort of other visitors, please do not cut the queues and do make way for the needy, your patience is highly appreciated."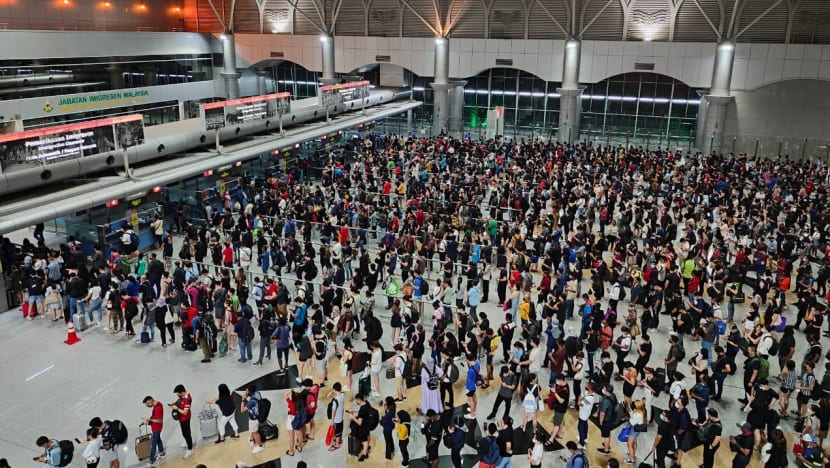 Earlier in the week, Singapore's immigration authority said bus travellers departing Singapore for Malaysia via the Woodlands Checkpoint can expect longer wait times due to ongoing upgrading works at Bangunan Sultan Iskandar in Johor Bahru.  
The Immigration and Checkpoints Authority (ICA) also said travellers should expect delays over the long weekend, with the Deepavali public holiday falling on Monday.