How can Singapore's universities deter AI-assisted cheating in the age of ChatGPT?
Two universities said they are in the process of putting together a framework for managing the use of AI tools, which includes educating students on utilising the technology purely as a learning aid, and providing support for instructors.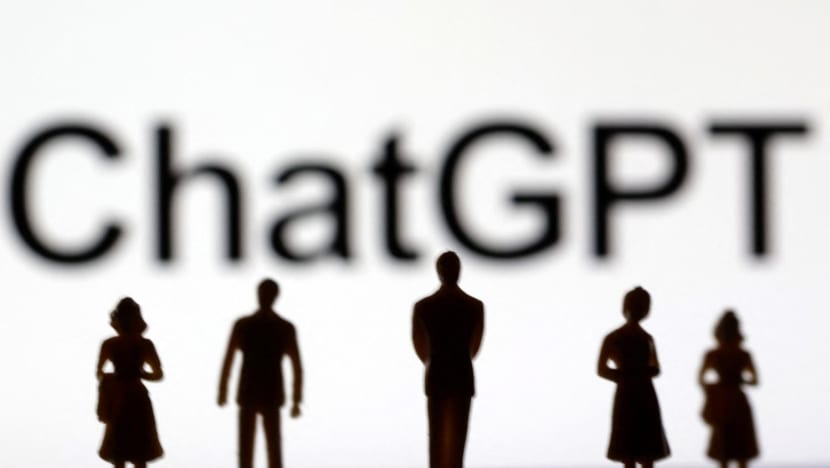 SINGAPORE: The sudden arrival of ChatGPT has sent schools and teachers scrambling to find ways to manage the use of Artificial Intelligence (AI) in classrooms.
While a number of schools across the world have banned chatbots, many education institutions in Singapore have said they are learning to coexist with these AI tools.
Nanyang Technological University (NTU) and Singapore Management University (SMU) told CNA that they are open to teachers and students using AI-powered technology for learning, but are cautious about the tools being misused.
"We believe that AI tools are here to stay and will be increasingly present in our everyday lives," said an SMU spokesperson.
"Our response is not to shy away from them, but to assess how we can harness the best of what AI tools can offer, and at the same time adapt the way we teach and conduct assessments to prevent misuse."
"The university does not prohibit the use of AI tools altogether. Instructors may permit students to use these tools, so long as it supports students' fair, honest, and diligent pursuit of knowledge."
The universities said they are in the process of putting together a framework for managing the use of AI tools, which includes educating students on utilising the technology purely as a learning aid, and providing support for instructors.
An NTU spokesperson said: "We are looking into how we can equip our students with the skills to make use of such technological aids in creative, critical, and ethical ways, while making sure students continue to develop the necessary critical cognitive skills."
HOW CAN SCHOOLS PREVENT AI-ASSISTED CHEATING?
The main concern surrounding the usage of AI tools in education is the risk of students submitting work generated by these bots.
Universities in Singapore use software like Turnitin to detect cheating in students' work.
Apart from identifying plagiarism using content on the Internet and its library of about 2 billion student papers, Turnitin also uses "fingerprint" technology to distinguish a person's writing style. 
This can help to identify students' work that has been written by ghostwriters, and in an upcoming upgrade, detect essays generated by chatbots.
"We collect a writing sample on the first day of class to understand how students write – their fingerprints. Then we compare future submissions to that original writing style," said Turnitin CEO Chris Caren.
The firm's software is able to identify AI-generated content with up to 97 per cent accuracy, said Mr Caren, adding that the technology is able to spot even parts of an essay not entirely written by human hand.
"It's all algorithms," he said. "The word frequency is very predictable. You can see a very clear distribution of different words in writing, which is not how humans write."
SMU said it treats the unauthorised use of AI to write papers the same way the university treats the use of a third-party service – they are both forms of contract-cheating.
In a situation when a student paper is suspected to have been written by AI, universities said they will conduct investigations. Penalties for academic cheating may include grade penalty, course failure, and in severe cases – suspension or expulsion.
Both NTU and SMU said there has not been any known cases related to cheating using AI tools so far.  
SHOULD AI BE EMBRACED IN EDUCATION?
Despite developing tools to identify misuse of AI in education, Mr Caren said his firm is a huge advocate of incorporating these advanced technologies into learning.
"AI is a very good tool to research and learn. It can summarise difficult concepts and explain them in ways you can understand. AI is not just about generating assignments but also a way to learn and get feedback on your work," he said.
One way educators can deter students from using chatbots for their work, he said, is to use topics that have less content on the Internet, such as local, personal, or very recent events.
This is because tools like ChatGPT draws from online resources for content creation. Hence, the more information available on a topic on the Internet, the better the chatbot can do in writing a quality essay.
With many employers embracing the use of chatbots to facilitate productivity and expecting graduates to be savvy with the technology, industry players are also advising against the outright ban of AI tools in education.
"A lot of faculty don't know what to think about (ChatGPT). Is this a good thing or a bad thing? So we're really trying to catalyse a conversation among faculty, university leaders to share emerging viewpoints and to hopefully get to a consensus view … where students and teachers are on the same page." Mr Caren said.
PRIVATE EDUCATION SECTOR ON THE BANDWAGON
Earlier this month, Education Minister Chan Chun Sing said the Ministry of Education (MOE) is guiding teachers to use these tools to enhance learning. Many in the education business have followed suit.  
Enrichment centre Good School Learning Hub said its teachers use ChatGPT as part of its students' learning process, such as comparing self-written essays to those generated by the chatbot.
"For the weaker students, they can use this to improve their grammar and vocabulary because the sentences generated (by ChatGPT) are quite okay. There are no major grammatical issues," noted the centre's co-founder Tan Wei Jie.
"For the strong students. They can use this tool to research at a much faster speed … and use this as a quick way to generate a lot of ideas."
He said that students are motivated and learn quickly while using AI tools as they can provide simplified responses to difficult concepts, answer questions, and refine users' writing.
However, Mr Tan said the centre is also looking to teach its students to be wary of bias and inaccuracies in content generated by AI, and not to be over-reliant on it.
"I always believe in embracing technology. If we try to shun it, eventually the world will be adopting it and (we will be left behind)," he said.
"So might as well keep ahead of the curve, teach our students how to quickly make use of it and gain advantages from it, but of course be aware of the weaknesses."
You may also be interested in: