IN FOCUS: How did child porn become a global nightmare, and what is Singapore doing to tackle it?
The online trading of child sexual abuse pictures and videos has gone from the dark web to popular platforms like Telegram. CNA looks at how authorities are going after those involved.
SINGAPORE: For five years, Wong Ket Kok carried out a depraved daily ritual: Downloading photographs and videos of children being sexually abused, with some of them not much older than his own kids.
When he was arrested, about 47,000 files were found on his hard disks and laptop showing children in sexual acts or poses.
In another case that shocked the region, Australian paedophile Boris Kunsevitsky, who preyed on five children in Singapore, produced reams of videos and images of himself sexually abusing children.
Investigators found a folder in his computer titled "Jailbait", which included videos and photos of him having sex with children in his Singapore home.
In recent years, such cases have increasingly made the headlines globally and in Singapore. Dedicated laws against online child sexual abuse material came into effect in Singapore at the start of 2020.
"Every single clip or image of child sexual abuse material represents an actual child being sexually violated," said Deputy Public Prosecutor Chong Kee En, who specialises in prosecuting sex crimes.
"No child in any such clip has the ability to meaningfully consent. Some are drugged or even tortured.
"Even offenders not involved in the production of such material must bear responsibility because they fuel the demand for the production of such material, which leads to future incidents of sexual abuse, and more children being dragged into the trade."
CNA looks at how the so-called marketplace of such pictures and videos – which have gone from the dark web to popular messaging platforms like Telegram – works, and how the authorities are tackling the insidious issue.
REGULAR UPLOADS, SEXUAL GROOMING
One way that offenders gain access to child sexual abuse networks is by regularly producing and uploading new content, which becomes their "membership criteria", said Mr Thomas Muller, director of network development at ECPAT International.
ECPAT is a global network of civil society organisations that works to end the sexual exploitation of children.
"(The abuse networks) are quite specific about (what they want) – for example, they're not looking for material depicting those older than 15, or something like that," said Mr Muller, who is based in Bangkok.
If someone does not regularly upload child sexual abuse content, they can get kicked out due to suspicions of them being law enforcement. The group will then be recreated elsewhere.
This takes place globally, with offenders in Singapore connected to those abroad through the internet. "No country, no region is safe," said Mr Muller.
These days, offenders may not even have to produce the content. Mr Muller pointed to the growing number of photos and videos generated by children and teenagers. This happens when victims are coerced or instructed into recording the abuse through webcams or mobile phones.

Last year, such imagery appeared in four-fifths of online child sexual abuse reports received by the Internet Watch Foundation (IWF), a UK-based child protection charity. This was a 9 per cent increase compared to 2021, according to its annual report.
Offenders also "groom" a child – building a relationship to coerce a child or young person into sexual activity or to get them to share sexual material. Sexual grooming of a minor under 16 is an offence in Singapore.
The growing popularity of online gaming platforms, such as Discord or Roblox – which integrate chat group features with the actual games – has added more fuel to the fire.
Mr Muller said: "I think it's part and parcel (of life) nowadays for kids to grow up and have their first sexual experience, not in person, but getting to know someone, having an online relationship and sharing some material in trust.
"Then that trust gets abused and these images get leaked, shared against their consent."
AN ADDICTION
Mr Chong, the prosecutor, said that many offenders first look at adult pornography and do not actively search for photos or videos of children being sexually abused, but they "become desensitised and even addicted" to it after being exposed for some time.
Some also do not realise they have broken the law by downloading or receiving child sexual abuse material mixed with larger amounts of adult pornography.
"This is still an offence if they knew or ought reasonably to have known that the material that they possessed was child sexual abuse material. This is even if they did not actively view such clips in their possession," Mr Chong said.
"Each time a clip is traded, it creates fresh harm and re-victimises the child, who is being objectified by countless viewers worldwide."
The Singapore Prison Service's (SPS) sexual violence unit, which falls under its psychological and correctional rehabilitation division, added that people viewing child sexual abuse material can potentially go beyond that to commit "contact sexual offences".
"The considerable time spent online viewing or collecting materials and dependence on these materials for sexual arousal makes them more likely to engage in such acts," it said.
"The accessibility provided by the internet may also allow the offender to expand his network with other individuals with similar interests online.
"These forums facilitate their exchange of deviant thoughts which normalises their deviant online behaviours and sexual interest in children. Coupled with the access to potential victims, this may increase their risk of sexual reoffending."
The prison service added that not all offenders who view such images or videos will commit a "contact sexual offence" towards a child.
Viewing child sexual abuse material can affect an individual's judgement or modify his attitudes towards what constitutes acceptable engagement with children, said the prison service, adding that these offenders' distorted attitudes may perpetuate their engagement in such behaviour.
"For instance, some adults may justify that they limit their engagement to only viewing child sexual abuse material and not engaging in actual sexual contact with children. They may also perceive that the children had legally consented to have their images recorded and distributed.
"In addition, repeated viewing of child sexual exploitation material could result in lowered inhibitions towards sexual engagements involving children.
"The involvement in production or distribution of materials may also be motivated by a financial gain, apart from possibly having a sexual interest in children."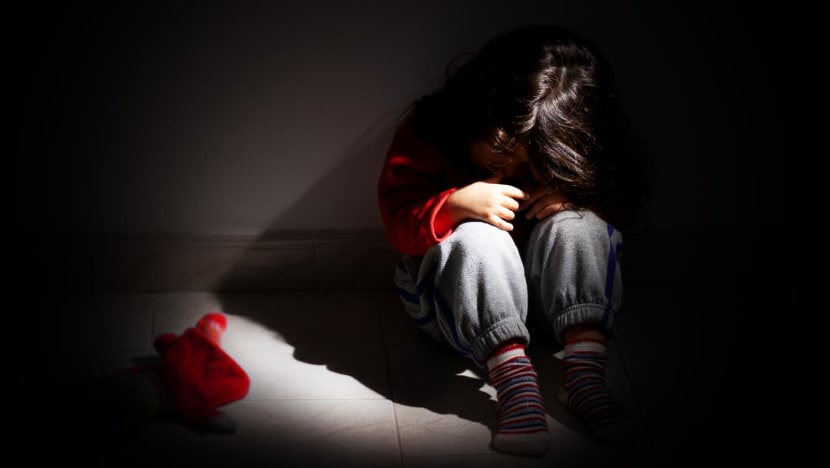 ENCRYPTION – A BURGEONING PROBLEM
While those who deal in such material have typically turned to the dark web, other platforms such as peer-to-peer (P2P) file-sharing programs and encrypted chat groups on Telegram or WhatsApp have taken off in recent years.
P2P file-sharing allows computer users to exchange resources without going through a central server. One Singaporean offender used eMule, which has been around for the past two decades, to download such material.
Other offenders like Ansari Abdul Amin also used a cloud-based storage and file hosting service after he started watching pornography on Telegram sometime between 2013 and 2014. The material he watched included videos involving babies and children below the age of 11 with adults.
Ansari, who was arrested by the police in 2021, deleted repeated video files and retained new ones to facilitate trades with other people.
In March, a Sri Lankan man was jailed in Singapore for distributing child sexual abuse videos in a WhatsApp group he ran. Prosecutors said that the videos scraped "the very pits of depravity".
These cases show how the illegal trade has moved to such platforms – a challenge that has worried law enforcement agencies.
Mr Muller said that the onus is on the companies who own such encrypted platforms to come up with rules, and that social media providers do not proactively look for such material and ensure they are not distributed on their platforms.
"WhatsApp, Facebook, TikTok have their own standards, and so on ... They're also overwhelmed," he added.
"So what we're really pushing for now, and I think we increasingly hear from the companies that they want to see government regulation because they realise now that they're associated with everything bad in the world. Governments need to step up and organise platform regulations so the rules of the game are the same for all of them."
INVESTIGATING CASES
When cases do come to the authorities' attention, investigators can lean on international databases and work with their counterparts in other jurisdictions.
The Singapore Police Force (SPF) said it has investigated 96 such cases since Jan 1, 2020 – when dedicated laws came into force. 
A spokesperson added that police officers are trained and "equipped with knowledge and skills" to investigate cases relating to child sexual abuse material.
They did not elaborate on the training process or what triggered a five-week operation targeting online child sex exploitation activities that saw 23 men arrested.
"SPF conducts operations targeting online child sexual exploitation activities, including possession and distribution of child sexual abuse materials, and will continue to take tough enforcement action against these illegal activities," the spokesperson added.
In order to infiltrate encrypted networks that share child sex abuse material, Mr Muller said that when law enforcement officers conduct raids and seize equipment like laptops and mobile phones, they take over administrative roles in these networks to weed out more offenders.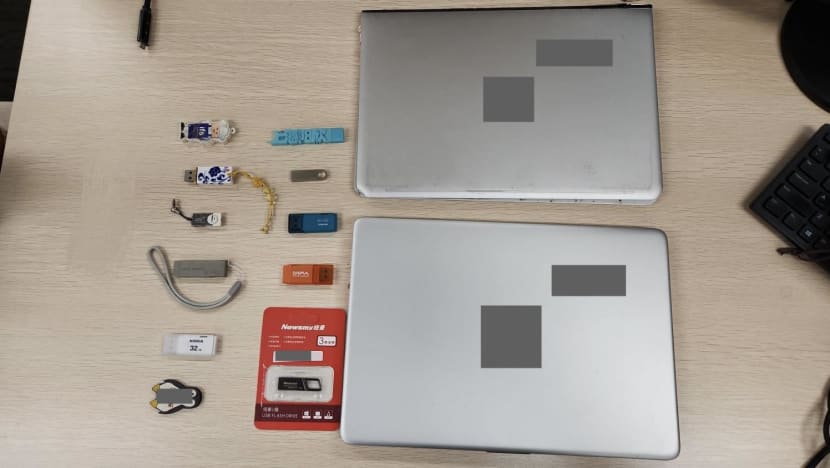 One tool in SPF's arsenal is Interpol's International Child Sexual Exploitation (ICSE) database, which allows police officers to share data with law enforcement agencies overseas.
Interpol and SPF have a "long-standing cooperation" in tackling online child sexual exploitation, which was strengthened in 2020 when SPF officers were connected to the database, said Mr Uri Sadeh, coordinator of Interpol's Crimes Against Children Unit.
Mr Sadeh told CNA that specialised investigators from more than 68 countries use the database to make connections between victims, abusers and places, using image and video comparison software.
"The database avoids duplication of effort and saves precious time by letting investigators know whether a series of images has already been discovered or identified in another country, or whether it has similar features to other images," he explained.
To date, law enforcement officers around the world have identified about 34,000 victims in the ICSE database.
LIVESTREAMING OF SEX CRIMES
Investigators can also track offenders down through their payment methods, said Ms Bindu Sharma, Asia-Pacific managing director of the International Centre for Missing and Exploited Children (ICMEC).
ICMEC is an international non-governmental organisation (NGO) that has offices in Singapore and other countries in the region.
Ms Sharma leads the centre's Asia-Pacific Finance Coalition Against Child Sexual Exploitation – a programme that was launched in 2009 to combat the livestreaming, sale and dissemination of child sexual abuse material.
Livestreaming leaves almost no trace of evidence once the stream is shut down, she explained. In these instances, offenders usually pay to watch victims being abused in real-time.
"Livestreaming is 100 per cent commercial," Ms Sharma said. "But the key evidence here is the payment. So that's where the financial industry comes in – they can step up and say, here's a piece of evidence we have.
"But there needs to be ... willingness and the ability to work closely with law enforcement organisations."
However, the rise of encrypted payment systems, most notably cryptocurrencies like Bitcoin, has also made it tougher for law enforcement to track offenders. 
"PARTICULARLY DISTRESSING": PROSECUTOR
When the authorities manage to identify and nab the perpetrators, they are charged in court. But before that, investigators and prosecutors such as Mr Chong have to sift through the evidence, with some cases involving thousands of videos. 
"Many of us felt nauseous when we viewed such clips, as they involved young toddlers or infants being harmed. It is particularly distressing when we can see or hear the children in distress or pain," Mr Chong told CNA.
"Personally, I always feel most affected when I see a child unsuccessfully trying to cover their face when being filmed, as even this tiny bit of dignity is being taken away from them.
"There can also be feelings of helplessness, as the children appear to be in faraway countries. These children may never be rescued, and the people involved in inflicting such unspeakable harm may never face justice."
He has advised his colleagues to take frequent breaks when reviewing such material, and to do it in the mornings so that the images "do not become the last thing we work on before going home for the day".
Nevertheless, he said that their job was to remain objective and impartial no matter how grave the offence, and that they find it rewarding to successfully prosecute such cases.
Since the dedicated laws came into effect in 2020, the culpability of offenders has been "tiered" at every level, said the prosecutor.
Offenders who are involved in the production of such material can be jailed for up to 10 years. Those who download, stream, access, or possess such films can be punished with up to five years' imprisonment. Caning and fines can also be imposed.
Those who distribute child sexual abuse material can be jailed for up to seven years, caned, fined, or a combination of those punishments. Before the new laws, such offenders could only be prosecuted for transmitting obscene material, which carried an imprisonment term of up to only three months and/or a fine.
THE REHABILITATION PROCESS
Following a conviction, some offenders will serve time behind bars and be placed in rehabilitation programmes.
The prison service said that offenders will undergo a psychological assessment to identify their risk of reoffending and intervention needs.
These psychological interventions aim to help them address problems with:
Interpersonal relationships
Self-regulation, such as difficulties in controlling inappropriate impulses or sexual urges
Negative attitudes that support sexual offending
Responsible use of the internet and other problematic online behaviours
Using leisure time meaningfully
After this, inmates are guided to develop individualised risk management plans. Inmates will also undergo other rehabilitative activities, like work, religious counselling and family-based programmes.
After their release, they may also be referred to relevant agencies in the community for further counselling and support, if a psychologist assesses it to be necessary.
People who committed serious offences as specified in the First Schedule of the Prisons Act – which includes crimes involving child sexual abuse material – are required to undergo mandatory supervision and aftercare support upon their release. This includes curfew hours and electronic monitoring.
SPS said: "With the Mandatory Aftercare Scheme, better protection of society is achieved through closer supervision ... of these serious crime offenders after their release, as well as enhanced aftercare support such as case management to assist their reintegration and reduce their reoffending risk."
Psychiatrist Christopher Cheok said that he usually meets such offenders during forensic assessments, which is when mental health practitioners evaluate an accused person to determine their mental state.
Dr Cheok, who is chief of the Institute of Mental Health's forensic psychiatry department, said he has personally not come across patients who voluntarily seek help for online child abuse material or sexual interest in young children.
IMH can offer treatment to those who are distressed by their paedophilic tendencies, he added. Such treatment can target how they control their behaviour, or their viewing of online pictures or videos of child sexual abuse.
If the patient agrees, medication aimed at reducing their sex drive can be prescribed as well, Dr Cheok added.
LEGISLATIVE CHANGES
While the long arm of the law eventually catches up with offenders, legislation also has to keep up with evolving global trends.
Wide-ranging amendments to Singapore's Penal Code were passed in parliament and took effect on Jan 1, 2020, with specific laws targeting the production, distribution, advertising and possession of child abuse material.
Before this, offenders could only be convicted of other offences related to obscene films, which cover all kinds of pornography.
Before the amendments were passed, the review committee noted that the laws were not designed to "address the serious problems" that the internet had created in terms of child sexual abuse material. The committee also raised the issue of livestreaming.
"Even though there is no sexual penetration of the child by the offender in such situations, the psychological damage is serious, to the children who are exploited to be part of such activities," the committee wrote in its 2018 report.
Some of the new laws targeting child sexual abuse material are extraterritorial as well. For example, Singaporeans and permanent residents who use a child to produce child abuse material can be prosecuted if they commit these offences overseas.
In response to the proliferation of illegal content on social media platforms, governments around the world have drafted or enacted online safety laws.
This includes Singapore, where the Online Criminal Harms Act is expected to be introduced in parliament later this year. If passed, the Act will grant the government powers to stop or remove online communications that pave the way for crimes in the physical world.
Several months ago, amendments to the Broadcasting Act were passed in parliament, allowing the Infocomm Media Development Authority to deal with harmful online content accessible to Singapore users, regardless of where the content is hosted or initiated.
Advocates said that while Singapore's moves to combat online child sexual material have been heartening, the world has to be prepared to tackle new developments, especially as more children gain access to the internet.
Ms Sharma from ICMEC said that the biggest challenge she initially faced from governments, as well as finance companies and banks, was getting them to acknowledge the issue.
"Increasingly, with the media writing about it, there have been legal reviews, these kinds of public consultations that create awareness," she added.
"We have to acknowledge that there is a dark side to humanity on many fronts. This is an issue that is particularly uncomfortable and people didn't want to talk about it."