Children over one do not need formula milk, experts say
Experts say the health benefits touted by formula milk are a "marketing ploy" as the same nutrients can be found in everyday food.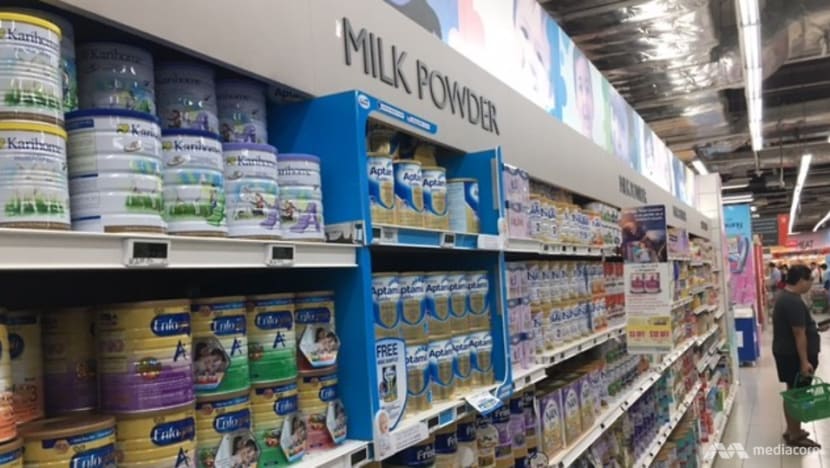 SINGAPORE: Mr Corey Sta Maria's five-year-old daughter takes formula milk twice a day, before breakfast and after dinner. He believes that the milk contributes to her overall well-being, especially her good immune system.

"She has her milk alongside her meals, and it's convenient, because she may not finish her food and we don't know whether she's getting enough nutrients," said that 44-year-old sports marketer, who added he was not sure if he would continue to give her milk after she turns six in November. His younger daughter, who is just over two years old, also drinks formula milk three times a day.
He continues to give them milk after a little experiment showed they did not like fresh cows' milk, which nutritionists recommend after 12 months.

To save on costs, his family drives over to Johor Baru, Malaysia, to stock up on their formula milk supply - which brings about savings of S$20 to S$30 a tin. They settled on a particular brand of milk after extensive research on its benefits and reviews from other parents.
Formula milk came into the spotlight after parenting portal Babyment.com revealed prices of infant milk formula in Singapore increased by an average of about 27 per cent from December 2012 to March 2017. The average price of formula milk has more than doubled over the last decade to S$56.06 for a 900g tin, according to Singapore's Department of Statistics.

HEALTH CLAIMS A MARKETING PLOY: EXPERTS
While parents may rely on health claims to choose a formula milk brand for their children, experts say such claims meant for children above one are a "marketing ploy" because the same nutrients can be found in everyday food. 
Referring to nutrients like docosahexaenoic acid (DHA), taurine and choline which are prominently promoted on milk tins, paediatric dietitian Meave Graham from Child Nutrition Singapore said: "These nutrients are found in breast milk and in normal balanced diets. Children do not need special supplements of these nutrients."
In fact, giving formula milk to picky eaters can worsen the situation.

"The higher sugar level (in formula milk) gives a sweet taste and can be very filling, reducing interest in trying other foods. Formula milk offers no nutritional benefit over a balanced diet," she said, stressing that formula milk is not recommended for children above 12 months.
While these nutrients have become common in formula milk, Dr Han Wee Meng, head of nutrition and dietetics at KK Women's and Children's Hospital, said that there is more research on the role of choline in fetal brain development during pregnancy than in toddlers, and that taurine is removed during processing in formula milk. Since the late 1980s, the Food and Drug Administration in the United States permitted the addition of taurine to formula milk. 
These nutrients, along with DHA, arachidonic acid (AA) and lutein, have been promoted by milk manufacturers as giving health benefits like brain and eye development, healthy immune system and helping fat digestion.
Continuing on formula milk beyond 12 months may make the child overly dependent on milk, which may impede the transition to eating family meals, Dr Han explained.
"Formula milk may feel like an easier option for parents, especially when faced with difficulties to wean a child to a solid diet. However this may further perpetuate the feeding difficulties, as the child is given limited opportunities to learn and practise the necessary feeding skills," she said.
Dr Chua Mei Chien, head of neonatology at KKH, added that an infant who weans well and is having excessive formula milk intake can become obese. This carries a negative impact on long-term health with the child having a higher risk of developing metabolic conditions such as adult obesity, diabetes and heart disease, she said.
Senior dietitian at National University Hospital Charlotte Lin said children above the age of one need nutrients that are similar to an adult but in smaller portions. These include macronutrients such as calories and protein, and micronutrients such as iron, zinc and calcium, she said.
While Ms Lin said formula milk is useful if children are not able to eat solids very well, formula milk may contain extra sugar when compared to cows' milk.
CURBING RISING COSTS
To counter the increasing price of formula milk due to manufacturers spending heavily on marketing and research and development, authorities said these manufacturers will not be able to use nutrition and health claims as well as images that make drinking formula milk look attractive once changes to Agri-Food and Veterinary Authority (AVA) regulations take effect.
AVA will also streamline its import regulations in order to facilitate the entry of more suppliers and brands of formula milk. These changes are expected to be finalised by end of this year, AVA said in a joint media release with the Ministry of Health and Health Promotion Board (HPB) earlier this month. 
The proposed changes in regulation come as a response to the recommendations by the Competition Commission of Singapore, following a market inquiry into the formula milk industry.
HPB will also ramp up education efforts on the nutritional composition of formula milk in a five-year campaign that is expected to cost S$5 million. The campaign will help parents who rely on it to make more informed decisions.
Following the Government's call to review import requirements to address rising milk powder prices, NTUC FairPrice has also been proactively discussing with the authorities and new suppliers based overseas on bringing in better value milk powder, a spokesman said. Currently, FairPrice provides more than 150 varieties of milk powder from different brands, formulations and pack sizes ranging from S$22 a kg to S$97 a kg.

In response to queries, supermarket chain Sheng Siong said it has not seen a drop or increase in our milk powder sales for the past two weeks, and that it is in in discussion with suppliers for better deals for milk powder products.