China's reopening unlikely to make a big impact on Singapore's COVID-19 situation, experts say
Singapore's population is well-protected by vaccinations and previous infections even as more Chinese tourists are set to visit the country, experts said.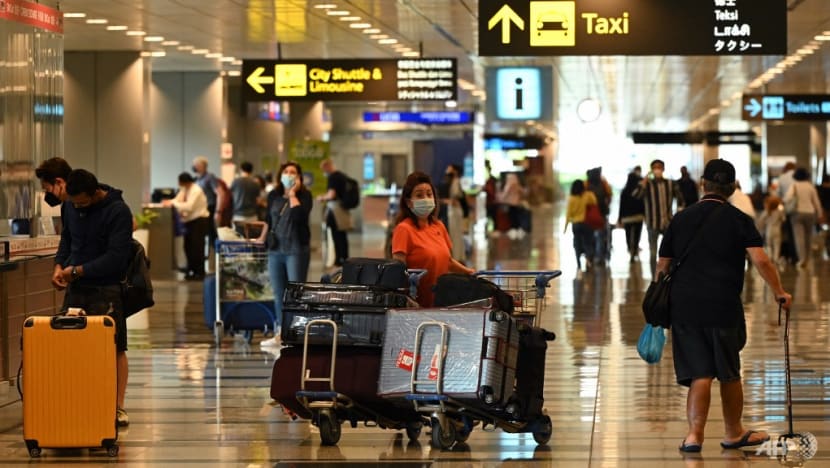 SINGAPORE: China's reopening of borders is unlikely to lead to a severe wave of COVID-19 infections in Singapore even as more tourists are expected to visit, according to infectious diseases experts.
The virus strains circulating in China are already present in Singapore, said Professor Paul Tambyah, president of the International Society of Infectious Diseases. 
"It is unlikely that there will be a spike in cases in Singapore related to visitor arrivals from China," he told CNA.
Even if infections increase, the population in Singapore is relatively protected because of high vaccination rates, said Professor Dale Fisher of the National University of Singapore's (NUS) Yong Loo Lin School of Medicine.
"There is a lot of transmission in all countries already so while there will be imported cases, at most it will lead to a surge in mild cases as Singapore residents are well vaccinated and most people have been infected already," said Prof Fisher, who is also senior consultant at the Division of Infectious Diseases in the National University Hospital.
From Jan 8 (Sunday), China will lift mandatory quarantines on those arriving in the country, leading to increased interest in travel, including to Singapore.
About 3.6 million Chinese residents visited Singapore in 2019, making up nearly 19 per cent of visitor arrivals that year, the largest contributor of tourists.
After the announcement, several places around the world imposed curbs on travellers from China, which is seeing a surge in COVID-19 infections after Beijing relaxed strict "zero-COVID" measures.
The Ministry of Health (MOH) said on Dec 28 that Singapore's COVID-19 rules for travellers and work pass holders arrivals from China would remain unchanged. 
Singapore currently requires travellers who are not fully vaccinated, based on the World Health Organization's definition, to undergo pre-departure tests. Short-term visitors are also required to purchase insurance for COVID-related medical expenses.
NEW VARIANTS
Health Minister Ong Ye Kung in December had said that China's reopening would cause some uncertainty partly because mutations are likely as the virus spreads.
"What we worry more (about) is what kind of mutations may come out of China. So that's what we're watching," he said at the time, before China announced it would scrap quarantines. 
Singapore's "resilience is high" because of previous waves, he added. 
Dr Chng Shih Kiat of Raffles Medical said there is "always a possibility of a new wave of cases", especially if there is a new variant that can evade immune systems. 
"If it is able to evade the immune system and has greater transmissibility, then it has a greater chance to become the main variant," the medical director and consultant said.
But Prof Tambyah said a new variant is likely to be less serious, even if it is more transmissible.
"If there is such a new variant spreading through the world causing millions of mild infections but no significant deaths or without any impact on healthcare systems, then perhaps the pandemic can be declared over," he said.
Dr Leong Hoe Nam, an infectious disease specialist at Mount Elizabeth Novena Hospital, said new variants will keep emerging and will enter Singapore "not just (from) China but the whole world."
"To argue that we should isolate China based on this fear, we should then isolate ourselves from the whole world - but this is illogical and not feasible," he said, while describing the spread of the virus as "inevitable" and that "resistance is futile." 
Prof Fisher also noted that none of the variants so far has escaped the vaccines' protection against severe disease.
HOSPITAL CAPACITY 
He added that Singapore's population and healthcare system are ready for a potential wave of COVID-19 infections, but residents should not take this for granted. 
"Singapore's response to COVID-19 was successful because the community was engaged and the science was followed," he added. 
"The situation is being constantly monitored and if things took a turn for the worse the community would again be asked to respond." 
With high levels of vaccination in Singapore residents and travellers, it is "very unlikely" that hospitals will be overwhelmed, said Prof Fisher. 
"If people with mild disease used hospitals excessively, it is a risk so it's important travellers know what to do if they develop symptoms." 
Singapore is better prepared to deal with a surge in cases than before, with dedicated resources such as the community care facilities and primary care networks that manage cases in the community, Dr Chng added. 
At Raffles Medical's clinics and hospitals, there are no trends of Chinese visitors coming to Singapore for COVID-19 treatment, he said.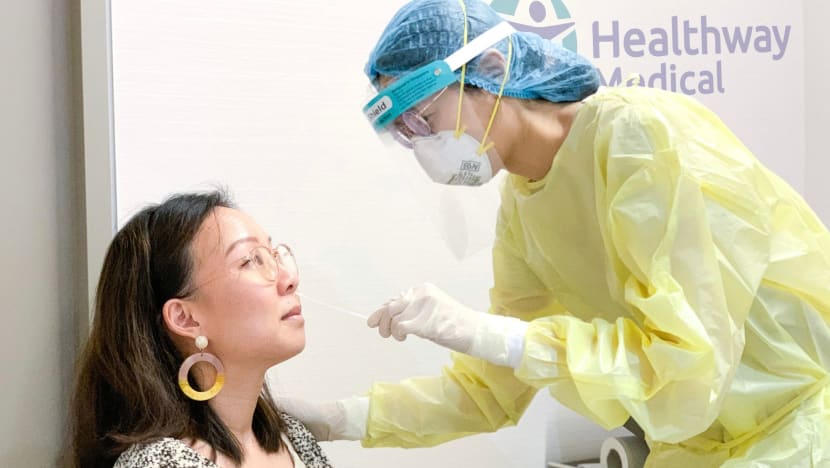 Citing the Ministry of Health's (MOH) data, Prof Tambyah noted that only one of the thousands of people returning to Singapore from China had a severe case of COVID-19, and that person was a Singaporean. 
"Anecdotally from friends and colleagues in China, most of the infections have been very mild so it is unlikely that anyone would come here seeking treatment," he added. 
"People in China are hoarding Panadol during this current wave, in marked contrast to mid-2021 when people in some countries were hoarding ventilators and oxygen cylinders." 
SOCIAL RESPONSIBILITY AND VACCINATION 
Even though China's reopening is unlikely to cause a new wave of COVID-19 infections in Singapore, those living here should continue to practise good hygiene and see a doctor if they are unwell, said Prof Tambyah. 
Those living in Singapore should make sure their vaccination status is up to date, said Prof Fisher, adding that this is the "most important measure".
He said Singapore residents and travellers should also test and isolate themselves if they have symptoms. 
Those in Singapore should also wear a mask in crowded areas to protect themselves from the virus, said Dr Chng. 
When asked whether a potential wave of COVID-19 infections could push people to get their fourth vaccination booster shots or the bivalent vaccine, the experts said that fear of an imported epidemic from China is unlikely to drive people to get vaccinated. 
"What will really drive the rates higher is seeing that the booster vaccinations work. Right now, the benefits appear to be small but we will need to see what happens with the new strains such as XBB1.5," said Prof Tambyah. 
Vaccination remains the mainstay of protection against the virus, Dr Chng stressed. 
"It is strongly recommended for those with high risk of complications from COVID-19 infection such as patients who are elderly, obese, have diabetes, et cetera," he added. 
Singapore also has enough vaccines for its residents, said Prof Tambyah, when asked whether travellers from China would come to Singapore to take an mRNA vaccine. 
The two main vaccines used in China are Sinovac's CoronaVac jab and the Sinopharm vaccine, both developed and manufactured in the country. 
Unlike the Pfizer-BioNTech/Comirnaty and Moderna vaccines used in Singapore, which are mRNA vaccines, the Sinovac and Sinopharm vaccines use an inactivated form of the SARS-CoV-2 virus. They are also both available in Singapore. 
"I do not see any reason why anyone from China would come here for an mRNA vaccine. The Chinese vaccines have been shown in studies from Argentina and Hong Kong to be as good as the mRNA vaccines with potentially fewer side effects," said Prof Tambyah.
However, medical director at Parkway Shenton Dr Edwin Chng said the group's clinics have received enquiries from visitors from China to book appointments for mRNA vaccines.
There was a 90 per cent increase in enquiries starting from the end of December, when the relaxed travel restrictions were announced, he added.
"We are currently working with the appropriate stakeholders to see how best to fulfil these increased interest in mRNA vaccines."
Parkway plans to increase manpower for their clinics handling mRNA vaccinations, to ensure that operations for Singapore patients are not affected, said Dr Chng. 
Dr Leong said there will still be enough vaccines for those in Singapore, even if many visitors from China choose to get vaccinated here.
He said there is "vaccine fatigue" in Singapore, and the uptake for the latest doses has been "very slow" compared to the first two shots and the booster.
"The world is increasingly more connected so isolation from the virus is seemingly impossible. Helping anyone and everyone will only help us eventually," added Dr Leong.
In December, the Health Minister said that 386,000 bivalent COVID-19 vaccine doses had been issued since they were introduced in mid-October. 
The bivalent Pfizer-BioNTech/Comirnaty COVID-19 vaccine has been open to people aged 12 and above from Dec 12. 
MOH said earlier in December that about nine in 10 seniors aged 60 and above had achieved minimum protection against COVID-19. A person is considered up-to-date with their vaccination if they have the minimum protection and their last jab was within one year.
Six in 10 seniors were up to date with their vaccinations, said MOH at the time. In December, there were still close to 40,000 eligible seniors who had not yet achieved minimum protection. 
As for the rest of the population, Health Ministry data in December showed that 81 per cent of the population had minimum vaccination protection, or had taken three mRNA or Novavax doses or four Sinovac doses. 
The percentage of the population with up-to-date vaccination was 61 per cent.