Chingay parade, yusheng among suggestions for Singapore's next UNESCO intangible cultural heritage nomination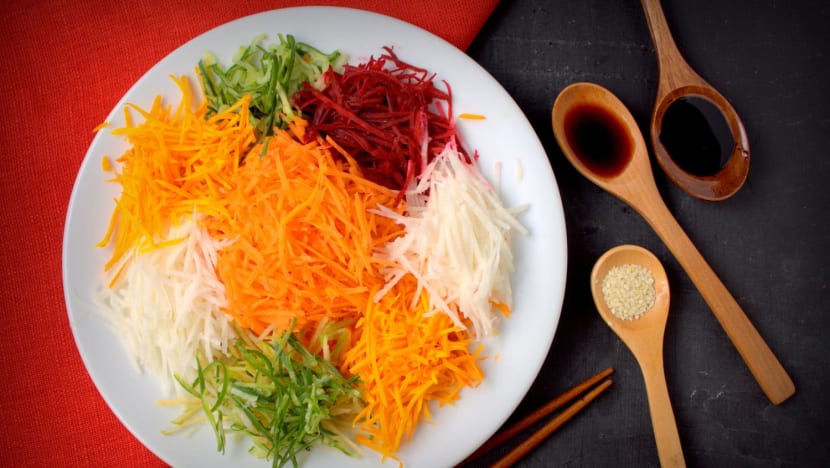 SINGAPORE: The Chingay parade, yusheng and orchid cultivation are among 10 suggestions for Singapore's second UNESCO intangible cultural heritage nomination.
This was revealed by Minister of State for Culture, Community and Youth Low Yen Ling during her ministry's Committee of Supply debate on Thursday (Mar 10).
Singapore's first and only listing on the UNESCO intangible cultural heritage list is hawker culture, which was inscribed in December 2020.
Speaking in Parliament, Ms Low noted that there is a "clear preference" for the second nomination to be multicultural in nature and relatable to Singaporeans.
This follows focus group discussions with about 170 participants between June 2021 and January this year. These participants include intangible cultural heritage practitioners, heritage business owners, academics and youths.
"A total of 10 possible elements have been suggested through these consultations. For example, our Chingay parade, the making and sharing of kueh, Peranakan beadwork and embroidery, orchid cultivation and yusheng, just to name a few," said Ms Low.
Other shortlisted elements include getai, traditional medical practices and Thaipusam, said the Ministry of Culture, Community and Youth (MCCY) in a factsheet.
NHB will broaden its consultations over the course of the coming months to engage more stakeholders, as well as the general public, before a final decision is made on the element to be nominated, added Ms Low.
S$12 MILLION BOOST FOR ARTS AND CULTURE
In his speech earlier in the afternoon, Minister for Culture, Community and Youth Edwin Tong also announced a S$12 million boost for the arts and culture sector as it recovers from the pandemic.
This follows the S$75 million Arts and Culture Resilience Package (ACRP), which was introduced in April 2020. 
"The ACRP demonstrated the government's clear commitment towards supporting the arts, culture and heritage sectors since the pandemic started," said Mr Tong. "This support was critical, safe-guarding jobs and livelihoods, and protecting talent in the sector."
The ACRP and broad-based support schemes supported more than 900 arts and culture organisations, he added. 
Mr Tong said that the S$75 million for the ACRP will be fully utilised by the end of this financial year. The additional S$12 million injection, he said, will build on the gains made.
Part of the funds will be used to extend the Venue Hire Subsidy scheme for another three more months - from Apr 1 to Jun 30 - at a lowered rate of 30 per cent, added Ms Low.
"This will continue to defray venue hire costs for our practitioners, as we progressively resume activities and welcome back larger audiences," she added.
The scheme, which aims to help arts and culture organisations and practitioners manage overheads, was originally an 80 per cent subsidy until the end of last year. It was reduced to 60 per cent between January and March this year.
The subsidy supported more than 1,700 live performances and other cultural activities in 2020 and 2021, said MCCY.
The National Arts Council and the NHB will also incorporate two grants – the Organisation Transformation Grant and the Self-Employed Persons Grant – into their grant schemes, Mr Tong announced.
Introduced in 2021, the Organisation Transformation Grant sustained and developed organisations' efforts to transform, in particular heritage businesses. It supported more than 100 transformation projects involving about 190 organisations, the ministry said.
Also introduced last year, the Self-Employed Persons Grant created opportunities for those who are self-employed to explore new skills and capabilities through collaboration with each other. This generated more than 5,000 work and training opportunities.
The NAC will introduce a new Sector Transformation Fund to "promote and sustain" the transformation efforts of Singapore's arts and culture community, added Ms Low.
ENCOURAGING CULTURAL PHILANTHROPY
As part of a move to further encourage cultural philanthropy, the Cultural Matching Fund will receive a S$150 million top-up, Mr Tong said.
Established in 2013, the fund provides dollar-for-dollar matching of private cash donations to arts and heritage charities. Its objectives are to encourage cultural philanthropy, and to encourage arts and heritage charities to diversify income streams via fundraising.
The move will further encourage cultural philanthropy in Singapore and enhance the sustainability of arts and heritage sectors, said Mr Tong.