Supply woes threaten Christmas trees and log cakes, but Singapore retailers say they have contingency plans
One retailer selling the season-iconic Christmas fir trees said that it has run into shipping woes, with port delays, uncertain arrival times, and rising costs.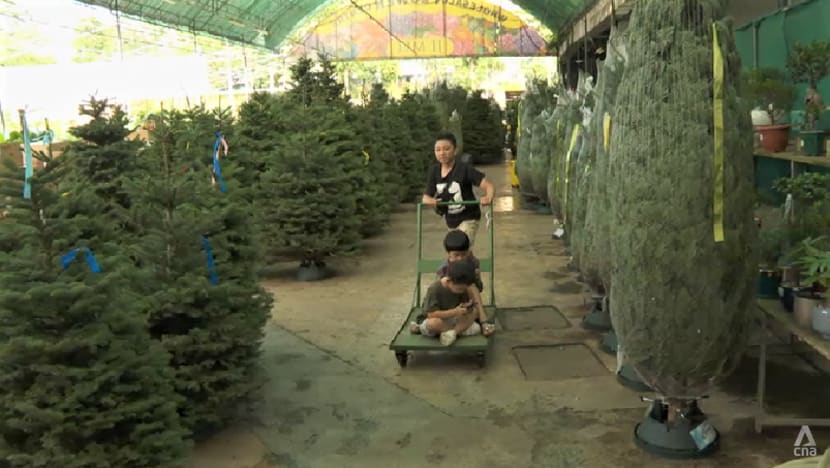 SINGAPORE: With Christmas just a month away, some retailers in Singapore are ramping up inventories by as much as 30 per cent in anticipation of an increase in demand.
However, supply chain disruptions are delaying shipments and pushing up freight costs.
One such retailer selling the iconic fir Christmas trees said that it has run into shipping woes, with port delays, uncertain arrival times, and rising costs.
Its trees, imported from the United States, typically take 23 days to arrive via sea but this year, the Ji Mei Flower floral store said there has been delays of up to about a week.
However, inflation and supply chain concerns have not dampened holiday makers' appetite for the trees and demand remains strong.
The store said it receives an average of 50 orders a day, and each shipment of about 500 trees can be cleared within a week or two. Some fir varieties are already sold out.
Apart from delays, the store said international freight and shipping costs have also gone up on the back of inflationary pressures.
The store said it is coping through careful planning and scheduling, and ensuring that it has reserve stock available.
"Lots of issues, lots of uncertainties. So we are trying to anticipate what will happen," said Mr Mok Keng Houng, Ji Mei Flower floral store's marketing manager.
"We need to do very careful planning to have enough buffer stock so that we will not be adversely affected because of the shipment delay," he added.
The store now stocks up to a week's worth of buffer supply, but with demand expected to climb in the weeks leading up to Christmas, the trees in their inventory may not be enough.
SWEETS ALSO UNDER THREAT
Other Christmas favourites like log cakes are not spared from the disruptions to the global supply chain either, but companies in the food sector said they have also minimised the impact with careful planning.
Retailer Awfully Chocolate estimated that the time taken to ship in raw ingredients has increased by about a third.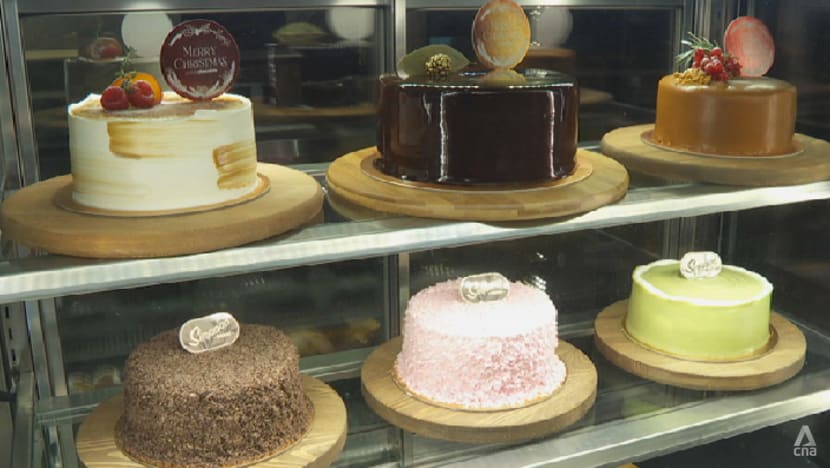 Its founder Ms Lyn Lee said her team planned way ahead to mitigate supply risks, as Christmas is the homegrown brand's biggest season.
"The key word is 'uncertainty'. We anticipated with all the uncertainties in the world, there would be delays, jams and supply issues," she said, adding that apart from log cakes, the delay in supplies also affects other items in her firm's catalog such as its primary product, chocolate.
"The only safeguard really was to then bring forward the entire process, so we could try to buffer whatever delays we might face," she said.
Ms Lee added that the brand searched for alternative sources and discussed its timeline with suppliers, with conscious efforts made in finding innovative ways to manage and save costs.
FORWARD PLANNING IS KEY
She said that the chocolatier and its sister Sinpopo Brand have managed to bring down the costs of some processes and materials, which they have passed down to the consumers in the form of reduced prices for some items.
"It is a minor (Christmas) miracle", said Ms Lee.
Its flagship All-Chocolate Cake now costs less than a year ago, the company said. Its All-Chocolate Log Cake, which cost S$92 last year, is also cheaper this year after the brand shaved S$4 off the price tag.
Ms Lee said the price reduction was made possible by coordinating with suppliers early, and saving on packaging and decorations.
"I think the inflationary costs are big on everyone's mind and that's why that went into so much of our planning. How do we make the cost okay, so that people can still celebrate Christmas and celebrate Chinese New Year without fretting over inflation?" she said.
The brand is already receiving orders for hampers and gift sets for Chinese New Year, and said it is bringing the early planning approach, which has worked so well ahead of Christmas, into the new year.