Citibank's new anti-scam measure restricts users' access to app if risky permission settings detected
Citibank says restrictions to the Citi Mobile App will be lifted once the risky permission settings have been disabled.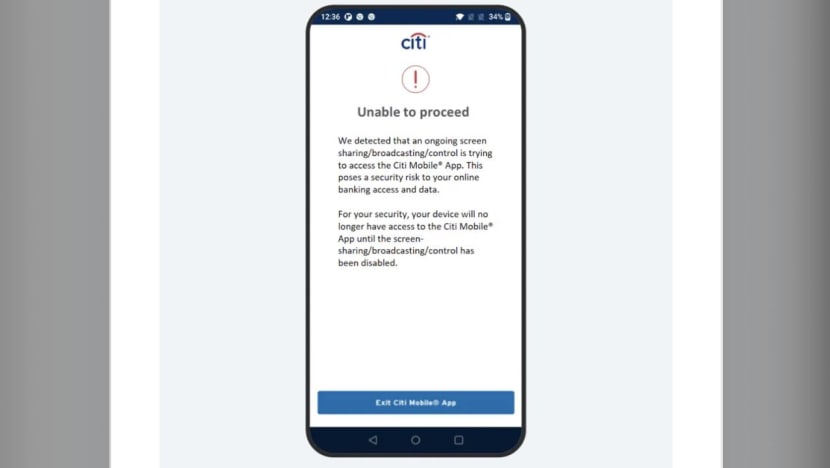 SINGAPORE: A new anti-scam feature on Citibank's mobile app will restrict users' access if it detects risky permission settings on other apps.
In an email sent to Citi Mobile App users on Friday (Sep 15), Citibank said the security update was part of ongoing efforts to provide a safe and secure banking environment. 
Citi said the measure to protect its users' online banking data will restrict access to the banking app if it detects "any apps or tools with risky permission settings attempting to gain access to the Citi Mobile® App".
An error screen will appear when users try to access the app.
It added: "In order for you to continue accessing the Citi Mobile® App, you will need to disable any risky permission settings on the other app/tool."
This includes stopping screen sharing or broadcasting on the other app or tool, according to Citi.

"Once such risky permission settings have been disabled, your access to the Citi Mobile® App will no longer be restricted and you may proceed with usage of the Citi Mobile® App."
It noted that scammers are employing increasingly sophisticated tactics to deceive users into installing malicious apps or malware on their devices.
"Once a malicious app is installed, scammers can remotely access your device and steal sensitive information, including personal data and banking credentials to perform fraudulent monetary transactions."
In response to CNA's queries, the bank said that the security feature on its mobile app will be rolled out progressively starting this week. It will be completed by the end of next month.
"We will be paying closer attention to customer feedback during the rollout to minimise inconvenience to our customers," said Citibank Singapore's head of digital channels and experience Nilesh Kumar.
OCBC rolled out a similar feature in August, preventing users from logging onto their OCBC Digital app on their phone if it detects potentially risky apps downloaded from unofficial portals. OCBC's security update also extends to its Internet banking users.
Those with high-risk apps on their mobile phones were unable to access their OCBC online banking services.
But OCBC customers took to the bank's social media to express their concerns after the security update kicked in. 
Some complained that apps such as popular Chinese video-sharing platform Douyin, online payment platform Alipay, and LG's smart appliance control app were among those flagged by OCBC's security feature.
The bank advised users to reinstall them from the official app stores to access their banking services.