PAP MPs file second parliamentary motion on climate change; proposals include tiered carbon tax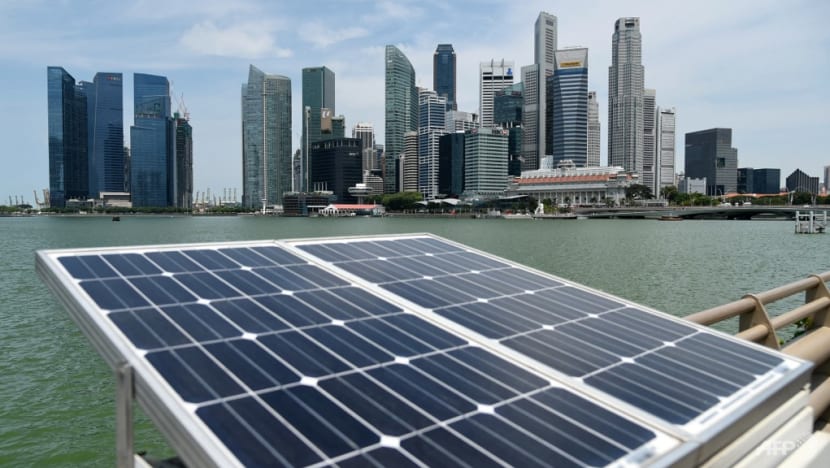 SINGAPORE: A dedicated academy to help prepare Singaporeans for jobs in the green sector and a tiered carbon tax for businesses are among the recommendations that will be raised by Members of Parliament (MPs) from the People's Action Party's (PAP) in a parliamentary motion next week.
The private member's motion, filed by MP Poh Li San (PAP-Sembawang), hopes to address the issue of climate change and its impact on Singapore, the party said in a press release on Friday (Jan 7).
Ms Poh is deputy chair of the Government Parliamentary Committee (GPC) for Sustainability and Environment. Five other MPs from the GPC, including its chair Louis Ng (PAP-Nee Soon), have supported the parliamentary motion.
It states: "This House calls for the Government to enhance green financing, create more green jobs, and strengthen corporate accountability, in partnership with the private sector, civil society and community, to advance Singapore's inclusive transition towards a low-carbon society."
The PAP MPs speaking on the motion will "draw on" a paper written by the party's youth wing, Young PAP, the press release said.
Overall, 15 PAP MPs and one nominated MP, environmental scientist Koh Lian Pin, will speak during the motion at the next Parliament sitting scheduled from Jan 10 to Jan 12.
MP Nadia Ahmad Samdin (PAP-Ang Mo Kio) and MP Henry Kwek (PAP-Kebun Baru) will be among those proposing how Singapore can become the regional hub for a carbon marketplace, sustainability accounting and reporting, as well as sustainability research and development (R&D).
To prepare Singaporeans for new jobs in the sustainability sector, MPs including Ms Poh, Ms Hany Soh (PAP-Marsiling-Yew Tee) and Ms Rachel Ong (PAP-West Coast) will also call for a "Green Space Academy" dedicated to sustainability-related R&D and training, as well as internship programmes developed through a tripartite approach.
Noting that 55,000 jobs will be created in the sustainability sector by 2030, Ms Nadia said: "Singaporeans of all backgrounds should have the option to participate in this growth, and be front and centre in taking advantage of the opportunities."
The GPC is also concerned about how local businesses of all sizes can survive and thrive, as sustainability concerns become more integrated into the global marketplace.
The PAP MPs will recommend that the Government publish "a catalogue of firms with low or reduced carbon emissions" so as to nudge consumers and other businesses to make purchases from firms that have more sustainable practices.
Such a catalogue will also incentivise other firms "to follow best practices", the press release said.
Other recommendations include a tiered carbon tax, which will reduce the burden on firms with lower emissions while giving others with higher emissions more incentive to reduce their emissions. 
The press release did not mention details.
Singapore's carbon tax rate has been set at S$5 per tonne from 2019 to 2023, with the Government intending to raise the tax to between S$10 and S$15 per tonne by 2030. 
Finance Minister Lawrence Wong has said that a revised carbon tax rate for 2024 will be announced in this year's Budget. At the moment, Singapore's carbon tax applies to all facilities producing 25,000 tonnes or more greenhouse gas emissions a year.
MP Don Wee (PAP-Chua Chu Kang), who will be speaking on this, said: "As sustainability standards become essential in the global marketplace, we need to help our businesses get ahead of the curve and take advantage of opportunities in the region-leading sustainability sector we want to build.
"We'll call for guidance for companies to reduce their carbon emissions and recognition for firms who have done well."
The GPC for Finance and Trade and Industry will support the parliamentary motion. Seven PAP MPs from this GPC are set to deliver speeches about seizing opportunities for green growth and balancing trade-offs, as well as upgrading skills and transforming jobs for an inclusive transition.
This parliamentary motion comes almost a year after the GPC for Sustainability and Environment filed the first-ever motion on climate change, which called on the Government to partner the private sector and Singaporeans in bolstering efforts to fight climate change and embrace sustainable development.
Ms Poh said: "In our first motion on climate change last year, we called for the whole of Singapore to accelerate and deepen efforts against climate change. Since then, the GPC and YP have continued our conversations with industry experts, academia, environmental groups and Singaporeans."
The upcoming motion will focus on how to ensure Singaporeans are not left behind amid a green transition, she added.
"We hope to get the whole House to support the motion."