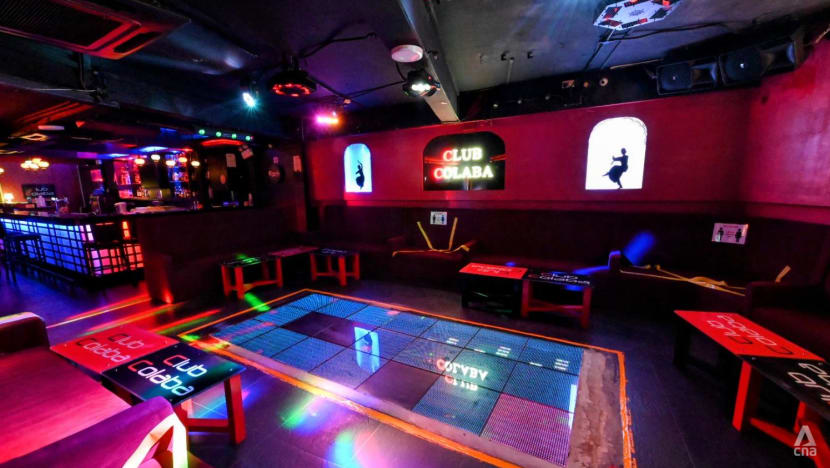 SINGAPORE: Despite marking the end of more than two years of closures, the reopening of nightlife businesses on Tuesday (Apr 19) got off to a muted start.
Across nightlife hotspots, many establishments – such as bars and discotheques – remained closed. The few that were open, which CNA visited, mostly saw thin crowds.
On Circular Road alone, at least three clubs were closed. And though music was thumping at Club Colaba along this stretch, business was quiet. 
When CNA visited at around 9.30pm, there were only three customers in the Indian fusion dance club. They were the only patrons of the night so far.
Club employee David Chand said he had expected this, as they were still in the process of bringing back dancers from India. These performers are typically the main draw, he said.
"We expect business to pick up in two weeks or so (once we get the approvals) … We are looking forward to getting back to normal."
In the meantime, they're welcoming back regulars with drinks on the house, after two years of being shut.
Mr Chand joked wryly: "We're losing (money) anyway, it doesn't make a difference."
At nearby club Bollywood Masti, only two tables were filled. This was a disappointment for its supervisor, who only wanted to be known as Ms Ria.
"After two years of no business … we want to have more people come." Like Mr Chand, Ms Ria also said more patrons will likely return once they are able to bring in dancers.
STATIONS FOR TESTING
At Cherry Discotheque along Cecil Street, there were about 30 to 40 people at 10.30pm — a crowd typical of a Tuesday night, an employee told CNA. 
A station for supervised antigen rapid tests (ARTs) had been set up at the entrance, with providers charging patrons S$15 per swab.
Patrons need a negative result to enter nightlife businesses where dancing is involved. But the employee told CNA that there is currently no dance floor at the establishment, which is operating as a bistro.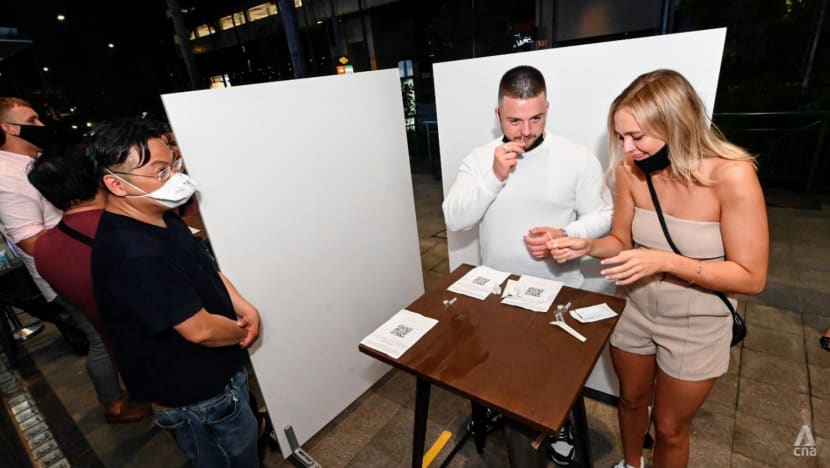 Two patrons, who only wanted to be known as Ms Siti and Mr Danny, were at Cherry Discotheque to get a taste of the nightlife they used to indulge in twice a week.
Ms Siti, 25, said: "(The ART) was quite fast ... but I would think twice (about doing this again), as it is an extra expense."
Her fellow patron, Mr Danny, 27, said: "It was worth it because it's been two years since we clubbed.
"We just came in out of curiosity … We had a glimpse of what we had pre-COVID."
KEEPING TO YOUR GROUPS
The duo added that the nightlife experience felt different from their pre-pandemic days, as all the guests stayed within their groups.
"It's very tame ... Everyone has their own tables so it's quite spread out," said Ms Siti.
This was also largely the case at another club, Pixie SG.
The establishment, located at the basement of the Holiday Inn Singapore Atrium Hotel, was packed with patrons when CNA visited just after 11pm. It continued seeing a steady stream of customers up until midnight.
Amid the blaring music and flashing lights, patrons knocked back glasses of alcohol, but they mostly stayed within their own groups. These groups were also spaced about 1m apart from each other. 
REOPENING ON WEDNESDAY
Over at nightlife hotspot Clarke Quay, bars were moderately crowded, while most clubs were closed. That included nightlife staples Zouk and Yang Club, which will only reopen on Wednesday, as Tuesday is not "traditionally" a clubbing day.
Yang Club said it will only be taking reservations. As for Zouk, walk-ins will not be allowed, and patrons will have to buy tickets online on a first come, first served basis. 
Some merrymakers CNA spoke to on Tuesday said they had also showed up with the intention of partying, but had been unsuccessful in finding a club to go to.
Nevertheless, 22-year-old student Gregory Chang said he was simply happy to be out and about with his friends.
"We feel a bit more liberated. There are less restrictions and it feels like Singapore is back again."