In-kind donations up 50% at some charities this Chinese New Year, but trash among them is a problem
Unusable donated goods that need to be discarded include mouldy play dough, soiled or damaged clothes, and broken items.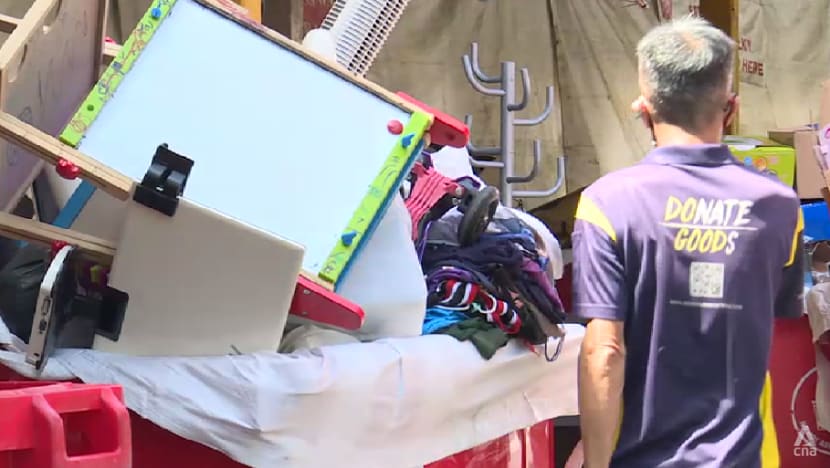 SINGAPORE: More people are opening their hearts this Chinese New Year, with some charities seeing as much as a 50 per cent increase in in-kind donations compared to last year.
To cope with the increasing amount of donated goods, some charities have had to reduce other services and bring in more volunteers.
However, charities also urge donors to carefully sift through their handouts and not include unusable items in their contributions.
While charity organisation SiloamXperience has made "turning trash into treasure" its mission at its thrift store, the conditions of some donations are too poor to be given a new lease of life.
"Donation is not about getting rid of your rubbish, it's about giving so that the things can be reused and recycled, and somebody can benefit from it," said the charity's founder Janette Tan.
"If you want to throw away things, go straight to the bins."
TRASH AMONG TREASURE
The charity, which runs its thrift store in Yishun, typically sees carton boxes piled up along its corridors over the Chinese New Year period as people rush to get rid of unwanted items during spring cleaning.
Unusable donated goods received that need to be discarded include mouldy play dough, soiled or damaged clothes, and broken items.
"It all boils down to education. We hope that people can understand that thrift stores are not a dumping ground," Ms Tan said.
"We are a place where we put in our passion and our effort to turn what you don't need – unwanted things – into something that is useful."
The Salvation Army experiences the same issues, with about 5 to 10 per cent of donated goods needing to be trashed. This adds costs for the charity due to disposal expenses.
"While we are very happy to receive donations – Singaporeans are very generous – we advise that they give us items in good and usable conditions," said Mr Nicholas Tan, donation and customer manager of the charity.
"For example, if you see (your donated) items in a store, would you purchase them? Or would they be something you wouldn't even look at? If it's something you would purchase, then yes, we would gladly accept it."
Mr Tan added that unusable items are a small percentage of total donations and about 80 per cent of contributions are usable.
COPING WITH JUMP IN DONATIONS
With the usual influx of donations over the festive period, charities said that they have tweaked their workflow to prevent their staff and volunteers from being overwhelmed.
"We actually scaled down our home collection operations, and we are fully concentrated on the donation booths," said Mr Tan. The Salvation Army runs several donation drop-off points across the island.
On a regular day, volunteers conduct an average of four trips between its collection sites and processing centres, he said.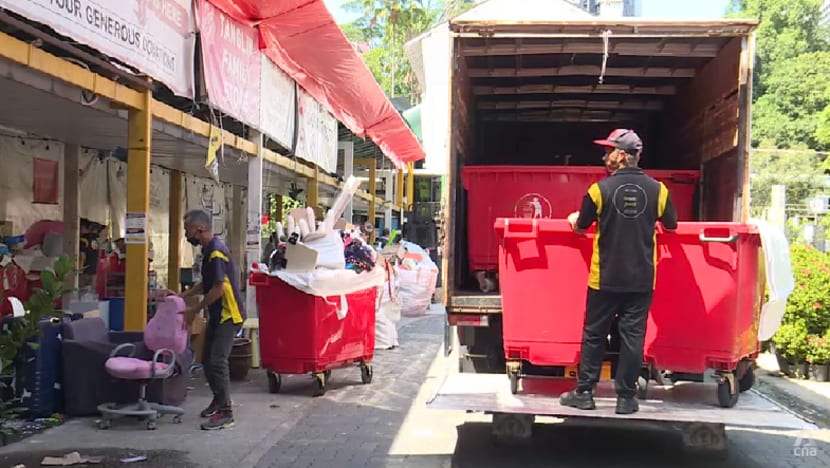 However, with a jump in items being deposited at its drop-off sites during the spring cleaning period ahead of Chinese New Year, volunteers have had to double their trips to the warehouse to eight a day so that the booths do not get overloaded.
The volunteers' tasks are made tougher as more people are also giving away bulky items.
"Apart from clothes, toys and old CNY decorations … we are also seeing an increase in about 10 to 15 per cent of bulky items," said Mr Tan. "Bulky items like furniture, desks, study tables, chairs."
The charity has beefed up its volunteer pool to cope with the additional workload and some staff have been working late to clear the backlog.
Donated items at The Salvation Army are usually sold at its thrift store, with proceeds going towards the charity's operations, including programmes that serve the needy.
NEW SYSTEM TO COPE BETTER
At SiloamXperience, donors need to book a slot before delivering their contributions to the centre this festive period. Each donor is also limited to five bags of items.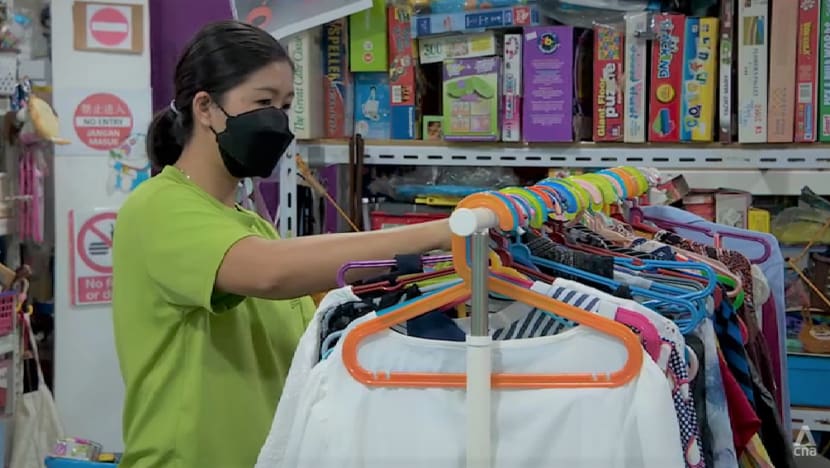 Ms Tan said the charity's new donation-by-appointment system spaces out the arrival of goods and allows its volunteers, who help to sift through a steady stream of clothes, books, and toys, to cope with the reduced workload.
"My volunteers can heave a sigh of relief. I've actually lost a few volunteers (in previous years) because they couldn't cope," Ms Tan said.
The charity said the response has been overwhelming and donation slots ahead of Chinese New Year were full by the first week of January. Donors looking to contribute items had to keep them until after the festive period.
The charity has also doubled its pool of volunteers between December and February by requesting help from firms' corporate social responsibility programmes.