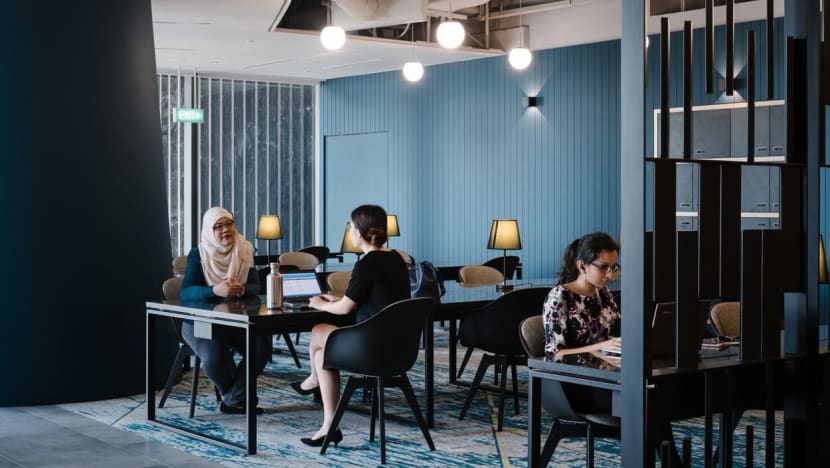 SINGAPORE: Ms Mildred Ang, who works at Klook Singapore, will sometimes head to a "hideout" at the co-working space where her company is based, for some alone time to think about "abstract stuff".
This hideout could be a wellness room or an outdoor rooftop garden, where she can be away from her co-workers for one or two hours, she said.
"I then have the ability, or the flexibility, to come up to our team to continue the discussion or have a different brainstorm session," said Ms Ang, who is the travel e-commerce firm's partnership and affiliates lead.
"I think that's one of the greatest benefits."
Klook, which employs about 100 people in Singapore, has been leasing one floor from a co-working space here for the past two years. Employees can also use desks at all the branches of the co-working chain, which Klook requested not to name.
Ms Cary Shek, the firm's vice-president for people and culture, said that when Klook entered the Singapore market a few years ago, employees worked out of a shophouse. But as the team expanded, that became impractical.
It wanted a space that would better facilitate collaboration and mingling among team members, and found that a co-working space could also provide more flexibility compared with leased office premises.
"As a fast-moving company, efficiency is so important to us. Time (is) required to set up a new office and … maintain it. We do need to make a call - where do we want our people to focus on," she said.
"A co-working space provides us with the scalability … (and) allows us to optimise the space, like when our business keeps expanding."
MULTINATIONALS, LARGE COMPANIES
Besides companies like Klook, multinational companies are also shifting to co-working spaces.
Mr Michael Sim, vice-president and head of JustCo in Singapore and Korea, said that half of JustCo's members are from MNCs, while the other half are a mix of start-ups and SMEs.
"Unlike a few years ago, nowadays we have observed more and more MNCs embracing flex space as a primary option for their office space usage," he said.
Standard Chartered Bank's 10,000 employees in Singapore can work at offices nearer their homes, provided by flex space provider IWG, while the bank maintains primary offices at Marina Bay Financial Tower 1 and Changi Business Park.
"The way we work has evolved during the pandemic and through actively listening to our colleagues, we have taken a more agile approach to our real estate strategy," said a bank spokesperson.
Through its arrangement with IWG, the bank's workers have access to 3,500 IWG office locations around the world.
Mr Brian Richards, Standard Chartered's head of resourcing in Singapore, said he meets up with colleagues at the bank's primary offices, and at times, uses co-working spaces as an alternative to working from home and for team off-site meetings.
"I appreciate the availability of diverse conducive spaces to support my various work needs, and the change in environment is refreshing and boosts productivity," said Mr Richards.
DEMAND FROM DIFFERENT SECTORS
IWG said that there is increased interest from companies of all sizes – MNCs, SMEs or start-ups – for co-working spaces.
In Singapore, IWG's on-demand membership sales rose by 85 per cent from the fourth quarter of 2021 to the first quarter of 2022.
"In fact, 83 per cent of the Fortune 500 use our services, and a fair share of them have multi-market presence that includes Singapore," said Mr Darren Rogers, country manager for IWG here.
WeWork, which just opened a new 220,000 sq ft space at Collyer Quay, has also seen demand grow. In the second quarter of this year, it had close to 90 per cent occupancy in Singapore, a 25 percentage-point increase from the previous quarter, said Mr Balder Tol, general manager for Australia and Southeast Asia.
And enterprises make up more than half its business in Singapore, Mr Tol said.
"What I have noticed is that companies of all sizes are still in the process of redefining their workplace strategies," said Mr Tol. 
"What we are seeing across all businesses is the preference for flexible leases to reduce their reliance on traditional real estate, driven by rising operational costs."
Like IWG, their clients range from MNCs and large enterprises to SMEs and start-ups. Both firms said that there is great demand from the finance and tech sectors.
In addition, Mr Tol noted that there is also interest from the pharmaceutical industry and even government agencies, for example the Ministry of Culture, Community and Youth is using flexible space at WeWork.
Open Government Products, a division of GovTech, is operating out of WeWork City House at Robinson Road.
Mr Joshua Tan, senior manager of corporate operations, told CNA that the division's more than 110 workers moved from Mapletree Business City to WeWork at Funan, then to City House in March this year.
Mr Tan said that the offices that were offered to the division for lease were not as conducive for work, citing "cubicles and drab hospital walls, low ceilings".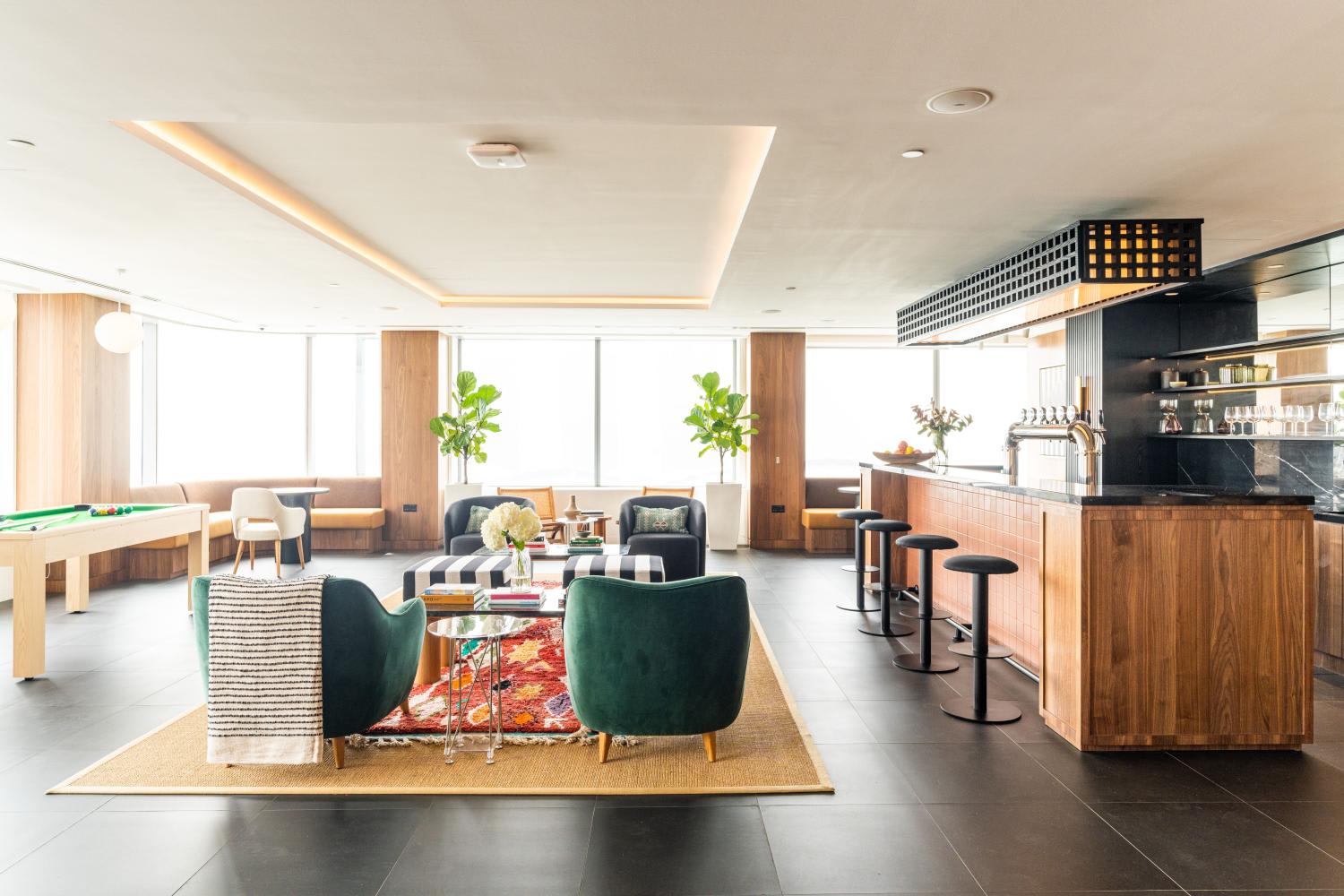 WeWork also offered services that would have required it to hire more people to manage office space, he said. Like Klook, one other consideration was scalability as the Open Government Products team was rapidly expanding.
"Many people on our team go to various WeWork (spaces) around the island, or even around the world," he said.
"Ultimately we believe in providing the best spaces for our team to effectively work, communicate and bond whether this is physical, virtual or hybrid."
DECENTRALISATION, WORK ON WEEKENDS
Co-working spaces said that there is also a growing preference to have offices closer to homes.
Visits to IWG centres outside the city centre jumped by close to 60 per cent between February and August this year, said Mr Rogers. 
Visits to its latest Regus centre, at Hiap Hoe Building in Balestier, jumped by 240 per cent since its opening in April.
JustCo's Mr Sim said that in the past, most users tended to work from a selected primary JustCo centre, but now more users are "toggling" among its 18 locations in Singapore. 
"This is clearly a reflection of the increasing popularity of work-from-anywhere."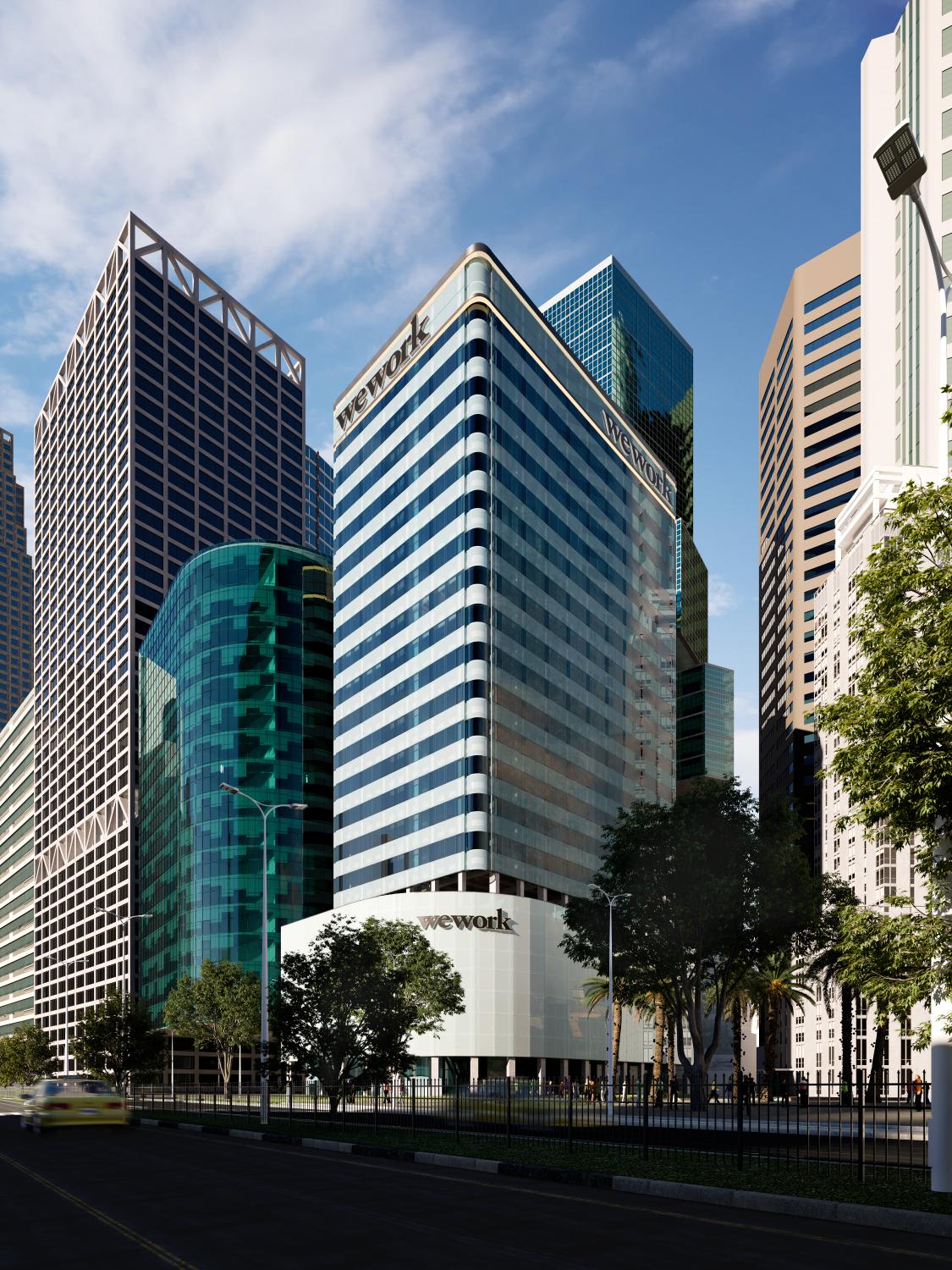 Mr Rogers said that more customers are also using IWG centres on the weekends, and for some spaces, weekend visits could reach up to 50 per cent of weekday visits.
Analysts agreed that flexibility was a decisive benefit for companies that opt for co-working spaces.
"Flexibility is a key advantage as it allows co-working space users the option to scale up or down, while traditional office leases lock a tenant down for a minimum three years, coupled with the consideration for a longer amortisation period for their fit-outs," said Mr Desmond Sim, CEO of real estate consulting firm Edmund Tie.
A co-working space may also give the smaller companies convenient access to a prestigious address, which is "key for talent attraction".
When asked to compare the costs of using a co-working space versus leasing an office, he said that it varies for location and extent of use, but there is less upfront cost when using a subscription model.
"In general, a typical cost plan for a co-working space may be quite even and spread out, paid on an annual basis, while a traditional lease will have to incur higher setup costs … at the lease commencement," he said.
Ms Tay Huey Ying, head of research and consultancy at JLL Singapore, said that flexible workspace operators have resumed their expansion paths in 2022 after a couple of lean years due to the pandemic. 
"The current uncertain operating climate including the still evolving future of work has helped bolstered the demand for flexible workspace," she said.
The Work Project is to open a new 50,000 sq ft facility at Battery Road in October, and JustCo has plans for a new 50,000 sq ft facility at International Plaza in end-2022 or early 2023. The Great Room will also be opening a new facility at South Bridge Road at the end of the year.
Besides their rising popularity with MNCs and large corporates, other companies may look to flexible space as an interim solution while they determine how they intend to occupy space in the medium to long term, Ms Tay added. 
"There are also occupiers who are unsure of what the future of work looks like to them and chose to experiment with hybrid working within a co-work space to avoid spending unnecessary capital expenditure altering existing spaces," she said.
Much of this is driven by the move towards hybrid work post-pandemic, both analysts and company representatives said.
Ms Shek said that for Klook, the COVID-19 pandemic "reinforced" the benefits of using a co-working space.
"Pre-pandemic, no one will expect that we can work virtually five days a week from home or from anywhere," she said.
"The pandemic further reinforced the benefits of using a co-working space for our (company's) stage of development. It may not be everyone's cup of tea, it really depends on the organisation's needs and business needs."