Choose from 45 offices, bring your pet on the job: Battle of perks in Singapore's blooming co-working scene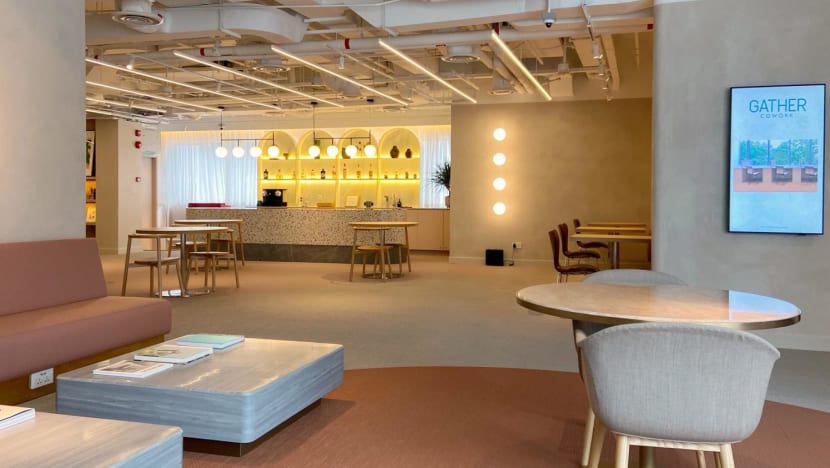 The COVID-19 pandemic has surfaced the need for flexible work arrangements
Co-working spaces offer just that, and the ability to choose one's workplace has proved an attractive concept
In a bid to outdo one another, co-working spaces are offering additional benefits from free coffee to being pet-friendly, as their customer bases also extend beyond startups and freelancers
SINGAPORE: When marketing manager Joanne moved back to Singapore after three years of being stuck in Hong Kong due to COVID-19 border restrictions, she found working from home to be impractical, isolating and lonely.
Seeking an office setting for human interaction and better productivity, she used co-working app Workbuddy to try several locations before settling on a WeWork office at 22 Cross Street in Chinatown.
Joanne found her new working environment to be conducive and "aesthetically pleasing".
"It has been a great boost to productivity, and really contributed to my mental well-being by allowing me to work effectively in a nice space," she said.
The best part of her membership, she added, has been the unlimited coffee and discounted pastries at attached cafe Sarnies by WeWork.
Joanne is part of a group of workers who are relishing the freedom to choose a workspace that fits their needs, as they seek to improve productivity and happiness on the job.
Since COVID-19 workplace restrictions were lifted in April 2022, all employees have been able to return to the workplace. But the pandemic has also brought about a re-examination of the need for flexible work arrangements.
In a study by the Institute of Policy Studies which polled more than 2,000 workers from mid-July last year to April 2022, between 41 and 52 per cent of respondents said hybrid work should be the new norm for workplaces in Singapore.
Employers have been encouraged to permanently offer flexible work arrangements to benefit from better work-life harmony and a more engaged and productive workforce, as espoused by the Ministry of Manpower, the National Trades Union Congress and the Singapore National Employers Federation.
As more employers answer the call and pay closer attention to the evolution of work, many are turning to co-working spaces as a solution.
These have sprouted up over Singapore in recent years, ensuring that workers are never too far away from a hot-desking option.
Amid intensifying competition to fill their spaces with bodies - especially within Singapore's highly concentrated central business district - these co-working firms are stepping up their game in the quest to provide the ideal work environment.
From dangling benefits such as pet-friendly policies and travel promotions to offering ultimate flexibility in choosing one's office location, here are what some co-working spaces in Singapore are doing to attract members.
FLEXIBILITY IS "VALUE FOR MONEY"
A 35-year-old HR professional, who declined to be named, summed up his co-working experience as such: "I could work in a different environment for five days in a week. You can't put a price on flexibility and ever-changing perspective."
He has been using co-working spaces for about four years, at locations run by firms such as Spaces and WeWork.
WeWork, the leading flexible space provider in Singapore, operates in 14 locations across the central business district. 
Another provider, The Executive Centre, offers global co-working passes, city passes, dedicated desks and flexible day offices for customers in Asia and Australia, said its Southeast Asia managing director Yvonne Lim.
Co-working app Workbuddy offers a subscription service that provides access to more than 45 spaces across Singapore. 
This added choice and flexibility has been a boon for the Workbuddy community, which is largely made up of start-ups, entrepreneurs and small businesses.
"I have access to options should I ever have an appointment or errand at a particular location," said Joanne, the marketing manager who uses Workbuddy.
The app currently offers a one-week free trial for new members. It also keeps memberships on flexible month-by-month rolling plans, rather than long-term contracts, said Workbuddy co-founder Gaurav Joshi.
Mr Achal Sondhi, vice-president of Asia-Pacific growth at energy firm Fluence, said his colleagues initially considered a shared work office or an established office to house a growing team, but found costs prohibitive given COVID-19 restrictions at the time.
"As Singapore opened up from restrictions, our team found benefit in the Workbuddy platform," he told CNA.
His colleagues were able to find locations close to their homes, reducing commute time and allowing meetings to be held in different parts of town.
"Having flexible workspace seems to be more value for money versus a fixed location and under-utilising valuable real estate," Mr Sondhi added.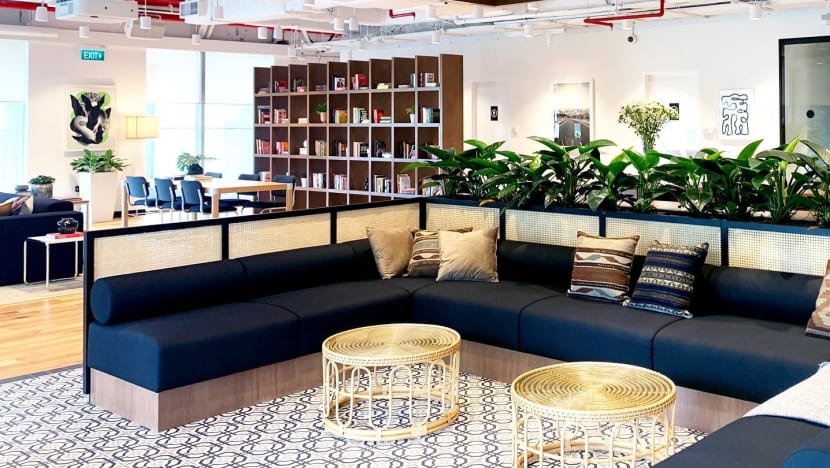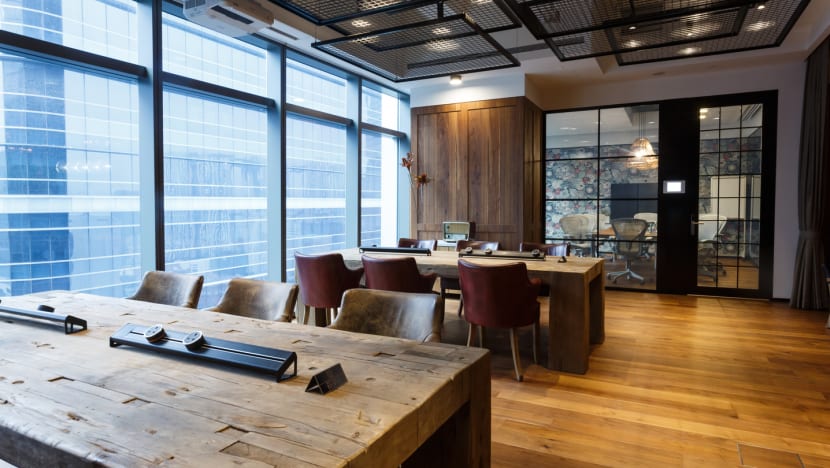 PERKS GALORE
A Workbuddy membership entails discounts for circular fashion platform Style Theory and entrepreneur platform Doerscircle, among others.
Such team-ups and collaborations are common within the co-working industry, with each co-working space offering a specially tailored suite of perks for its members.
The Executive Centre, with locations in multiple countries, provides special business travel promotions and exclusive rates at hotels for members who frequently go abroad for business.
Members of Gather Cowork at 22 Martin Road - a primarily residential enclave in Robertson Quay - are encouraged to bring their furry sidekicks to work, courtesy of the space's pet-friendly policy.
For those in the fashion industry, The Cocoon Space has an in-house sewing studio and a resource wall used to explore the use of different fabrics.
The co-working space is operated by the Singapore Fashion Council (SFC), which offers discounts on space rentals along with networking and collaboration opportunities to members at The Cocoon Space. 
There, occupants are typically students, designers and small companies in the design community or related fields, said Pauline Kwan, manager for facilities and customer service at SFC.
WeWork recently launched its largest space in Asia Pacific at 21 Collyer Quay, HSBC's former headquarters in Singapore.
With a net lettable area of more than 220,000 sq ft, the 21-storey building features amenities dedicated to wellness, including a centre operated by Just Jym and The Living Cafe, a health-oriented eatery.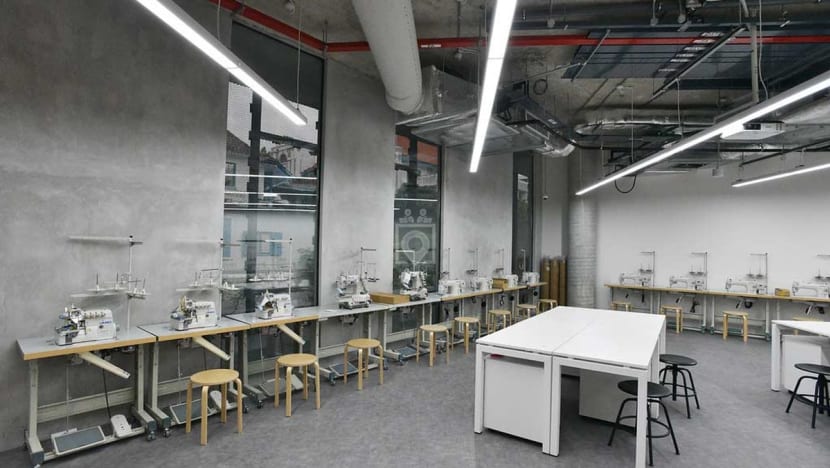 EXPANDING CUSTOMER BASES 
Co-working spaces are also growing beyond housing mostly start-ups and freelancers, by increasingly catering to mid-sized businesses and large enterprise clients.
About 80 per cent of available space at WeWork 21 Collyer Quay is reserved for enterprise customers.
Enterprises now take up more than half of the company's business in Singapore, said Mr Balder Tol, general manager for Australia and Southeast Asia for WeWork.
The Workbuddy app, which served predominantly smaller businesses and start-ups before the COVID-19 pandemic hit, is also attracting a different crowd these days.
"Following COVID-19 we have seen a rise in our enterprise membership as corporates look to reduce their fixed office space and become more agile and flexible. 
"Today we have a healthy 50-50 split of business-to-customer and business-to-business members."
More than 76 per cent of The Executive Centre's members are multinational companies spanning industries like banking, consulting and IT.
Many of their customers use co-working spaces to connect with like-minded people or just to have some quiet working time to themselves, said Ms Lim, the regional managing director.
She likens the co-working experience at The Executive Centre to staying in an upscale hotel replete with in-house baristas, plush sofas and elegant meeting rooms.
"We are obsessively servicing our clients," she added.