CNA Explains: How will the new COE quota counting method affect you if you want to buy a new car?
The recent record-high Certificate of Entitlement (COE) premium for the Open Category and the general rise in prices across the board has also been a cause for concern among potential new car buyers.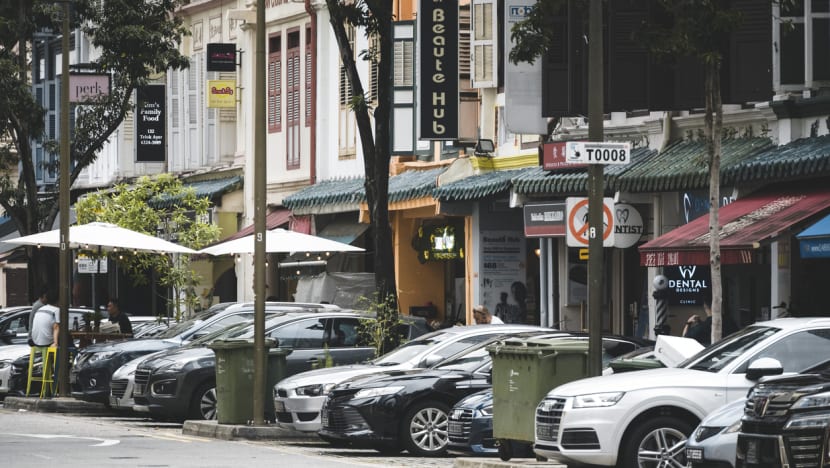 SINGAPORE: The Land Transport Authority (LTA) announced on Friday (Jul 22) that the method for computing the quota available for Certificate of Entitlement (COE) bidding will be adjusted to reduce volatility in supply. 
From August, supply will be based on a rolling average of vehicle deregistrations over two quarters instead of one.
Under the new counting method, the COE quota for August to October will be 10,581 – 11.5 per cent less than the 11,951 COEs that were available for bidding in the May to July period.
With the surge in COE premiums in recent months, and Open Category prices hitting an all-time high of S$114,001 in the latest bidding exercise, many have expressed concern that the new quota system will cause prices to rise further. 
How will the new counting method affect prices? 
Under the new rules, the available COEs will be based on the average of deregistrations from the preceding six-month (two-quarter) period. This is unlike the current counting method, which simply takes deregistrations from the preceding quarter, explained Dr Bryan Tan, chief scientist at online car marketplace Carro.
As such, the new rules "reduce the volatility" of COE prices, said Dr Tan. 
"In the short run, the COE prices will also be lower under the new system than the previous system. Under the adjusted method, the COE quota for August to October will be 10,581 versus 9,394 for the current system."
COE prices will still likely increase as the COE quota for May to July was 11,951, which already led to COE premiums skyrocketing to S$114,001 for Category E recently, said Dr Tan. 
"This increase in COE quota under the new rules will moderate the price increase of COE. In short, there will still be a price increase but at a smaller extent compared to the current rules." 
In the longer term, Dr Tan noted that the new rules imply that COE price peaks will not be as high as they would be under the current counting method. Conversely, however, the COE price troughs will also not be as low as they would have been. 
Together, these reduce the volatility of COE prices, he said.
The move should smooth out short-term fluctuations, and "counter-balance knee-jerk, short-term bidding behaviour that may accentuate small, random fluctuations", added Assistant Professor Terence Fan from the Singapore Management University. 
The revised counting method is not a big change but the hope is to better align COE prices with underlying demand, said the assistant professor of strategic management (education).
Why is the counting method being changed? 
Assoc Prof Fan suggested that the new counting method was probably introduced due to concerns over random fluctuations in available COEs and the knee-jerk reactions from bidders – and these may not necessarily be the same motorists who ultimately drive the cars. 
"(The introduction of the new method) is an example of smaller operational adjustments that may help better align COE prices with underlying demand. If after some time, say a few rounds of COE bidding, COE prices (become) moderate, then there is less need for more serious tweaking of the current system and policy," he said. 
"The move shows that the Land Transport Authority is keenly aware of what is happening to COE prices, and seeks to ensure they are truly reflective of the underlying demand." 
With the rise of private-hire vehicles and food delivery services, Dr Tan added that COE is "increasingly a factor of production" where an increase in COE premiums would also lead to inflationary pressures.
Hence, the new counting method is also a targeted tool to lower inflation. 
"Inflation in Singapore is at an all-time high. Our core inflation hit 4.4 per cent in June which is the first time that it has breached the 4.0 per cent handle since end-2008. Headline inflation, which includes accommodation and private transport costs, is at a record high of 6.7 per cent, up from 5.6 per cent in May," he said. 
"Of course, social pressures such as access to private transport for families with kids or invalids might be cause for consideration as Singapore changes its social compact to be more inclusive."
At least two major private-hire companies, Tribecar and Lion City Rentals, earlier told CNA that they did not bid aggressively for COEs to increase their fleet sizes in recent months, rejecting suggestions they were the cause of record-breaking COE premiums.
I want to buy a new car. How will this affect me? 
With Singapore residents' median monthly salary in 2021 at S$4,680, Carro's Dr Tan noted that purchasing a new car can be "financially damaging" and would "greatly deplete a typical family's budget".  
He suggested that those in the market for a car consider buying secondhand.  
However, when prices of new cars rise, the cost of used cars will naturally also rise, said Mr Arthur Wong, managing director of ACM Automobiles. 
Still, the quantum for used cars is lower than for a brand new car, which will affect people's car-buying decisions, he said.  
"As a matter of fact, it's very evident right now in my dealership. Car prices have gone up, and new car sales are slow these days," he added. 
"And for used cars, even though we do get a bit of enquiries, people aren't buying as freely as they were a year or two ago, because of the relatively higher pricing in used cars as well." 
This, Mr Wong observed, would add fewer used cars to the market, because people would be "more resistant to change" and "want to keep their cars a bit longer". 
As for those willing to give up their cars completely, Mr Wong suggested it is a good time for them to sell. 
"Car ownership is supposed to be a depreciating asset. But in this way, they can make a bit of profit or cut down their losses," he explained. 
"But for those who want to change cars, there might be a bit of a dilemma. Because you sell high, you buy higher. Some people (decide to) just drive on and see how it goes." 
On the other hand, SMU's Assoc Prof Fan advises those who wish to buy a car to "first consider using our world-class public transport system".
Public transport is now more inclusive for wheelchair users, he pointed out. Parents can also take baby strollers and cyclists can take folded bicycles on buses and MRT trains. 
"If there is still a lingering need to use private transport, consider using taxis and private-hire vehicles for single-trip journeys, and car-sharing services for multi-trip journeys in a day. Multiple car-sharing services now have cars stationed at multiple housing estates all over Singapore. Try to schedule all the trips in a single day to minimise total journey time and costs."
And if there is still a need to travel on multi-trip journeys on many days after the alternatives suggested, Assoc Prof Fan said only then should one consider buying a car. 
"(But) again, if the need is concentrated in a few months, they should consider leasing or renting a car before buying one.
"Prospective motorists should also consider the parking costs they will have to incur if they own a vehicle – costs that they will need to incur outside of their overnight lots and pretty much wherever they go in Singapore, plus the uncertainty of unscheduled car repairs. They should also consider the opportunity costs of the money." 
With the cost of a car now, "one can take a lot of taxi rides", said Assoc Prof Fan.
Should the COE system be tweaked? Listen on Heart of the Matter: