Committee of Privileges report: WhatsApp exchanges between Raeesah Khan, Pritam Singh and other WP members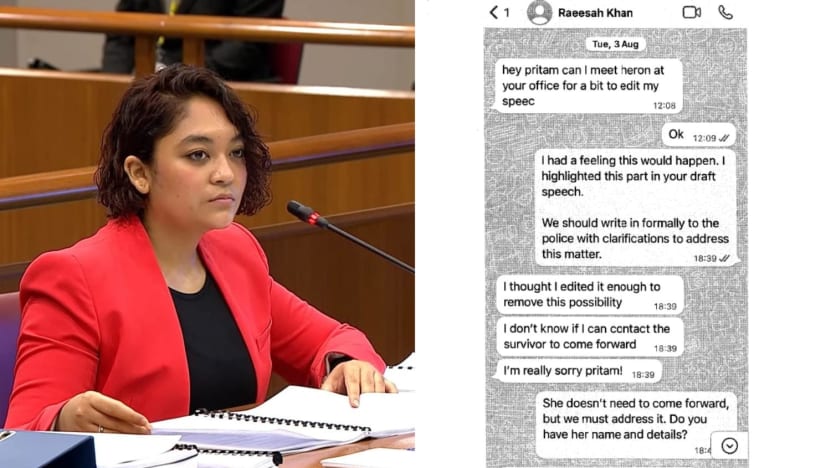 SINGAPORE: The Committee of Privileges (COP) looking into former Member of Parliament Raeesah Khan's conduct, in relation to a lie she said in the House last August, has set out its recommendations and full report on Thursday (Feb 10).
The committee recommended that the former Workers' Party (WP) member be fined S$35,000 for lying in Parliament multiple times and abusing her parliamentary privilege.
As for WP chief Pritam Singh and party vice-chairman Faisal Manap, they should be referred to the public prosecutor to "consider if criminal proceedings ought to be instituted", due to Mr Singh's conduct during the committee's probe and Mr Faisal's refusal to answer relevant questions, the report said.
The COP's 1,180-page report included several WhatsApp conversations among WP members and leaders, which showed the situation unfolding and how each of them responded to it. The following are the key exchanges.
AUG 3, 2021: EXCHANGE BETWEEN MR SINGH AND MS RAEESAH 
The exchange took place after Ma Raeesah delivered her speech in Parliament where she claimed that she had accompanied a victim of sexual assault to a police station and alleged that the police treated the victim insensitively. She was then pressed for details by Minister of State for Home Affairs Desmond Tan.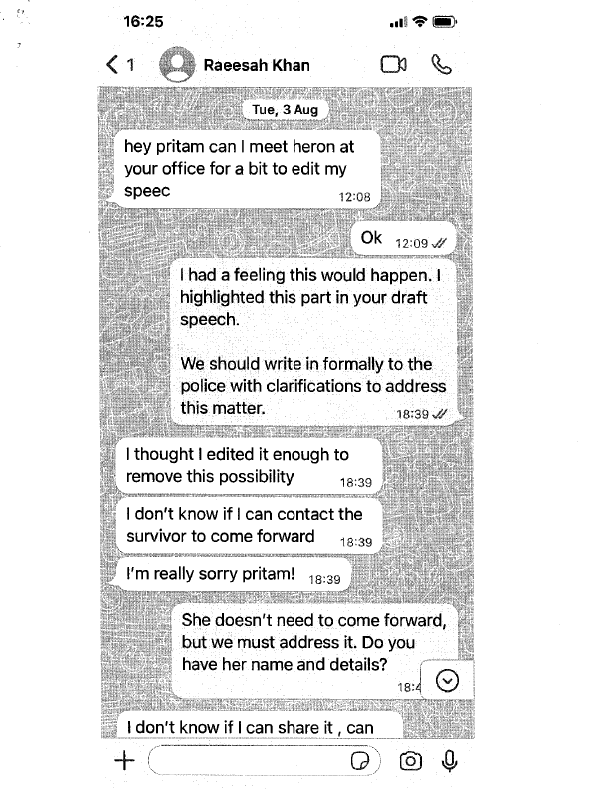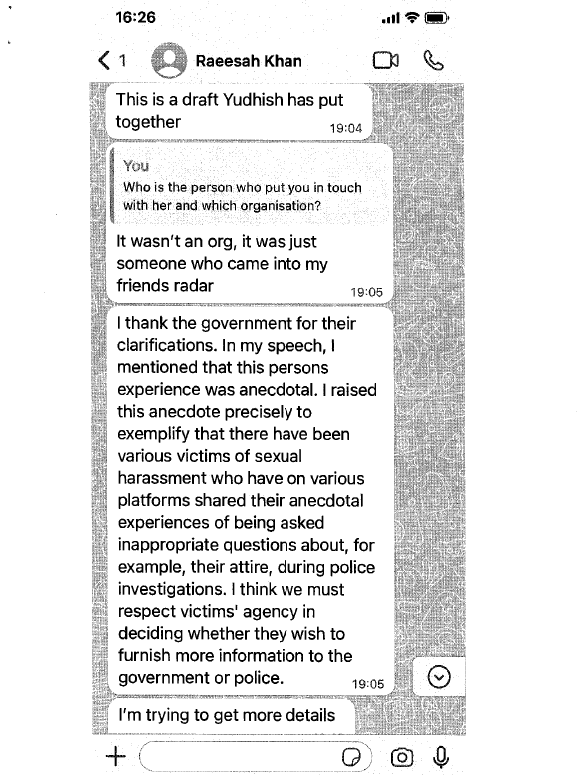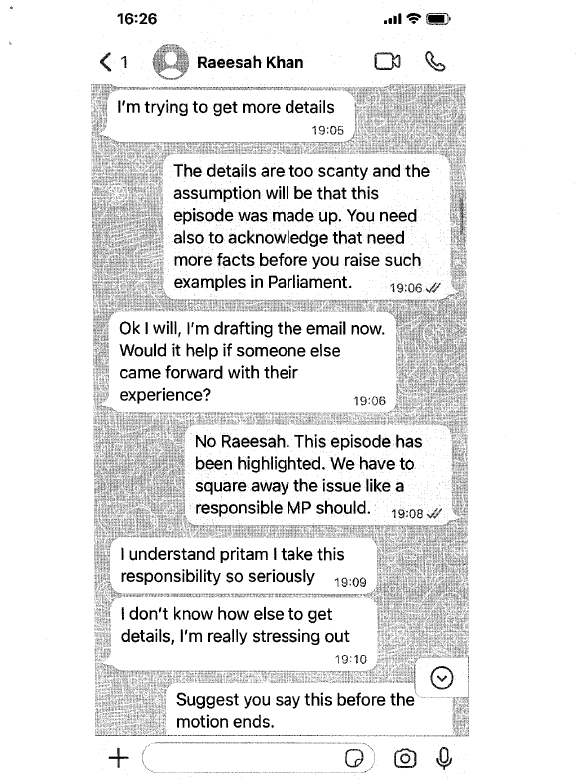 AUG 7: WHATSAPP EXCHANGE BETWEEN MS RAEESAH, HER FORMER SECRETARIAL ASSISTANT LOH PEI YING AND PARTY VOLUNTEER YUDHISHTHRA NATHAN 
Ms Raeesah spoke to Mr Singh on this day and told him that she had spoken an untruth in Parliament.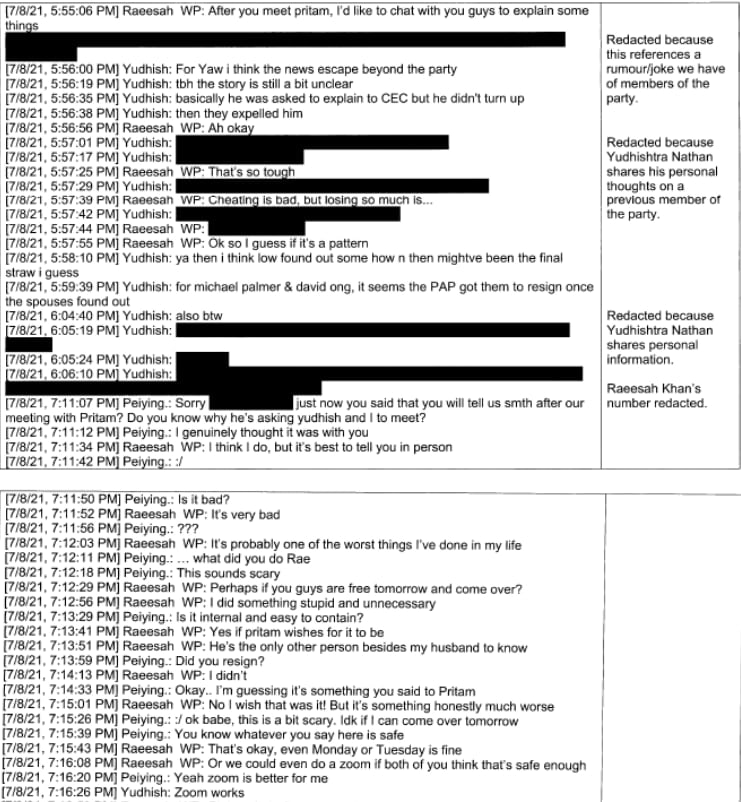 NOV 1: WHATSAPP EXCHANGE BETWEEN MS RAEESAH AND MR SINGH
This exchange happened on the day Ms Raeesah confessed in Parliament to lying in August. 
Prior to this, Ms Raeesah told WP chairman Sylvia Lim and Mr Faisal during a meeting on Aug 8 together with Mr Singh, about the false statement she had made in Parliament. Two days later, Mr Singh confirmed with Ms Loh and Mr Nathan that he was informed about Ms Raeesah's falsehood in Parliament.
Ms Raeesah was questioned by Law and Home Affair Minister K Shanmugam's in Parliament on Oct 4 and repeated her lie during the questioning. 
NOV 2: WHATSAPP EXCHANGE BETWEEN MS RAEESAH AND MS LOH. MR NATHAN WAS ALSO A PART OF THE CHAT GROUP
This exchange happened a day after Ms Raeesah's confession in Parliament. A WP internal disciplinary panel comprising Mr Singh, Ms Lim and Mr Faisal was formed on this day.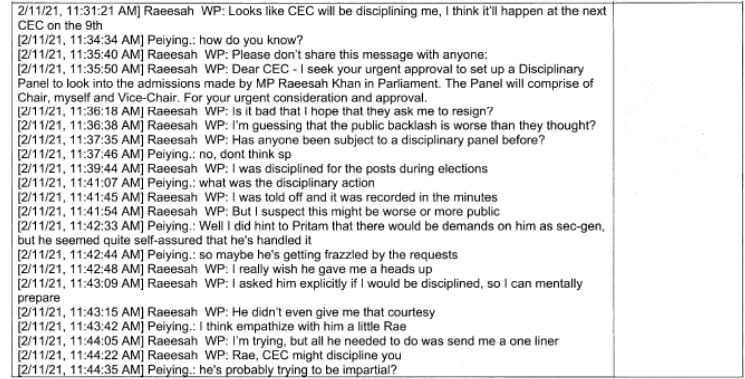 NOV 2: WHATSAPP EXCHANGE BETWEEN MS RAEESAH AND MR SINGH
Following her conversation with Ms Loh and Mr Nathan, Ms Raeesah and Mr Singh conversed over WhatsApp that afternoon. 
NOV 20: WHATSAPP EXCHANGE BETWEEN MS RAEESAH AND MR SINGH
Before this exchange, Ms Raeesah had attended a WP's disciplinary panel on Nov 8.

NOV 22: WHATSAPP EXCHANGE BETWEEN MS RAEESAH AND MR SINGH
Ms Raeesah sat before the WP disciplinary panel on Nov 8 to explain why she lied in Parliament. She said that the Nov 8 interview was centred on her performance as an MP, rather than the Aug 3 speech in Parliament.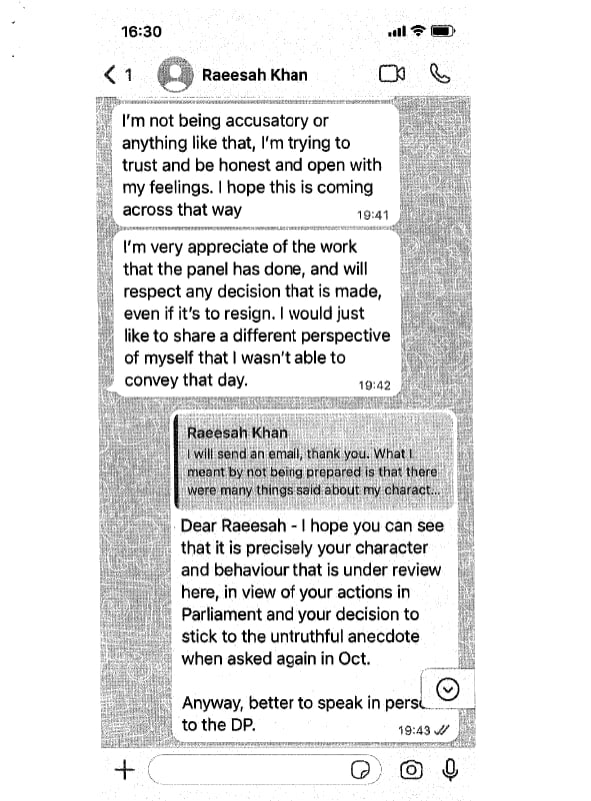 NOV 23: WHATSAPP EXCHANGE BETWEEN MS RAEESAH, MS LOH AND MR NATHAN