COP proposes fine of S$35,000 for Raeesah Khan, further investigation into WP leaders Pritam Singh, Faisal Manap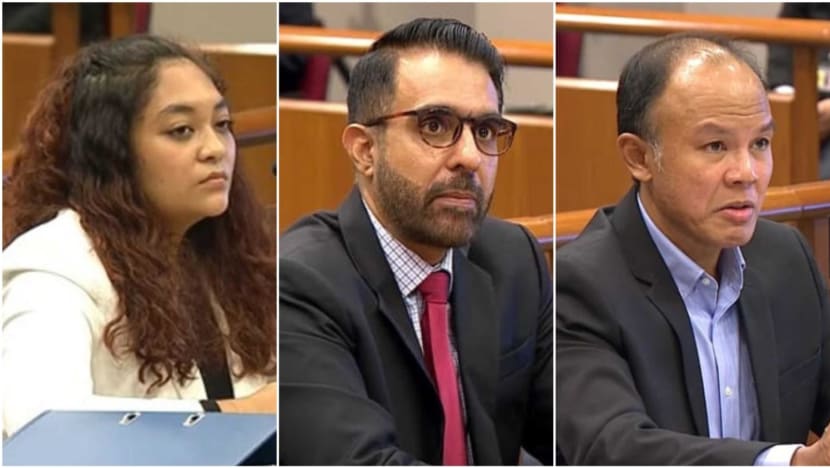 SINGAPORE: The Committee of Privileges (COP) has recommended that former Workers' Party (WP) Member of Parliament Raeesah Khan be fined S$35,000 for lying in Parliament.
It also proposed that WP secretary-general Pritam Singh and vice-chair Faisal Manap, both Aljunied GRC MPs, be referred to the Public Prosecutor for further investigations.
The COP, in its final report on Thursday (Feb 10), said that it has found Ms Khan guilty of abuse of privilege for telling an untruth in the House on Aug 3, and then repeating it on Oct 4.
Ms Khan had lied about accompanying a sexual assault victim to the police station in an anecdote which alleged that the police had mishandled the case. She said that she did so because she did not want to reveal that she had heard the anecdote in a support group, which she had attended as a survivor of sexual assault.
She subsequently resigned as an MP and from the WP.
After hearings and deliberations by the Committee over the last two months, the final report said: "The Committee considers that Ms Khan had acted with disregard for the dignity and decorum of the House in making a serious allegation against the Police in Parliament, that was untrue in some parts, and was unsubstantiated."
The report said from Aug 8 onwards however, Ms Khan was acting under the guidance of three senior WP leaders, to "keep to the untruth", and on Oct 3 she was given further guidance by Mr Singh to continue lying.
The leaders refer to Mr Singh, Mr Faisal and WP chair Sylvia Lim.
"(Ms Khan) was therefore not solely responsible for repeating the Untruth on 4 Oct, in Parliament. But she nevertheless cannot be completely absolved from liability either for repeating the Untruth. She remains liable," said the report.
"She came clean, on 1 Nov, after she was told to do so, by Mr Singh and Ms Lim (on 12 Oct)."
KHAN'S FINE
The amount of S$35,000 is a combination of two fines - S$25,000 for the untruth on Aug 3, which she has to "take full and sole responsibility for", and S$10,000 for repeating the lie on Oct 4.
The smaller amount takes into account the "substantial mitigating factor" that Ms Khan was acting on the orders of WP leadership after Aug 8, said the report. The COP has also considered that Ms Khan has resigned from Parliament and confessed to WP leaders on Aug 8.
"Her conduct and evidence show that if she had been advised on 8 Aug, to come clean, she would have done so," said the report.
It added that the Committee recognises that "her mental health has been unfairly and publicly attacked, in particular, by Mr Singh".
Repeating an untruth should carry a higher penalty, but a lower amount has been recommended because of these mitigating circumstances, the Committee said.
CONDUCT OF WP LEADERS
As the COP's findings raise questions about the conduct of the three WP leaders, the Committee also recommended that Mr Singh be referred to the Public Prosecutor, for further investigations, "with a view to considering if criminal proceedings ought to be instituted in respect of his conduct before the Committee".
Mr Faisal will also be investigated for his refusal to answer relevant questions put by the Committee, and consider if criminal proceedings ought to be instituted.
The report said that in reaching its findings, it was "satisfied" that the WP leaders who testified had lied in their evidence.
"We are satisfied that Mr Singh (and to a lesser extent, Mr Faisal and Ms Lim), have been untruthful in their evidence, under oath, to this Committee. This may amount to perjury, a serious criminal offence," it said.
"LACK OF DOCUMENTS"
The Committee concluded that the three senior WP leaders "did not produce any contemporaneous evidence" to support their version of the disputed facts.
This was despite them being specifically asked by the Committee to produce all documents related to any discussion, instruction, inquiry or communication relating to the untruth spoken by Ms Khan in Parliament.
They were also asked for any discussion, instruction, inquiry or communication on Ms Khan's Nov 1 personal explanation, when she admitted that she had lied.
The report said: "The lack of documents raises questions. If they had intended that the truth be told, it would be reasonable to expect that there would be some emails, or documentation. But there was not a shred of objectively verifiable, contemporaneous evidence which supports the position taken by the 3 Senior WP leaders."
In contrast, Ms Khan and Ms Loh have produced evidence, including their WhatsApp exchanges, that "independently and contemporaneously corroborate their actions at the material time".
The COP had heard evidence from Ms Khan's assistants Ms Loh Pei Ying and Mr Yudhishthra Nathan, who had corroborated Ms Khan's account.
DISCIPLINARY PANEL
The Committee also concluded that a disciplinary panel convened by the WP to consider Ms Khan's conduct undertook its work in a "self-serving" way.
It was "engineered" by the three WP leaders, particularly Mr Singh, to "cover up their role" in advising her to continue lying, and to "put the blame entirely on Ms Khan", said the report.
It noted that Mr Singh had suggested it was Ms Khan's mental condition that had led her to give evidence that was untrue, but Mr Singh's allegations were rejected by Dr Christopher Cheok, a senior consultant at the Institute of Mental Health.
The COP, which was chaired by Speaker Tan Chuan-Jin, has seven members -  Minister for Culture, Community and Youth Edwin Tong, Minister for Sustainability and the Environment Grace Fu, Senior Minister of State for Defence and Manpower Zaqy Mohamad, National Development Minister Desmond Lee, Parliamentary Secretary for Communications and Information and for Health Rahayu Mahzam, MP Don Wee (PAP-Chua Chu Kang) and MP Dennis Tan (WP-Hougang).
The COP has had 15 meetings of 35 hours in total, with an additional 31 hours of hearings, where it heard oral evidence from nine witnesses, said the Office of the Clerk of Parliament. It produced six special reports and a final report of more than 1,180 pages to Parliament.
The Office added that Mr Dennis Tan, who was the only member of the committee from the Workers' Party, had objected to all the findings of the report from paragraph 112 onwards. 
Mr Tan was then invited to set out his objections so that all members could deliberate over them.
"After the COP had gone through the draft Report via this paragraph-by-paragraph process, Mr Tan was again invited to state any other points which he would like to raise, and the grounds of his objections for them. He had no further comments to offer on the draft Report," said the Office of the Clerk of Parliament.
Mr Singh said in a Facebook post after the report was issued that he will speak more extensively on the COP report in Parliament when it is tabled for debate. Parliament next sits on Feb 14.
"Assuming Parliament adopts the Committee's recommendations, there remain a number of unknowns. These include the eventual decision of the Public Prosecutor to prosecute, the intervening time before the matter goes to trial, the eventual verdict and any sentence meted out, and the prospect of both Faisal and I losing our parliamentary seats and stepping down as Members of Parliament if either of us is fined $2000 or more," said Mr Singh.
He added that Mr Faisal and himself will continue their work "as per normal". 

Read the full COP report here.
The Committee of Privileges has proposed a S$35,000 fine for former Member of Parliament Raeesah Khan on Thursday (Jan 10). While repeating an untruth usually carries a higher penalty, the committee has taken into account their findings that as a first-time MP, she relied on wrong advice from her senior party leaders. Tan Si Hui reports.