What you need to know about the new assisted living HDB flats in Queenstown for seniors
How big are the new senior-friendly Community Care Apartments in Queenstown? What are the services provided and lease options available?
SINGAPORE: Built-in wardrobes and service packages are among the features of the new senior citizen-friendly Community Care Apartments (CCA) in Queenstown that will be launched in the upcoming Build-to-Order (BTO) exercise in November.
Community Care Apartments are an assisted living public housing concept jointly developed by the Ministry of National Development (MND), the Ministry of Health (MOH) and the Housing and Development Board (HDB).
Aimed at providing more housing options for the elderly, the flats will come with care services that can be tailored to seniors' needs.  
Located within the Queensway Canopy BTO development, it is the second pilot of its kind in Singapore – the first was launched in February 2021 in Bukit Batok.
Here is what you need to know about the new CCA flats.
WHAT ARE THE KEY FEATURES?
With an internal floor area of about 32 sq m, the units come with a wide wheelchair-friendly main door with a built-in bench at the side.
The bathrooms are wheelchair-accessible and will have slip-resistant flooring and grab bars. The service yard, which has a clothes drying rack, is accessible from the toilet. 
There will be a built-in wardrobe, cabinets and a furnished kitchen to allow seniors to move in quickly with minimal renovations needed.
The flats are designed with an open layout and come with easy-to-slide partitions that separate the living room and bedroom.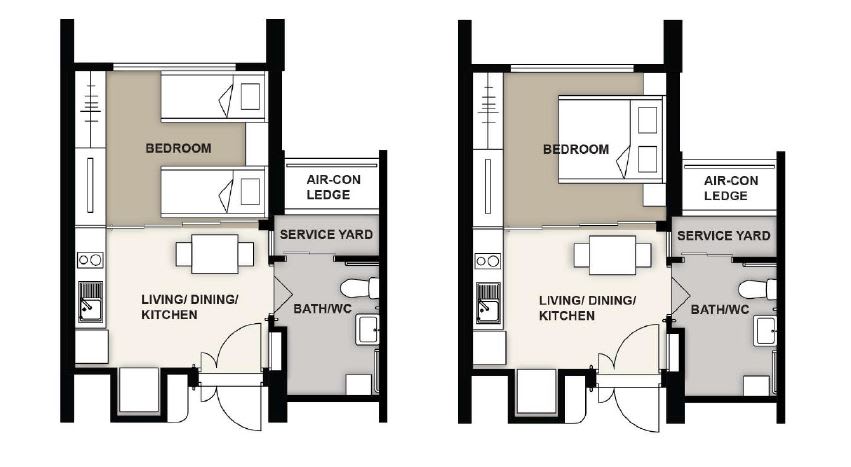 WHAT ARE THE SERVICES AVAILABLE?
Besides senior-friendly fittings, CCA flats are designed for seniors to live independently with some healthcare assistance where needed. 
All residents will subscribe to a Basic Service Package, which includes the help of an onsite community manager.
The manager will help arrange add-on care and support services, assist in simple home fixes, and coordinate activities in communal spaces. 
The package also comes with basic health checks, 24-hour emergency monitoring and response, as well as key card access to individual flats. 
Residents can also enjoy access to care services and wellness and social activities at an Active Ageing Centre (Care) located in the Social and Wellness Hub. The hub is next to the CCA block.
They will also get priority admission to a nearby nursing home on the Alexandra Hospital campus if required.
Seniors who may need help with daily living activities or household services can opt for services at additional costs.
The optional services include a shared caregiving service that provides assistance with daily living activities, such as moving around, washing, dressing, eating and using the toilet.
There is also a housekeeping service and meals can be delivered to the home for an extra charge. Residents can also opt for a laundry service.
Prices for these optional services will be reviewed periodically, said the authorities.
Optional services

Indicative prices

Government subsidies
Social day care
S$50 per day
No 
Housekeeping
S$20 per hour
No
Meal services
(delivered to home)
S$5 to S$7 per meal
No
Home personal care
S$20 to S$31 per hour
Yes
Laundry
S$20 to S$40 per load
No
Medical escort and transport
S$50 to S$90 per hour
Yes
ARE THERE NEARBY AMENITIES?
Residents of the CCA units at Queensway Canopy can enjoy convenient access to various food, healthcare and transport amenities.
Food centres close to the Queensway Canopy BTO development include ABC Brickworks Market and Food Centre, Alexandra Village Food Centre, as well as Mei Ling Heights Market and Food Centre. 
For healthcare, residents can enjoy convenient access to Alexandra Hospital, National University Hospital and Queenstown polyclinic. Queenstown MRT station is also close to the development.
Seniors can visit the nearby Anchorpoint Shopping Centre, Alexandra Central Mall, IKEA Alexandra and Queensway Shopping Centre for their retail needs. 
Recreational and community facilities include the Rail Corridor, Queenstown Sports Centre and Queenstown Community Hub. 
Within the Queensway Canopy development, there is an ActiveSG gym, an Active Ageing Centre (Care) and various fitness stations. There is also a community garden, precinct pavilion and a childcare centre.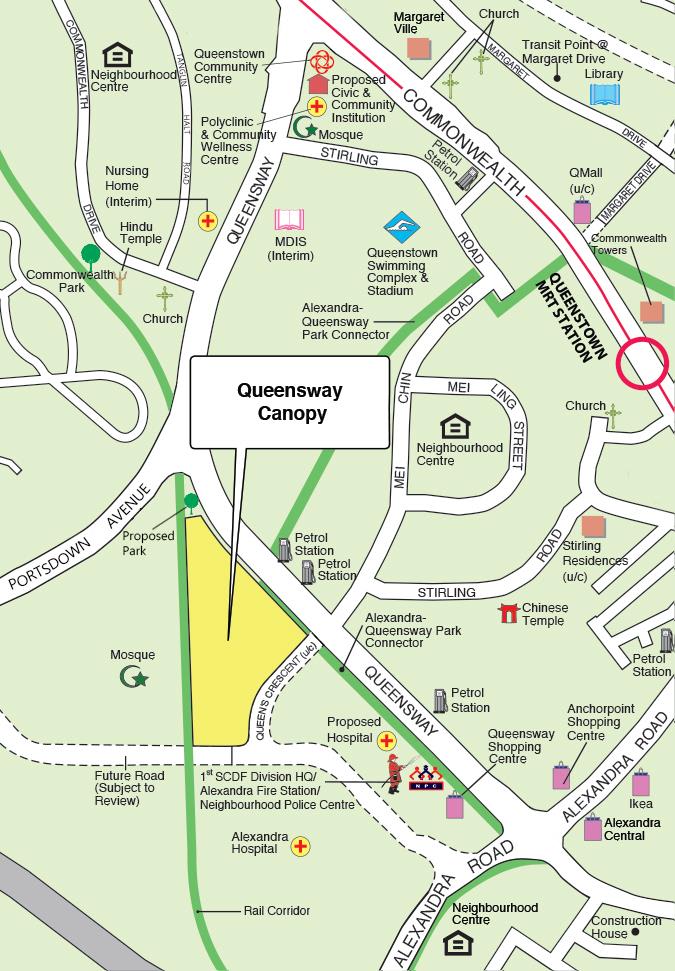 WHO'S ELIGIBLE?
To be eligible for the CCA flats, applicants and their spouse, if any, must be 65 years old and above. Families must have at least one Singaporean applicant, and singles must be Singaporeans. 
The average gross monthly household income cannot exceed S$14,000.
Applicants who own private property or an HDB flat must dispose of the property within six months of collecting their keys to the CCA unit. 
Seniors who have received two housing subsidies before and have bought a studio apartment or a short-lease two-room Flexi flat before are not eligible. 
Applicants can choose their lease from 15 years to 65 years, in five-year increments. The lease chosen must be able to cover all applicants and their spouses, if any, until at least 95 years old. 
Priority will also be given to those with care needs, where at least one applicant or essential occupier requires permanent assistance with their daily living activities.
According to HDB, this means always requiring some assistance with activities such as washing or showering, going to the toilet, getting dressed, eating, walking and moving around, as well as transferring, such as moving between the bed and a chair or wheelchair.
Lease options
| | | |
| --- | --- | --- |
| Age of youngest applicant/spouse | Minimum (years) | Other options (years) |
| 65 to 69 | 30 | 35 |
| 70 to 74 | 25 | 30, 35 |
| 75 to 79 | 20 | 25, 30, 35 |
| 80 and above | 15 | 20, 25, 30, 35 |
HOW MUCH WILL IT COST?
The total cost of the unit consists of two components: The price of the flat and the price of the Basic Service Package. The flat will need to be paid for upfront. 
For the Basic Service Package, residents can choose between two regular payment plans.
In the first plan, S$164 will be paid for the first month at the start of the lease, together with a S$1,968 security deposit that is refundable. The resident then pays S$164 every month for the rest of the lease.
Under the second plan, the resident will pay S$6,200 for the first three years at the start of the lease. Throughout the rest of the lease, they will pay S$6,200 every three years.
Fees will be reviewed periodically and are subjected to the Health Ministry's approval. 
The first CCA project was launched in Bukit Batok in the February 2021 BTO exercise. The pilot drew an application rate of 4.2 applicants per unit. 
For a 15-year lease, the price of a flat in Bukit Batok without first-timer housing grants, resale levy and other payments ranged between S$35,000 and S$40,000. This did not include the Basic Service Package cost.
The flat price rose to between S$42,000 and S$48,000 for a 20-year lease, and between S$48,000 and S$54,000 for a 25-year lease. 
For a 30-year lease, it was between S$52,000 and S$60,000. The longer 35-year lease placed the flat price at between S$56,000 and S$64,000.