School Work: A counsellor who's here to offer a space to talk and not to judge
In the third part of a series where CNA reporters shadow various school professionals for a day, a counsellor talks about the problems students come to him with, and what happens when they beg him not to tell their parents.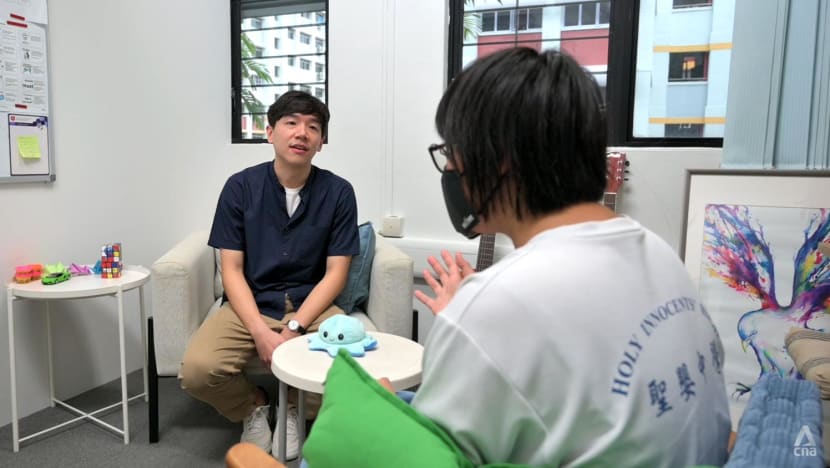 SINGAPORE: It was 7.45am when Mr Justin Seng arrived at Holy Innocents' High School on a rainy Monday morning.
Morning assembly at the parade square had been cancelled because of the rain, and the students sang the national anthem and recited the pledge in their classrooms. Mr Seng attended via Zoom. 
After assembly came to an end, the soft-spoken counsellor prepared for his day in his office on the second floor of the school – a room he shares with a few other colleagues. 
This is where he spends most of his time, and where students come to see him for counselling throughout the day. His go-to intervention room is brightly lit, filled with knick-knacks for students to fiddle with, cosy chairs with pillows and even two guitars. 
It's easy to see how the warm atmosphere is meant to set troubled students at ease. 
"What I really like about the job is – working in the school and as educators, we really have a chance to impact a student's life," said the 35-year-old, who is a former probation officer. 
"We really get a chance to empower them, whether to cope with their situation better or to overcome their challenges to flourish later on life. That's something that's very appealing about working in a school." 
IN SESSION WITH A STUDENT
Mr Seng's day started with a session with a student at 10.30am. The student, who asked to remain anonymous, is familiar with him and happily agreed to pose for some re-enactment photos. 
They chatted casually about more lighthearted matters as we got our shots, and it was clear from the student's laid-back sharing that she felt at ease with the counsellor. 
After Mr Seng brought up something they discussed previously, she launched into a story about how her friends make her feel frustrated, but finds it difficult to tell them why. 
"Remember what we discussed last time? We can use 'I feel …' statements to talk about a situation," Mr Seng chimed in, suggesting that she use a similar tactic when talking to them. 
Starting a sentence with 'You …' assigns blame, he added. 
She rehearsed some lines to use when communicating her frustration, and the counsellor wrote one down on the board as they went through them.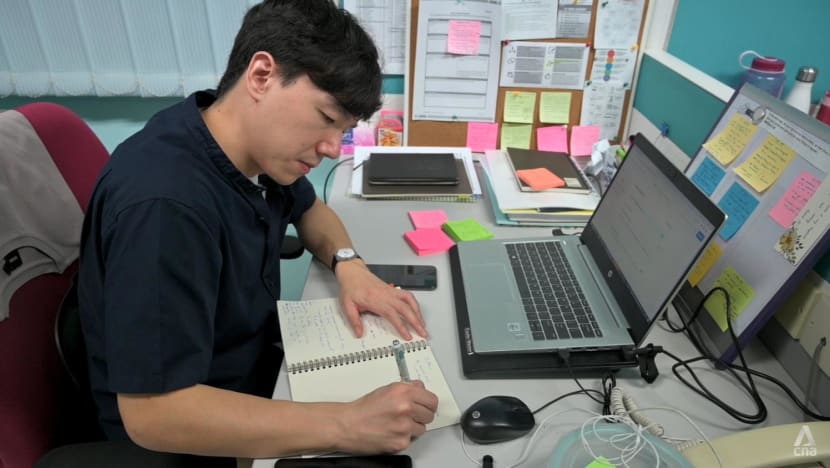 Later, Mr Seng shared that some students come to him hoping that he will offer them a direct solution to their problems. 
"I will usually say that this is something we can work on together, through our conversations we can understand the problem a bit more, and then we can explore or work on some ways we can approach this problem," he said. 
"So in a way, I'll be telling them that I'm not here to solve the problems, but we are here to work together about it." 
Together, they will examine the facts of the problem, how they think about the problem, how they feel about the problem and so on, he added. 
One thing that comes up more often in recent years are problems related to the online space and social media, Mr Seng shared. 
If a student is being bullied online, he will first offer some practical solutions, like advising them to use social media less or avoid looking at hateful comments. 
Then if they are open to exploring the topic more, he might delve deeper into the problem with them – why they are so affected by comments made online, how that affects how they view themselves, how they feel about themselves and so on. 
"The ideal is to get them to a place where their self-esteem or their image of themselves does not rely on what other people say about them, especially online." 
For example, he might work with them to identify some of the negative thoughts that are triggered by seeing negative comments about themselves. Seeing comments about how other people are not good-looking may trigger negative thoughts like "I'm ugly", he explained. 
"We will examine those thoughts, and examine whether those thoughts are necessarily true, whether those thoughts have any actual evidence, and if not, how can they dispute the thought. 
"The angle of the strategy is such that if they can understand and are more aware of these negative thoughts that come up, then they can manage it better and see that their thoughts are not necessarily reflective of themselves," he added. 
Not every student is as open to counselling as the one we met. Some still have the impression that counselling is only for students who are troubled or weak, Mr Seng said. 
"The classic example is if their classmates know that they're going for counselling, then they'll ask things like 'Aiyo, why you going for counselling, is it you got problem? Are you depressed?'" he said. 
This prevents students who are a bit more sensitive to feeling judged by others from seeking help because they want to avoid the teasing, he added. 
But mental health literacy is improving, and he also meets students who love going for counselling and push their friends to do the same if they need help, said Mr Seng, adding that many schools are focusing on building peer support.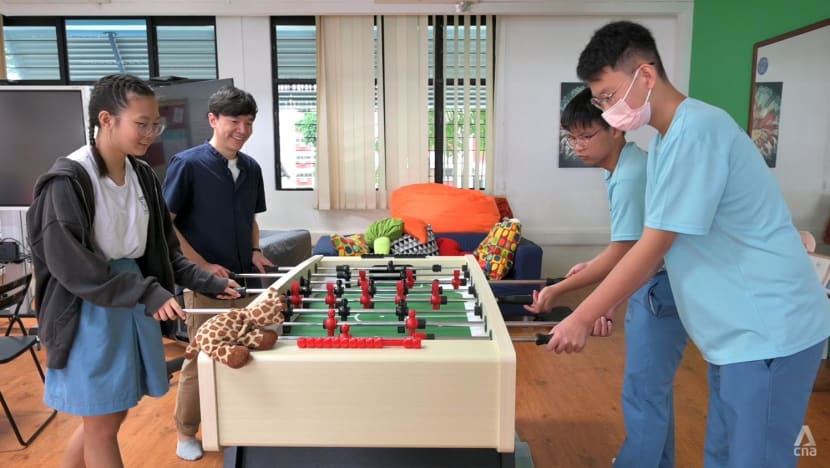 He also deploys different methods to get students to warm up to him, he explained as he gave us a tour of the room next door to his office. 
There are some musical instruments, as well as table soccer and a game console. Some students prefer to visit in groups sometimes, Mr Seng said. He even plays soccer with students from the soccer CCA occasionally. 
WORKING WITH PARENTS 
Students are not the only ones who hope for a quick fix. 
"Sometimes parents might have the expectation that counselling is a quick fix or an instant solution to problems," he said. 
But working together with parents is important for a child's development, Mr Seng said. Parents should be cooperative and supportive after hearing from the school counsellor, and they can work with the child on any issues at home. 
"They can basically send the same message or speak the same language that we are speaking to the child in counselling," said Mr Seng. 
"In the not-so-ideal scenario, the parent is like, okay the school please solve this problem for me. My child is acting out in this way. Go to counselling and please help us solve this issue.
"But this is not really possible because if we just talk to them in counselling, but they go home and they're faced with a different environment or their parents are not supportive, then it's counterproductive." 
Most parents are open to their children seeking help, but this can lead to tricky conversations when the parents want to know what their child talks about in counselling, Mr Seng said. 
"I will usually try to address that at the start, and tell the parent that there are some things that will remain confidential." 
For example, if laws have been broken or if the student is at risk, Mr Seng will inform other teachers, the parents, as well as the authorities where necessary. 
"But other than that, to have that trusting relationship between the counsellor and the child, there are some things that I can't tell the parent, and getting them to understand that can be a bit tricky sometimes." 
And what does he do when a student begs him not to tell their parents? 
During their first session, he usually explains what would warrant sharing the information with their parents, teachers or the authorities, Mr Seng said, adding that he finds it easier to be upfront with the student. 
"But it's never easy," he added with a wry smile. 
"I always try to treat the child as much as possible as their own person, and as someone who has agency to make decisions for themselves as well."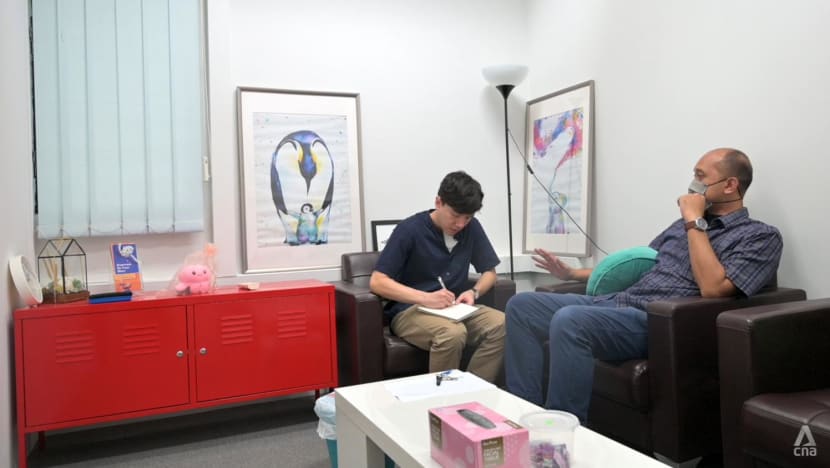 IT TAKES A VILLAGE
We watched as Mr Seng took a walk around the school. Some students came up to say hello and asked what we were doing, others asked him about upcoming appointments or school events. 
He also headed to the staffroom to check in with some other teachers and even ran into a parent on the way. 
"One aspect of school counselling that's a bit different from being a private counsellor is that you really work within the school community," he said. 
"Generally that's a very good thing, because … basically the counsellors are not the only ones supporting the child." 
But not working in a silo and liaising with many different parties takes some getting used to, Mr Seng said, adding that even when arranging for a counselling session, he has to check the student's timetable. 
He also sometimes gets activated for classroom incidents. 
"For example, when a student might feel overwhelmed to the point where they are maybe having an emotional outburst in class and the teacher finds it difficult to manage," he said. 
Teachers may call on the counsellors to head down to the classroom and support the child, he added. 
"Sometimes for teachers, it's difficult also because they're managing the whole class and they can't really focus their attention on just one student. It can be a variety of reasons." 
Having a space to just talk about our feelings and thoughts is rare, said Mr Seng. 
"Even for us adults, when we talk to our friends, there's always some expectation of friendship. There's always a certain dynamic, even if your friend is super supportive and nurturing, there's that expectation, like you don't want to trouble them with your problems too much. 
"So for students to have that space to really just talk about things and not be judged, but to have someone reflecting or bouncing ideas about certain problems, I find that that's helpful."