Elderly woman, man die of COVID-19 complications; 29 new locally transmitted cases in Singapore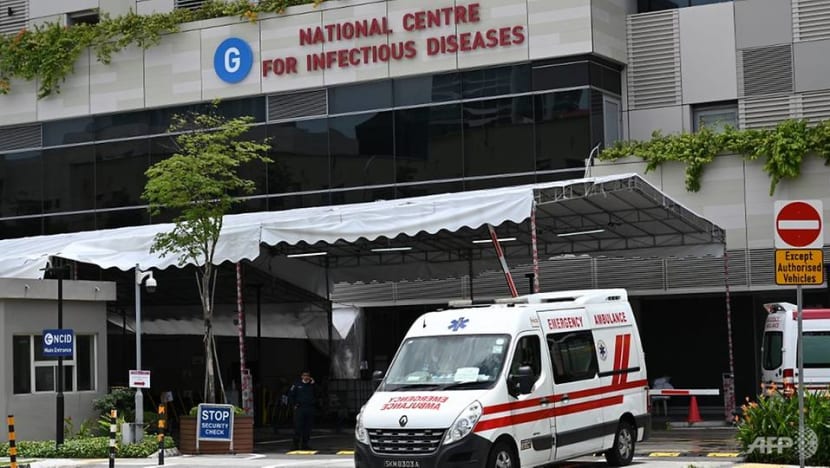 SINGAPORE: A 91-year-old woman and an 87-year-old man have died of COVID-19 complications, becoming Singapore's 11th and 12th deaths from the coronavirus in August.
The 91-year-old woman died on Saturday (Aug 21), said the Ministry of Health (MOH) on Sunday. She had not been vaccinated against COVID-19, and had a history of chronic kidney disease, heart disease, hypertension, hyperlipidaemia and hyperparathyroidism.
The permanent resident, known as Case 67456, was reported as a case on Aug 3. She developed symptoms on Jul 30 and was admitted to the National Centre for Infectious Diseases after testing positive for the coronavirus.
The 87-year-old Singaporean man, known as Case 67630, was partially vaccinated against COVID-19 and died on Sunday. He had a history of advanced cancer, diabetes mellitus, hypertension and hyperlipidaemia, said MOH.
His infection was reported on Aug 4, when he was taken to the National University Hospital for an unrelated medical condition. As he was symptomatic, he was tested for COVID-19 and the result came back positive.
As of Sunday, 49 people have died of COVID-19 complications in Singapore.
29 NEW LOCALLY TRANSMITTED CASES
Singapore reported 29 new locally transmitted COVID-19 infections as of noon on Sunday, including 17 with no links to previous cases.
Nine infections were linked to previous cases and had been placed on quarantine, said MOH. Another three linked infections were detected through surveillance testing. 
Among the new cases, one is above the age of 70 and is partially vaccinated, and at risk of serious illness, said MOH.
There were also six imported cases who were placed on stay-home notice or isolated upon arrival. Five infections were detected upon arrival while one developed the illness during the stay-home notice or isolation period.
In total, Singapore reported 35 new COVID-19 cases on Sunday.
TWO NEW CLUSTERS
Two new clusters were reported on Sunday, both with three infections. MOH did not provide more details on the clusters. Six more clusters have closed, bringing the number of active clusters in Singapore to 72.
MOH said that the number of new cases in the community fell from 354 cases in the week before to 240 cases in the past week.
The number of unlinked cases in the community rose from 92 cases in the week before to 93 cases in the past week.
SEVEN IN CRITICAL CONDITION
A total of 346 cases were in hospital, said MOH. Seven cases were in critical condition in the intensive care unit and 22 cases of serious illness required oxygen supplementation.
Of those who fell very ill, 23 were people above 60 years, of whom 18 were unvaccinated or partially vaccinated, said MOH.
"There is continuing evidence that almost all fully-vaccinated individuals do not suffer serious disease when infected, unless if they had underlying medical conditions that made them more susceptible," said the Health Ministry.
Over the last 28 days, the percentage of unvaccinated cases who became severely ill or died was 8.6 per cent, while that for fully vaccinated cases was 1.7 per cent.
78% FULLY VACCINATED
As of Saturday, 78 per cent of Singapore's population has completed the full regimen or received two doses of COVID-19 vaccines, while 82 per cent have received at least one vaccine dose.
More than 8.5 million doses have been administered under the national vaccination programme, covering 4,475,214 people, of whom 4,232,803 have completed the full regimen.
In addition, 159,204 doses of other vaccines recognised in the World Health Organization's emergency use listing have been administered, covering 84,530 people.
SINGAPORE SENDS COVID-19 VACCINE DOSES TO BRUNEI
Singapore has given 100,000 doses of the Moderna COVID-19 vaccine to Brunei to help the country tackle the ongoing pandemic, Singapore's Ministry of Foreign Affairs said on Saturday. 
Brunei is one of two countries, the other being Germany, that Singapore has launched a vaccinated travel lane with.
Under the scheme, fully vaccinated travellers departing from Brunei can enter Singapore without serving a stay-home notice.
But travellers must undergo several COVID-19 polymerase chain reaction (PCR) tests, including pre-departure, on-arrival and post-arrival tests. 
As of Friday, Singapore has reported a total of 66,478 COVID-19 cases.