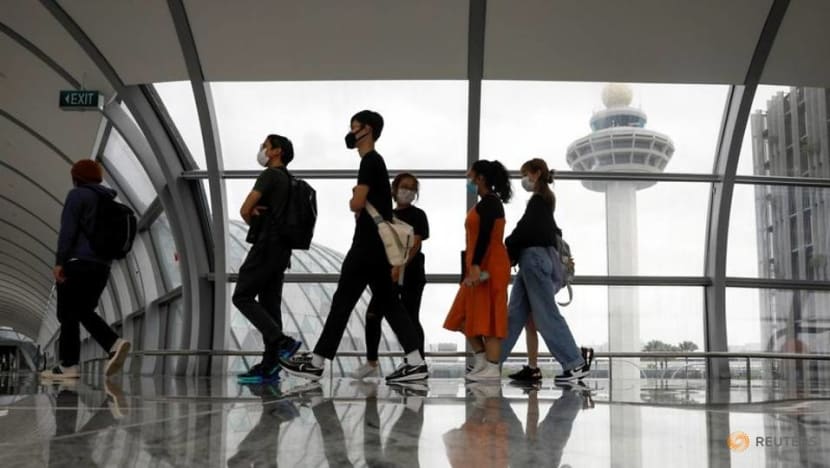 SINGAPORE: Singapore will be launching quarantine-free travel lanes for vaccinated passengers from Germany and Brunei Darussalam next month, as it further moves to reopen its borders.
Under the vaccinated travel lanes, passengers who are fully vaccinated and arriving from Germany or Brunei from Sep 8 will not have to serve a stay-home notice in Singapore, the COVID-19 multi-ministry task force announced on Thursday (Aug 19).
Instead, they will have to take four COVID-19 polymerase chain reaction (PCR) tests – a pre-departure test within 48 hours of the scheduled flight, an on-arrival test at Changi Airport, and post-arrival tests on days three and seven at a designated clinic in Singapore. 
Here's what you need to know about the new vaccinated travel lanes, and what they mean for your long-awaited overseas holiday. 
Q: Which group of passengers are covered under the vaccinated travel lanes? 
A: The vaccinated travel lanes will be open for all travel purposes, whether for leisure, business or to visit family. Any passenger who is fully vaccinated and travelling from Germany or Brunei qualifies for travel under the scheme, as long as they fulfil the requirements.
A person is considered fully vaccinated two weeks after they have received both doses of the Pfizer-BioNTech, Moderna or other vaccines listed under the World Health Organization (WHO) emergency use list, such as Sinovac and AstraZeneca.  
This also means that children under the age of 12 in Singapore, who cannot be vaccinated yet, cannot travel through the vaccinated travel lanes. 
Q: I am a fully vaccinated Singapore citizen or permanent resident and I want to travel to Brunei or Germany. Can I do so under the new vaccination travel lanes? 
A: The new vaccination travel lanes apply to passengers coming to Singapore from Germany and Brunei.
Currently, Singaporeans can already travel to Germany without serving a quarantine there -  regardless of vaccination status. Travellers from Singapore to Brunei under the reciprocal green lane arrangement are subject to certain restrictions.
Travellers coming back to Singapore from Germany or Brunei will have to travel on non-stop designated flights run by Singapore Airlines and Lufthansa or Royal Brunei Airlines respectively. These flights will only serve travellers on the vaccinated travel lanes. 
The current plan is to have seven flights a week or one flight a day from Frankfurt or Munich, and three designated flights from Brunei a week. 
Q: Where can I go under the new arrangement? 
A: With the new vaccinated travel lanes, passengers who are fully vaccinated and arriving from Germany and Brunei will not be subject to a controlled itinerary or sponsor requirements. 
However, they must have remained in Singapore or their country of departure – Germany or Brunei – for 21 consecutive days before they depart for Singapore. 
On arrival in Singapore, travellers must also take a PCR test at the airport and self-isolate until they get a negative result.
Responding to a question about how Singapore will verify the travel history of those coming from Germany, since there are relaxed border control measures within the EU, Transport Minister S Iswaran said this will be based on "self-declaration". 
"The individual has to make a declaration to the effect that he or she has spent the last 21 days within Germany. And that declaration is being made to our authorities," said Mr Iswaran at the press conference.
"It's like any other health declaration that's made, for example, in some other border measures. And that's the basis on which they will be eligible for this vaccinated travel lane and entry into Singapore and all the attendant arrangements and privileges." 
If individuals are found to have made a false declaration, action can be taken against them, including enforcement under the Infectious Diseases Act, said Mr Iswaran. 
Q: I am in Germany or Brunei and want to travel to Singapore. How do I go about this under the new vaccinated travel lanes? 
A: Short-term visitors and long-term pass holders coming from Germany or Brunei will need to apply for a vaccinated travel pass seven to 30 days before their intended arrival. Applications for these passes open on Sep 1. 
As part of the application for the pass, travellers will have to pre-pay for their day three and day seven PCR tests, and their vaccination status will be checked for entry into Singapore. 
Short-term visitors who need a visa to enter Singapore must also obtain one. They are advised to do so after their vaccination travel pass is approved and before they depart for Singapore, said the authorities. 
They must also buy travel insurance with a minimum coverage of S$30,000 for COVID-19-related medical treatment and hospitalisation costs before they travel to Singapore. 
All visitors must also use the TraceTogether app in Singapore to facilitate contact tracing. 
Q: I am a fully vaccinated Singapore citizen or PR and want to return from Germany or Brunei under the scheme. What do I need to do? 
Fully vaccinated Singapore citizens and permanent residents (PRs) do not need to apply for a vaccination travel pass to enter Singapore under the scheme. 
Those who are vaccinated in Singapore can show their vaccination status on the HealthHub app when checking in at the airport before departure for Singapore. 
For those who were not vaccinated in Singapore, they can present proof of their vaccination to the airline in their country of departure, as well as to Singapore's immigration authorities after arriving at Changi Airport.