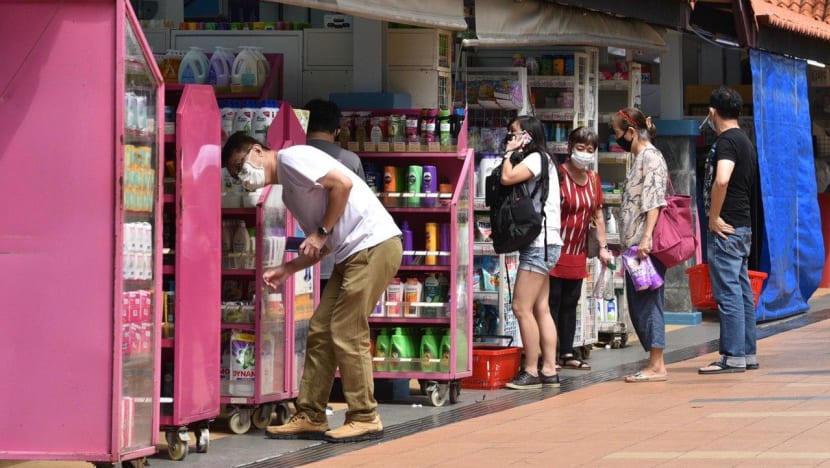 SINGAPORE: Singapore reported 188 new COVID-19 infections as of noon on Thursday (Jul 2), including 10 cases in the community and an imported case, said the Ministry of Health (MOH).
This takes the total number of cases in the country to 44,310.

MOH also reported one new imported case, a 36-year-old Filipino who had returned to Singapore from the United Kingdom on Jun 20, 2020. 
She is a work pass holder who is currently employed in Singapore. Upon arrival in Singapore, she was taken to stay-home notice facility to start her 14-day isolation. She was asymptomatic, and was tested while serving her stay-home notice. 

This is the third consecutive day Singapore has reported imported cases of COVID-19.
CASES IN THE COMMUNITY

The new cases include 10 new community infections, comprising seven Singaporeans, a permanent resident and two work permit holders.

Of the 10 community cases, three were picked up as a result of MOH's "proactive surveillance" and screening, and five had already been placed on quarantine earlier.
Two Singaporeans and a permanent resident had been identified as contacts of previously confirmed cases and were already in quarantine earlier.
Three cases involving Singaporeans were detected due to MOH's proactive surveillance of people working at dormitories, or those deployed to frontline COVID-19 operations. Two of them had tested positive in serological tests, indicating likely past infection.

Epidemiological investigations are ongoing for the two remaining Singaporean cases, who were swabbed under MOH's enhanced community testing after being diagnosed with acute respiratory infection.
Both work permit holders had been identified as contacts of previously confirmed cases, and had already been quarantined earlier. They were tested during quarantine to verify their status.

Overall, the number of new cases in the community has increased, from an average of four cases per day in the week before, to an average of nine per day in the past week. 
The number of unlinked cases in the community has also increased, from an average of two cases per day in the week before, to an average of four per day in the past week. 
"We will continue to closely monitor these numbers, as well as the cases detected through our surveillance programme," said MOH.
A total of 177 of the new cases are work permit holders living in dormitories, the health ministry said.
Two new clusters were identified: A dormitory at 7 Gambas Crescent, and another dormitory at 17 Tuas View Close.

LOCATIONS VISITED BY COVID-19 CASES
More places were also added to MOH's list of locations visited by COVID-19 community cases during their infectious period. 
These include the Fu Chan Coffee Shop at Block 145 Teck Whye Avenue, a Skechers Outlet at IMM shopping mall, Paya Lebar Square and a Cold Storage supermarket at West Mall.
The full list is as follows:

Those who had been identified as close contacts of confirmed cases would have been notified by MOH. 
As a precautionary measure, those who had been at these locations during the specified timings should monitor their health closely for 14 days from their date of visit, the health ministry added. 
"They should see a doctor promptly if they develop symptoms of acute respiratory infection (such as cough, sore throat and runny nose), as well as fever and loss of taste or smell, and inform the doctor of their exposure history.
"There is no need to avoid places where confirmed cases of COVID-19 have been," added MOH. 
The National Environment Agency will also engage the management of affected premises to provide guidance on cleaning and disinfection.
418 MORE PATIENTS DISCHARGED
A total of 418 more COVID-19 patients have been discharged from hospitals or community isolation facilities. 
In all, 39,429 have fully recovered from the infection and have been discharged from hospitals or community care facilities.
There are currently 201 confirmed cases who are still in hospital. Of these, most are stable or improving, and one is in a critical condition in the intensive care unit. 
MOH said that 4,654 are isolated and cared for at community facilities. These are people who have mild symptoms, or are clinically well but still test positive for COVID-19. 
Twenty-six people have died from complications due to COVID-19.

COVID-19 PATIENTS AND QUARANTINED CANNOT VOTE
COVID-19 patients and those in quarantine will not be able to vote in the 2020 General Election, but there will be a special voting hour for Singaporeans serving stay-home notices, the Elections Department (ELD) said on Wednesday.
About 350 people who have COVID-19 or are on a quarantine order will be affected. This is to minimise their contact with members of the public and reduce the risk of community transmission, said ELD.
For voters who are under stay-home notices at home, on medical leave or have a fever of 37.5 degrees Celsius and above, a special voting hour has been set aside for them from 7pm to 8pm.
Four special polling stations have also been gazetted at Marina Bay Sands and one at Marriott South Beach. Voters serving their stay-home notices there will stay in their room and a mobile polling team will bring the ballot box to them.
FOUR IMPORTED CASES ON WEDNESDAY
On Wednesday, Singapore reported four imported cases - two Singaporeans and a permanent resident returning from Pakistan, and a work permit holder who had returned from Indonesia.
The three Singaporeans and permanent resident returned from Pakistan on Jun 19 and Jun 20 and were placed on stay-home notices when they arrived in Singapore.
The 39-year-old Indonesian work permit holder was tested upon arrival at Tanjong Pagar Terminal, and was isolated while awaiting his test result, said MOH.

Download our app or subscribe to our Telegram channel for the latest updates on the coronavirus outbreak: https://cna.asia/telegram