Foreign worker dormitory linked to more than 1,500 COVID-19 cases among 9 more clusters closed
SINGAPORE: Nine COVID-19 clusters at foreign worker dormitories were declared closed on Tuesday (Aug 4), including the cluster at Tuas View Dormitory, which was linked to more than 1,500 cases.
According to the Ministry of Health (MOH), the newly closed COVID-19 clusters are: SCM Tuas Lodge at 80 Tuas South Boulevard, Tuas View Dormitory at 70 Tuas South Avenue 1, 17 Jalan Besut, 5 Kian Teck Crescent, 8 Sungei Kadut Avenue, 3 Sungei Kadut Avenue, 115 Tuas View Walk 1, 117 Tuas View Walk 1 and 38 Woodlands Industrial Park E1 #04-18/19.
MOH said the inter-agency task force has been "systematically and progressively clearing dormitories through aggressive testing of migrant workers residing in dormitories".
"The (nine) dormitories have been cleared, and now house only recovered individuals and those who have recently tested negative for COVID-19 infection. As such, the clusters have now been closed," added the health ministry.
As of Tuesday, there were 1,503 cases linked to Tuas View Dormitory, which was among the first dormitories where a COVID-19 cluster was identified.
It was declared an isolation area on Apr 17 under the Infectious Diseases Act. That order was revoked on Tuesday.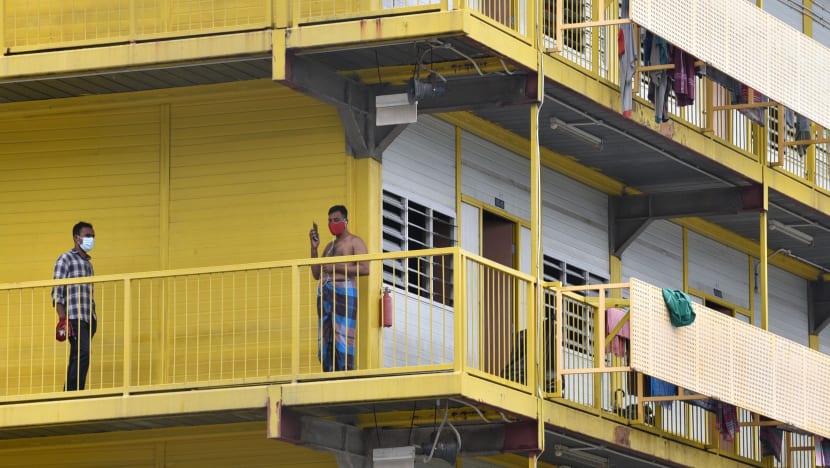 127 MORE FOREIGN WORKER DORMITORIES CLEARED

In a separate press release late Tuesday night, the Ministry of Manpower (MOM) said that 127 more foreign worker dormitories have been cleared of COVID-19, including Tuas View Dormitory.

The newly cleared facilities include 114 factory-converted dormitories and 13 construction temporary quarters, said MOM. In addition, 35 blocks for recovered workers in 12 purpose-built dormitories have also been cleared of COVID-19.
The 35 blocks include the remaining blocks in Jurong Penjuru 1, Homestay Lodge, PPT Lodge 1A, Alaunia Lodge and Tuas View Dormitory, allowing the entire dormitories to be declared cleared of COVID-19, MOM added.
In all, 1,109 dormitories and 52 blocks for recovered workers in 14 purpose-built dormitories have been cleared of COVID-19.

"As announced previously, we expect all dormitories to be cleared by the beginning of August 2020, with the exception of 17 standalone blocks in eight purpose-built dormitories which serve as quarantine facilities," said MOM.
An additional block in Westlite Mandai Dormitory will remain as a quarantine facility, the press release added.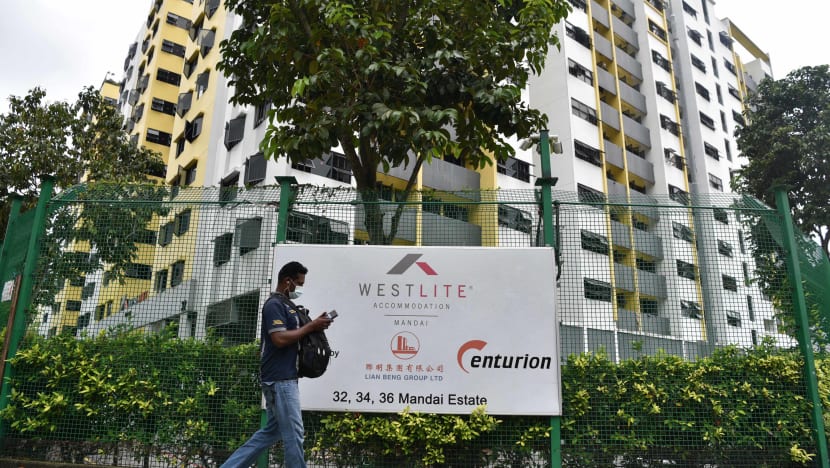 "This arose from the dormitory operator's feedback that the residents did not stringently observe the quarantine requirements during the initial 14-day isolation period," said MOM. 
"Although many tested negative at the end of the isolation period, we share the operator's concerns and assessed that it would be prudent to go through another round of isolation."

The operator will ask residents of the block to cooperate and observe the quarantine requirements so that the block can be cleared without further delay.

As of Monday, about 273,000 workers - about 89 per cent - have either recovered or been tested to be free from COVID-19, said the manpower ministry, up from the 262,000 reported last week.

Many of them are staying in cleared dormitories or blocks for recovered workers and can resume work once dormitory operators, employers and workers have made the necessary preparations to help minimise the risk of new infections, said the MOM.
Many dormitories complete the required steps "almost immediately", added MOM, with almost all completing them in a week or less.
Singapore reported 295 new COVID-19 infections on Tuesday, including two in the community and seven imported cases. This brings the total number of cases in the country to 53,346.
Download our app or subscribe to our Telegram channel for the latest updates on the coronavirus outbreak: https://cna.asia/telegram