Daily number of COVID-19 cases in Singapore may rise to more than 5,000 next week: Gan Kim Yong
The vast majority of cases will be asymptomatic or have mild symptoms, said Mr Gan.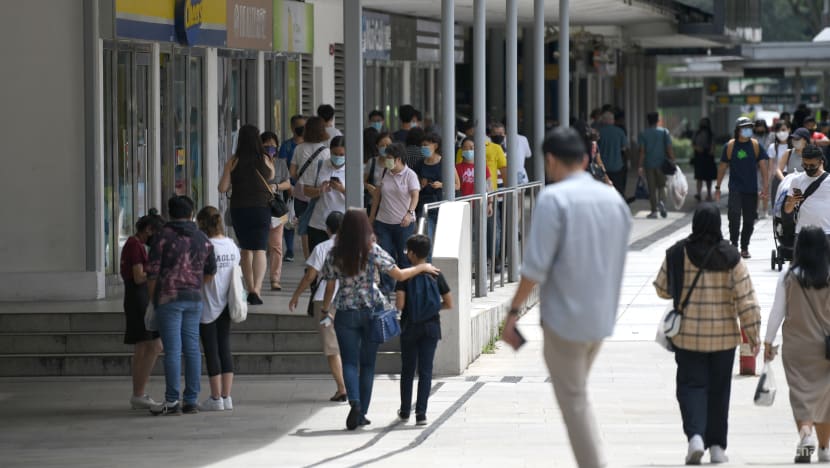 SINGAPORE: The daily number of COVID-19 cases in Singapore may rise to more than 5,000 next week, with the number of community cases now doubling every 10 days, said co-chair of the COVID-19 multi-ministry task force Gan Kim Yong on Saturday (Oct 2). 
Speaking at a task force press conference, Mr Gan said: "The daily number of cases has continued to rise. Based on the current trajectory, cases in the community are now doubling about every 10 days. 
"And depending on how the trajectory will develop, we may start to see the number of daily infections rise to more than 5,000 next week. The vast majority, however, will be asymptomatic or have very mild symptoms and can recover swiftly at home." 
Although the daily number of cases has continued to rise, the rate of increase "appears to have slowed down slightly", said the Ministry of Health (MOH) in a press release. 
"The time taken for the doubling of community cases has lengthened from about eight days to about 10 days," MOH said.
STREAMLINE HEALTHCARE PROTOCOLS
Singapore needs to streamline its healthcare protocols, said Minister for Health Ong Ye Kung. 
"The testing and isolation protocols from QO (quarantine order), HRW (health risk warning), HRA (health risk alert), RRT (rostered routine testing) - quite a bit of alphabet soup - they were designed during a time when we were trying to snuff out every cluster that we discovered and detected," he said.
"We are in a totally different position now, as we try to ride safely through this transmission wave to emerge more resilient on the other side, and able to live with COVID-19."
The protocols are "many and complex to the man in the street", Mr Ong said, and that to them it is "confusing and even frustrating".
"Few people truly understand or remember it. This issue needs to be addressed because if people don't understand, they can't do their part to exercise personal responsibility, much less help others," he added.
"It also contributes to an overall apprehension that COVID-19 is a very serious disease when actually for vaccinated people it has become a mild disease." 
The task force is reviewing the protocols "holistically" and will present them soon, said Mr Ong, adding that they want to make the protocols simple and easy to remember.
VACCINATIONS
The percentage of patients who require intensive care "remains low", at about 0.2 per cent, said the Health Ministry.
But with the higher number of cases, this can translate to a "larger absolute number", said MOH. Currently, 34 ICU beds are occupied but the Health Ministry said it expects this number to rise.
There remains "strong evidence" that vaccination protects people against severe disease, added MOH.
The proportion of fully vaccinated cases who needed intensive care or died is about 14 times less than that for the unvaccinated, the ministry noted.
"We are most concerned for the elderly, and in particular those who are unvaccinated. Older persons are at higher risk of severe illness, and most of them tend to have co-morbidities, which then increases the risk further," said MOH. 
The proportion of cases who are seniors aged 60 and above has "remained stable" at about 27 per cent to 32 per cent in the past 28 days, it added.
"We urge all seniors, especially the minority of unvaccinated seniors, to take extra precautions and avoid crowded places during this period," said MOH.
Singapore has not seen the "full effect" of the latest tightening measures, as it usually takes a week or more before the impact from any tightening can be observed, said the Health Ministry. 
"Therefore, it is important that we continue to optimise our healthcare resources and preserve our hospital beds for those who truly need them. At the same time, all of us can help by reducing our social activities," said Mr Gan, who is also Minister for Trade and Industry.