More COVID-19 treatment facilities to be set up, with about 3,700 beds by end-October
The facilities will take in higher-risk patients who require close observation but do not need to be hospitalised.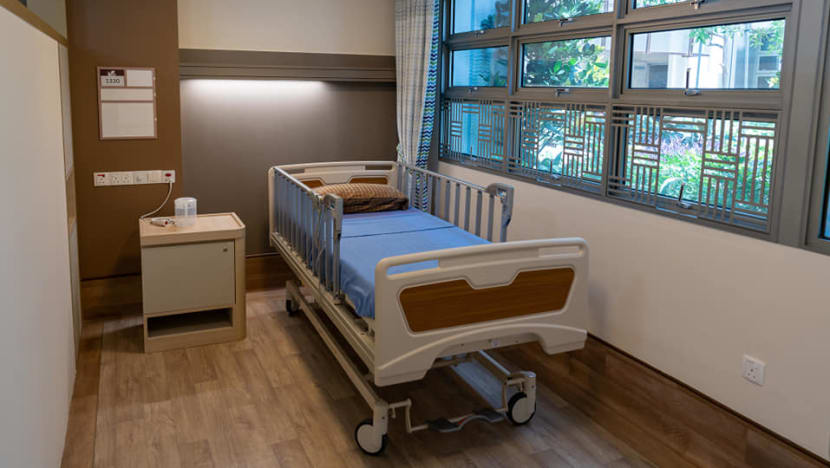 SINGAPORE: More COVID-19 treatment facilities (CTF) will be set up in the coming weeks to reduce the strain on acute hospitals, as Singapore sees a spike in local infections. 
There will be nine COVID-19 treatment facilities with an overall capacity of about 3,700 beds by the end of October, said the Ministry of Health (MOH) on Saturday (Oct 2).
It noted that four of these facilities were set up over the past week, with a capacity of 580 beds.
They will be used to care for higher-risk patients who require close observation but do not need to be hospitalised. Such patients include seniors with co-morbidities who are asymptomatic or with mild symptoms. 
COVID-19 treatment facilities were known as community treatment facilities. MOH said they have been renamed "to better reflect the higher level of medical care provided to COVID-19 patients".
The facilities are meant to "augment and complement" hospital capacity, said the ministry in a media release.
"This is an important step towards right-siting care and reducing the strain on our acute hospitals which should be preserved for those who require immediate acute hospital care, both COVID-19 as well as non-COVID patients," it added.
Speaking at a press conference by the COVID-19 multi-ministry task force on Saturday, Health Minister Ong Ye Kung said that Singapore faces the "biggest crunch" at its hospitals.
"The reason why we are facing the biggest crunch is because ... our hospitals are admitting many patients for close observation, even though their conditions do not require acute hospital care," he said.
"And that is why we need to set up CTFs, increase the capacity of CTFs, and CTFs have the medical capabilities and resources, including oxygen supplementation, to safely manage such patients who have a potentially higher risk of developing severe illnesses," he added. 
"If we can do that, we can decant and place patients away from hospital settings into the CTFs and therefore ameliorate the crunch at the hospital end."
Giving further details about the COVID-19 treatment facilities, Mr Ong said 700 beds will be set up at Singapore Expo and another 200 at Sengkang General Hospital. By the end of October, such beds will also be set up at Yishun and Ren Ci community hospitals. 
HOME RECOVERY PROGRAMME
The Health Ministry also stressed that it is safe for vaccinated people to recover from COVID-19 at home, adding that local and overseas data has consistently shown that vaccination is highly protective against severe illness.
Home recovery is Singapore's default mode of care management for the majority of COVID-19 patients, provided certain criteria is met. These include vaccinated people with mild or no symptoms who are able to self-isolate in a room, preferably with an attached bathroom, according to MOH guidelines. 
To be eligible for home recovery, their household members must not include elderly people who are more than 80 years old or those in vulnerable groups such as pregnant women.
For those whose home conditions are not quite suitable, MOH said they will be assessed on a case-by-case basis and allow some to recover at a community care facility.
Mr Ong said that the situation with the home recovery programme has "improved" due to the "great help" of the Singapore Armed Forces (SAF).
"A lot of work, a lot of resources, commitment have been devoted to resolve all the teething issues that were encountered. So we can now on board, almost all new cases every day quite smoothly," said Mr Ong.
"There are the occasional delays for some, mostly because of lack of information, or the information like contact numbers were not accurate. Other than that, every day, they can quite smoothly on board everyone on the home recovery programme."
On Saturday, MOH also said healthcare and frontline workers will likely be offered COVID-19 booster jabs, adding that the expert committee on COVID-19 vaccination will release its recommendations on the matter when it is ready.
"MOH will await the formal recommendations of (the committee), but we stand fully ready to support this extension," said the ministry. 
"All eligible persons are encouraged to receive the booster vaccination when it is offered to them, and those who have yet to be vaccinated are strongly urged to do so."
Booster jabs have been offered to people aged 50 and above who completed both doses of the vaccine at least six months ago.