First-time F&B offenders will now face enforcement action for flouting COVID-19 safe management measures: Lawrence Wong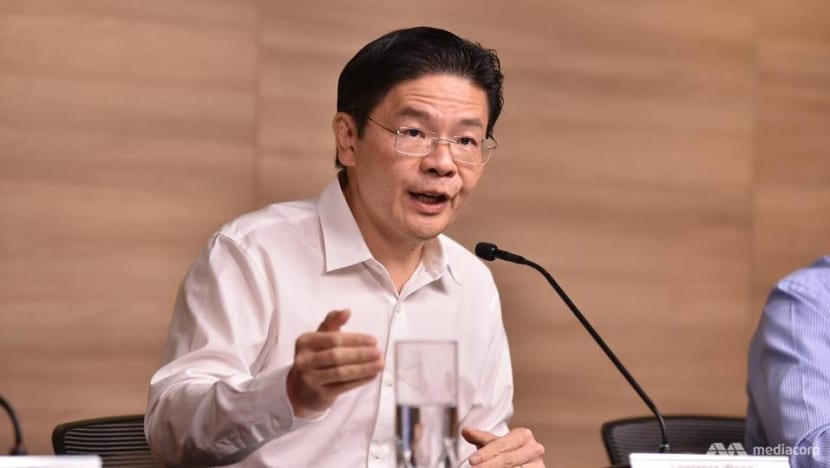 SINGAPORE: Authorities will now take enforcement action against food and beverage (F&B) outlets that flout COVID-19 safe management measures for the first time, instead of issuing warnings for first offenders, said multi-ministry task force co-chair Lawrence Wong on Wednesday (Sep 9).

Speaking at the COVID-19 multi-ministry task force press conference, he said: "I'm glad that most people, F&B operators and diners ... are complying with these measures." 
"But there are still a few breaches that we pick up literally on a daily basis and they typically happen at the popular night spots - not always, but very often at some of these popular areas."
The breaches include the sale and consumption of alcohol after 10.30pm, individuals not wearing masks, seating customers less than 1m apart, playing loud music, and gathering in groups of more than five and intermingling between groups, especially inside a private room. 
"Up until now, the approach by enforcement agencies has been to issue a warning for a first offender," said Mr Wong, who is also Minister for Education.
"But I think enough time has transpired for the entire F&B industry as well as for diners to understand what the rules are and to comply with them."
On Sep 5, the Singapore Tourism Board ordered a restaurant to cease operations for flouting safe management measures. A day later, Enterprise Singapore fined five establishments for failing to ensure a minimum of 1m between groups of diners.
Meanwhile, the Singapore Food Agency fined and suspended operations of a bar and two restaurants for breaches in safe management measures last week.
In all, around 20 F&B establishments have been suspended since the start of phase 2.

As such, agencies will take enforcement actions against these F&B outlets with immediate effect. 
"Our enforcement agencies will be stepping up spot checks as well as enforcement actions," said Mr Wong.
Enforcement action could include fines and ordered closures, depending on the severity of the offence. 

For instance, if there have been multiple breaches at one place, the authorities may close the premises and send the case to the Attorney-General's Chambers for possible prosecution.

In a statement on Wednesday, the Urban Redevelopment Authority (URA) named seven errant F&B outlets along Boat Quay, Clarke Quay, China Square and Tanjong Pagar.
Enforcement actions were taken against Le Noir, Coyote Ugly, The Cooperage, Bombay Grill, Aglio Olio, Hokkai Villa and City Hotpot between Sep 4 and Sep 6. All were fined S$1,000.

Le Noir and Coyote Ugly were also ordered to cease dine-in activities from Sep 10 to 19.
Said URA: "The rules on safe distancing have been clearly communicated to F&B outlets and individuals alike and there should be no excuse to continue flouting the rules​​​​​​​."
IMPLEMENT FLEXIBLE WORKPLACE HOURS
Employers should implement flexible workplace hours to allow workers to travel off-peak and reduce the risk of large crowds, as Singapore continues to resume more activities amid the COVID-19 outbreak.
"For workplaces, we are now looking at how more employees can return to work safely. The issue is not just about the numbers of people going back to work," said Mr Wong, pointing out that there need also be more flexible working hours so that a "good part of workers" are travelling in the off-peak hours after 9.30am.
This will reduce the risk of large crowds gathering in public transport, public spaces and in office buildings, he added, noting that the Ministry of Manpower and tripartite partners are looking into the issue.
In addition, employers should implement their safe management measures seriously and ensure that safe distancing is adhered to, said the Ministry of Health in a press release, as increased interactions at the workplace increased the risk of COVID-19 transmission.
PROTECTING SENIORS

Senior-centric programmes by the People's Association, Health Promotion Board, Sport Singapore and the Council for Third Age will be allowed to resume in groups of up to five, said Health Minister Gan Kim Yong.
Such activities can also resume in eldercare facilities including nursing homes, Senior Care Centres, Active Ageing Hubs and Senior Activity Centres, he added, as long as there are safe distancing measures.
These activities include outdoor exercises and classroom lessons, but will not include singing, which is a "high-risk activity", said Mr Gan.
Responding to a question about whether the authorities would open testing to those involved in such activities, MOH's director of medical services Associate Professor Kenneth Mak said the Government will "keep a close eye" on the activities and seniors.

Additionally, Silver Generation Ambassadors, Senior Activity Centres, Community Resource, Engagement and Support teams, and diabetes outreach activities may resume from Wednesday, subject to safe distancing measures.

Noting some seniors' fears of being exposed to COVID-19 during their medical appointments, MOH said: "To avoid potential deterioration of their medical conditions and allow for timely attention to other health needs, we urge seniors to continue to attend their medical appointments."
Health providers would have the "necessary precautions" for patients to access medical services and receive treatments "safely", it added.
Watch the full press conference: