An inside look at how TTSH battled back after becoming Singapore's first COVID-19 hospital cluster
SINGAPORE: During her day off after a night shift at Tan Tock Seng Hospital's (TTSH) Ward 9D, senior staff nurse Jennilyn Angeles felt something was awry.
"I thought it was my body just giving up because I was too tired with the workload from my ward," she recalled. "(I thought) it's just fatigue."
But it was worse.
She had a high fever, runny nose and body malaise – classic signs of a virus that she was all too familiar with.
"I felt scared because I already had two or three of the symptoms (of COVID-19)," she explained.
After seeking treatment and getting swabbed at the hospital's emergency department, Ms Angeles returned home to self-isolate in her room while waiting for the swab result. 
At midnight, she was told she had tested positive for COVID-19.
"I was terrified and could not help but cry. I was in disbelief that despite being vaccinated, I had tested positive," she said.
"I did not know my next steps as I never imagined that the virus would infect me. I prayed and composed myself and immediately called my housemates to inform them."
She had taken precautions, such as wearing a mask at all times while at work and limiting her movements on her time off.
"You cannot imagine how I felt that day," she told CNA.
"A SENSE OF FOREBODING"
Ms Angeles was taken to the National Centre for Infectious Diseases (NCID) the following morning. TTSH staff swung into action before that. One of those involved was deputy director of nursing Laura Ho.
"(My immediate reaction) was to huddle with respective nursing leads as well as chief nurse, (to collectively) work on measures to contain, control and cast a net wide," she said.
This meant implementing an immediate response strategy, which involved a slew of measures.
Ward 9D was locked down on Apr 28, before a cluster at the hospital was identified. Patients and staff who had been in the ward were swabbed.
Individuals and close contacts who could have been to the ward were also identified for testing, and for quarantine if necessary. Instructions were issued for reduced staff movement across teams in the hospital.
On Apr 30, TTSH announced that it would not allow any visitors and locked down three other wards.
At the same time, there was a need to ensure that hospital staff could continue to attend to patients around the clock, said Dr Habeeb Rahman Sahul Hameed, who is chairman of the hospital's 3S (Staff Support Staff) Executive Committee.
"We needed to segregate staff in order to do this, and also to start planning ahead to weeks and even months to try and keep patients away, in the event that the cluster continued to grow, and to plan for their care outside of the hospital," he explained.
"Staff were being taken away on quarantine orders, with needs to attend to. Stricter infection control measures were instituted, movement within the hospital was limited … Alternative ways of seeing our patients needed to be ramped up. Thankfully, we had telemedicine developed to help us do that."
Staff nurse Ng Shu Hua told CNA that her immediate concern upon hearing the news was for her colleagues working at inpatient wards.
"There were a lot of uncertainties such as how this cluster will affect me, my family, work operations, and the public perception towards TTSH staff," said Ms Ng, who is part of the hospital's Outpatient Management Unit.
For senior staff nurse Liu Liwei, who worked on the same floor as Ward 9D, the news hit "close to home".
"It hit too close to home and overnight, level nine became the epicentre. I racked my brain to recall if I had gone over to 9D the past few days," he said.
There was also feeling of foreboding, added Dr Habeeb.
"There was a sense of apprehension, as TTSH and NCID serve the country's greatest need in the response to COVID-19 and if (they) were to shut down from an internal outbreak, there would be significant impact to the overall ability to respond to the pandemic," he said.
"Most of all, the scenario was closest to what happened during SARS when our TTSH staff were affected and there was a sense of foreboding that the worst might yet happen."
"PATIENCE AND A DASH OF SYMPATHY"
As the hospital ramped up measures, Ms Angeles continued her battle against COVID-19 at NCID.
In fear of worrying her mother in the Philippines, Ms Angeles only informed her several days later that she had contracted COVID-19.
"The night that I received the message, the first person that I called back home was my eldest sister, because I don't want to break the news to the family, especially (since) my mom is elderly," she explained.
"I waited for two days before breaking the news to my mother, but then I made sure that both of my siblings were beside my mother when they broke the news so they could support my mother."
There was also speculation that Ms Angeles was the index case of the cluster, and this affected her mentally.
"I was already forewarned by my colleagues not to open the news (sites). Do not read anything on social media," she said.
"Even though I know (that) it did not come from me, but then of course, you will feel sad."
In a ministerial statement in May, then Health Minister Gan Kim Yong said in Parliament that Ms Angeles had "dutifully" reported her symptoms and that her "responsible" act had allowed for the detection of the cluster.
"I should point out that this does not mean that she is the first infected case, and had brought COVID-19 into the wards. Investigation is still ongoing. But her responsible act enabled us to pick up the cluster at Tan Tock Seng Hospital," he said.
Investigation findings have yet to be announced publicly.
In a media briefing later that month, the multi-ministry task force said that as the infections centred around Ward 9D, they were studying the possibility of airflow issues, among other factors. They also did not rule out the possibility of infections stemming from unmasked patients and visitors.
Ms Angeles spent 11 days in NCID and was eventually discharged to continue her recovery at a community care facility.
A RACE AGAINST TIME
To contain the spread, the hospital ceased admission of patients and diverted emergency cases to other public hospitals.
There was also an urgent need to put into place interim mitigating measures in the wards. Helping with this was TTSH's director of facilities development and management Goh Mia Siang.
"I was shocked that the COVID-19 variant had appeared in our general ward. As the general wards are not designed and built to house infectious disease patients, they did not have the required engineering control such as directional airflow, high outdoor air ventilation rate for dilution or the HEPA filtration for airstream cleansing," he told CNA.
"Furthermore, in a non-isolation ward, patients moved freely, mask-down with others in close proximity (during eating and sleeping) and shared toilet, cubicle sink and other amenities. Given the above, I was very concerned that we might get more clusters if we have more false 'clean' patients (based on negative swab results) that turn out COVID-19 positive subsequently."
Mr Goh immediately sought approval to install exhaust fans and portable air cleaners with HEPA filters in every patient cubicle. 
"Our greatest enemy was time," he recalled. 
Some contractors and vendors were reluctant to come to the hospital to provide manpower and the materials needed, Mr Goh said.
"We had to source and use whatever materials available as well as to think creatively on our feet," he added.
While these measures would have typically taken about a month to finish, they were put into place within eight days, and completed by mid-May, said Mr Goh.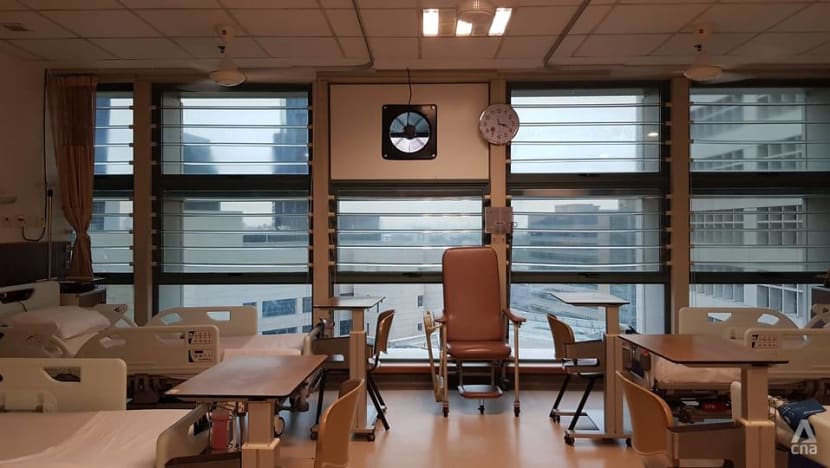 "At one point there were about 1,000 staff (members) in quarantine, and the impact on their emotional and mental health from the quarantine and on their families was significant," said Dr Habeeb.
"With fewer staff (members) left in the hospital to care for the patients, many extra hours were spent, and infection control measures meant strict segregation.
"Some departments had their manpower significantly reduced to the point that reinforcements from other hospitals desperately needed to come in to be able to maintain patient care.
"Other departments had their staff deployed to cover areas of need in the hospital, and work became lonely, long and heavy."
Even as the cluster grew, TTSH staff pressed on. Nurses working in affected wards learnt to adapt to wearing full personal protective equipment (PPE), which they donned whenever entering affected wards.
Said Mr Liu: "Wearing the PPE is akin to being inside a greenhouse – the protective gown is impermeable, so my colleagues and I always perspire profusely. Eventually, mind over body, and we acclimatised to wearing the PPE like our second skin."
Patients in her ward were also "on edge", added Mr Liu.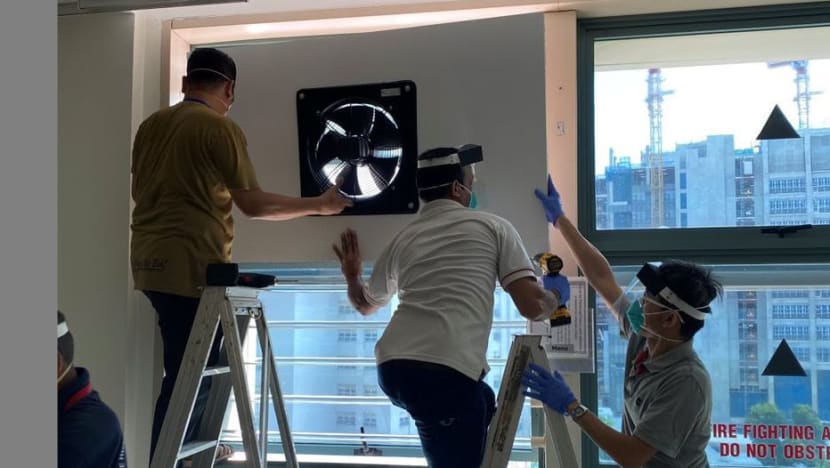 "My colleagues and I had to provide constant updates/assurance, facilitate video calls (between) patients and next-of-kin. Those patients were subjected to frequent RRT (rostered routine testing) during that period, so I found it quite challenging to approach them with the swab kits, especially when I saw their looks of resignation," he said.
"Patience and a dash of sympathy helped." 
Ms Ng was involved in managing the operations for rostered routine testing, and doubled up as a swabber. This meant sacrifices had to be made.
"I tried my best to minimise contact with my family by staying in my room most of the time. My life was just revolving around work and home only," she recalled.
"Mentally, it was quite challenging for me because we are so used to every day saying 'Hi, good morning' all those things, having meals together, then suddenly there's a break in communication … There's no human touch.
"It's really mentally taxing. Then you go to work and see all your colleagues - they have their own struggles at home also."
And although she was home, it didn't feel that way for Ms Ng.
"Most of the time, I felt alone, even though I was at home with my family. There was not much face-to-face human interaction. I did not meet my fiancé for a few weeks and only communicated with him mainly through video calls," she said.
"I felt like I was not contributing to the family."
She remembered being shunned in public during the time the hospital was a cluster.
"I vividly recall there was once when a lady saw me boarding the train in my nursing uniform and she immediately walked away to the adjacent carriage," Ms Ng said.
"I was affected because it's like we are working so hard, contributing to the healthcare (system) but this is what we were receiving … I felt demoralised."
But there was support from loved ones and colleagues, she added.
"My family was deeply concerned about the cluster outbreak at TTSH. They provided me their fullest support by ensuring that my meals and other basic necessities were taken care of.
"They checked on me frequently to ensure that I am alright physically and emotionally, providing me with words of encouragement to affirm my dedication to my job," Ms Ng explained.
She recalled an instance where a member of the public placed a banner in front of the Centre for Healthcare Innovation building, encouraging staff not to give up. 
"Many words of encouragement and affirmation from family, friends, colleagues and supervisors helped me tide over this difficult period. I was content knowing that we were there for each other in times of need," Ms Ng added.
What was impressive was the adaptability of hospital staff as they worked together to solve problems and adapt to new roles, said Dr Habeeb.
"Staff came together via Zoom, WhatsApp and FB@workplace to cheer one another on, and keep one another company with virtual activities organised," he added.
"Staff support was (a) major point of intervention during this time, and many different departments came together to support well-being efforts."
Such efforts included mindfulness sessions that all staff could dial in to, a COVID-19 chatbot to respond to staff queries, and a team formed to respond to requests by quarantined staff.
"Doctors and nurses in quarantine created tool kits for their colleagues to help survive the days in isolation. Our staff well-being survey was rolled out to keep a pulse on how our staff were doing and our staff support hotline continued to respond to calls coming in to triage and deliver emotional/ psychological interventions," said Dr Habeeb.
"Welfare officers from clinical departments were engaged to look after the well-being of their colleagues."
PALPABLE RELIEF
The hospital began admitting new patients from May 18, with Ward 9D taking new patients from May 22. All inpatients and 12,000 staff members cleared a series of swab tests before the hospital made the call to reopen.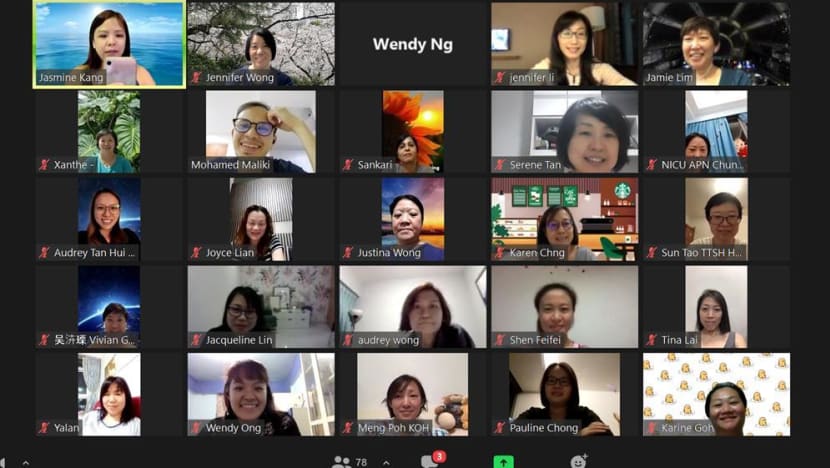 The TTSH cluster - Singapore's first hospital COVID-19 cluster - was eventually closed on Jun 6, after no new cases were linked to it for 28 days. According to MOH, the cluster had a total of 48 cases, with 3 deaths linked to it.
Measures put in place at the hospital have remained today. Nurses will now have to put on PPE such as goggles and N95 masks before they enter any hospital ward. This also applies to clinics within the hospital. 
Previously, they were only required to wear a surgical mask when attending to cases in general wards.
There is now a separate doffing station for nurses to remove their contaminated gear safely once they leave the wards.
All wards are fitted with portable air cleaners with HEPA filters, as well as exhaust fans to enhance ventilation and airflow. There are also long-term plans for the hospital to build more isolation rooms and remodel existing wards.
For nursing staff, the relief was palpable after the cluster closed.
"(I felt) a huge sense of relief that TTSH could take a 'hiatus' from being in the media limelight. Another huge sigh of relief that we no longer have to don a full set of PPE, except N95, as we continue to nurse the patients," said Mr Liu.
"(There was) celebratory joy when the 'quarantined' patients were allowed visitors and ... were gradually discharged."
At the same time, they are more than aware that the fight against COVID-19 is far from over.
"I think we should gradually learn to accept and adapt to the new normal. We have all made sacrifices in one way or another to keep our loved ones and community safe," said Ms Ng.
"We should not let our guard down and continue to practise safe protective measures, such as frequent hand washing, wearing of masks and safe distancing."
As the hospital continues to serve the public, lessons have been learnt from its time as a cluster, said Dr Habeeb.
"The journey with the pandemic has taught us much, sometimes in a much harder way than we are prepared for," he added.
"The main thing I think is to be prepared, but more importantly to be agile to changes. There is little we have been able to predict with certainty in the almost two years since the outbreak started.
"Also, we have learnt the importance of communication, enabling staff to help one another on the ground, and to look forward to coming out of this with hope.
"Communication from management to staff took place over various platforms during this period, from emails, to updates on the hospital's social media, to staff bulletins and virtual townhalls, which were hugely popular."
Now back at work at TTSH, Ms Angeles is ready to continue her work on the frontline.
"My motivation was to get better so that I could quickly go back to work, join everyone back in the hospital to fight this pandemic, and (re)gain my health," she said.
"I was delighted that many people showed love and concern through their prayers, thoughts, and simple wishes for my recovery.
"COVID-19 is real, and the virus is really sneaky, hiding within the community; it cannot be seen or felt. Some of us may, unfortunately, get infected with it.
"However, having passed this battle, although we are all powerless when sick, I believe that keeping our faith strong will help us heal."
Fellow nurse Ms Ng added: "In this kind of situation where every part of Singapore has COVID-19 - if we don't care for our patients, who will be there for our patients?"