New mask rules kick in from today. Here's what you need to know
Is wearing a mask still compulsory when you board a flight or when you take a taxi?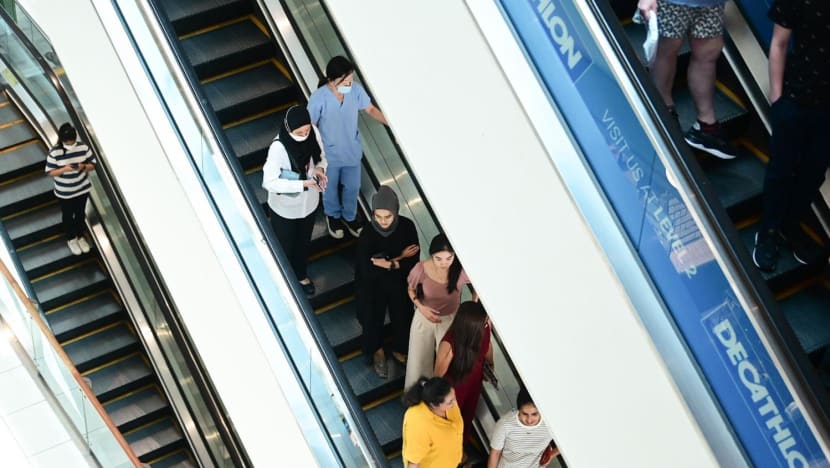 SINGAPORE: From Monday (Aug 29), people in Singapore will not be required to wear a mask except on public transport and in healthcare facilities. 
The authorities announced details on Wednesday after Prime Minister Lee Hsien Loong said during his National Day Rally speech that COVID-19 rules on wearing masks will be eased.
Here's what you need to know about the new rules.
PUBLIC TRANSPORT
Masks will still have to be worn on transport modes such as the MRT, LRT and public buses, as well as in indoor public transport facilities like boarding areas at bus interchanges and MRT platforms.
Masks will be optional on private transport modes such as taxis, school buses and private bus services. Passengers should check with private operators for additional service requirements, the Ministry of Health (MOH) said. 
While it will no longer be mandatory, drivers and passengers of taxis and private-hire vehicles are encouraged to continue wearing masks, especially if they feel unwell, said the Land Transport Authority.
Masks will not be required at airports, naturally ventilated bus interchanges and in the retail areas of bus interchanges, MRT and LRT stations.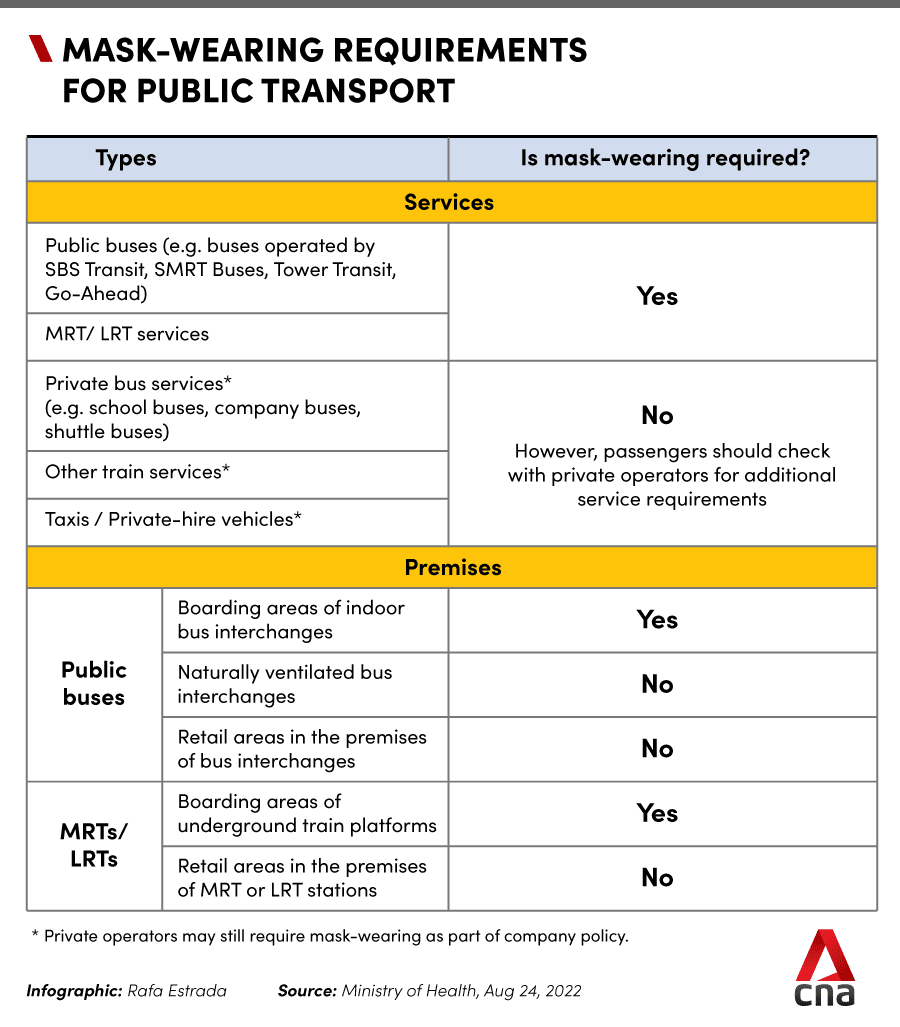 INTERNATIONAL FLIGHTS
MOH director of medical services Kenneth Mak said during a press conference that when it comes to international flights, the requirement depends on what the rules are in the destination of choice as well as the airline.
"The carrier may have requirements imposed based on his country of origin as well, so where there's a mandatory requirement for masks to be worn ... the mask must be worn on the flight itself," he said.
However, there are countries where mask-wearing may be optional, like in the United States, he added.
"In that setting, where countries do not enforce or will not require mask-wearing, flights to those destinations will not require mandated wearing on board the flight as long as the carrier has no such requirement as a condition for travel on that particular carrier as well," said Assoc Prof Mak.
This means that passengers will need to wear their masks on outbound commercial flights and ferries from Singapore to destinations that require mask-wearing onboard. This also goes for inbound commercial flights and ferries into Singapore from destinations that require mask-wearing onboard, the MOH said.
But masks are not required on outbound commercial flights and ferries from Singapore to destinations that do not require mask-wearing onboard, and inbound commercial flights and ferries into Singapore from destinations that do not require mask-wearing onboard.
Singapore Airlines said its passengers will not be required to wear masks on flights from Aug 29 unless they are travelling to or from destinations that mandate it. The airline provided a list of destinations where masks are required.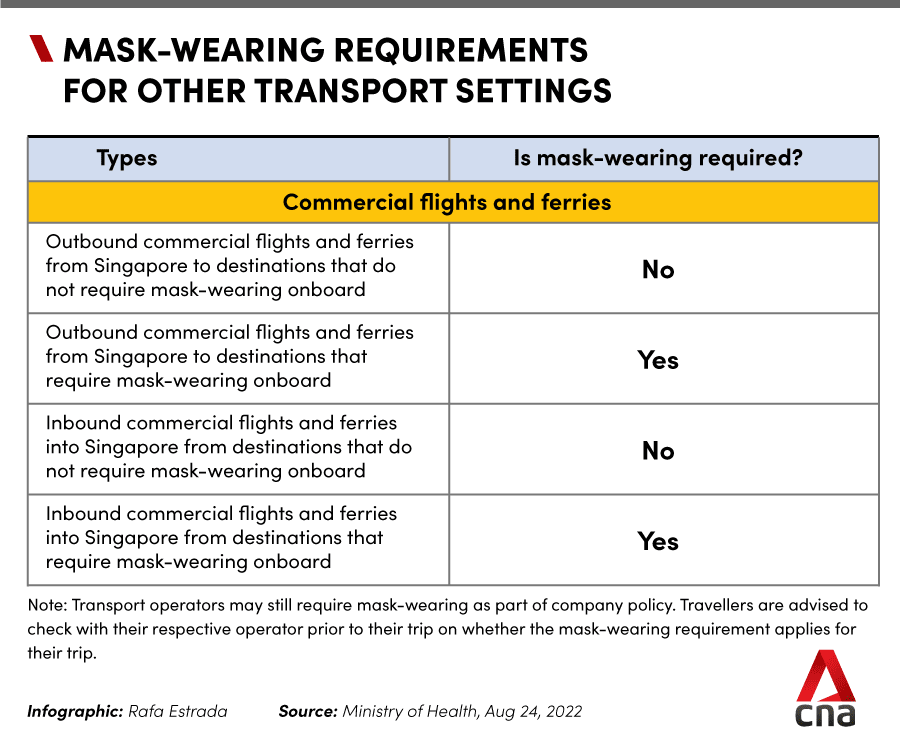 HEALTHCARE FACILITIES
Healthcare facilities, residential care homes and ambulances will keep the mask-wearing requirement. These include welfare and sheltered homes for the aged, as well as adult disability homes. 
The same goes for COVID-19 care facilities, testing centres and vaccination centres.
Masks will also be needed at retail and F&B establishments and common areas located within hospital buildings, national specialty centres and polyclinics.
However, masks are not required at physiotherapy and other allied health clinics for services like speech therapy and occupational therapy located outside hospitals, MOH said. Masks are also not needed at facilities providing non-residential community services like centre-based service, day care services and home care services.
SCHOOLS
While the multi-ministry task force did not provide information on mask-wearing in schools during its press conference on Wednesday, the Prime Minister said earlier in his National Day Rally speech that masks should not be needed during classes.
"The children do need to be able to see the facial expressions of their teachers and of each other ... It's crucial for their learning and development," he said.
RULES FOR FOOD HANDLERS
Existing sector requirements on mask-wearing for food handlers continue to apply, the Singapore Food Agency (SFA) said in a statement on Wednesday.
SFA made it a requirement in April 2020 for all food handlers to wear masks or other forms of physical barriers.
This applies to all personnel engaged in the sale and preparation of food and drinks at retail F&B establishments, including hawker centres, coffee shops, restaurants, supermarkets, trade fairs, and non-retail food establishments, including food processing establishments and slaughterhouses, SFA said.
"All food handlers will still be required to wear over his nose and mouth a mask or spit guard that is capable of preventing any substance expelled from his mouth or nose from contaminating food," SFA said.
Face shields are not allowed because they are not considered as being effective physical barriers, due to a large gap at the bottom of the shield.
Those bringing plated food to consumers, collecting payments, or who are involved in cleaning work need not wear masks, said Senior Minister of State for Sustainability and the Environment Amy Khor.
Listen: Dr Ling Limin explains why masks are still important: