Commentary: Low risk of getting COVID-19 from indoor places – even with masks off
Singapore's decision to make mask-wearing optional in most indoor settings in this phase of the COVID-19 pandemic is not arbitrary, says Duke-NUS Medical School's Vincent Pang.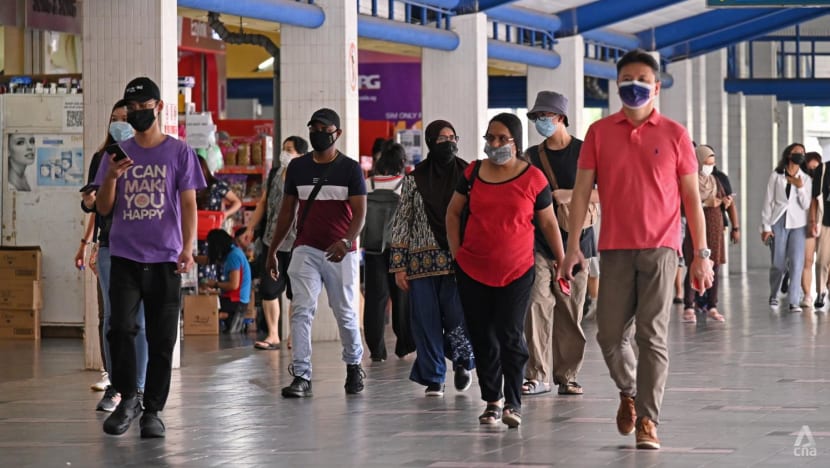 SINGAPORE: When Singapore first made it mandatory during the early phase of the COVID-19 pandemic in April 2020 for people to wear masks any time they stepped out of their homes, many found it challenging to adopt the new practice. 
Soon, they got used to it, and the reluctant wearing of masks became the norm – so much so that when Singapore lifted its outdoor mask mandate earlier this year, some said they felt "awkward" taking off their masks, with many continuing to have them on out of habit.
On Sunday (Aug 21), Prime Minister Lee Hsien Loong announced in his National Day Rally speech that the mask requirement would be eased further. Masks will soon be optional indoors and required only on public transport and in healthcare settings.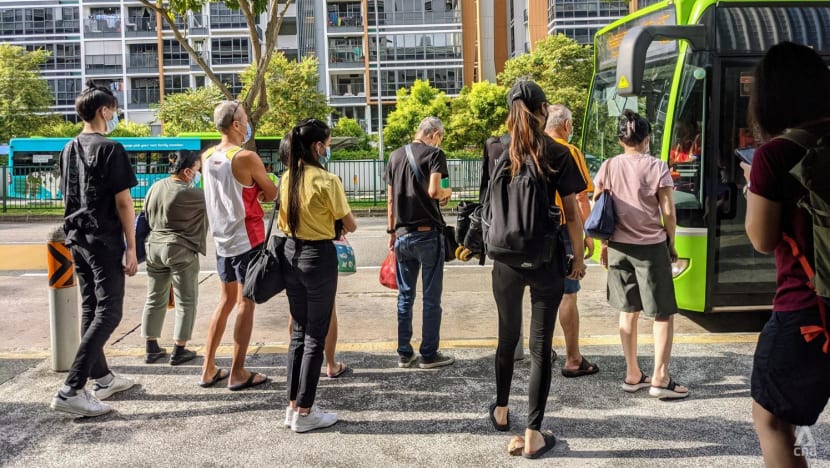 EMPOWERING THE COMMUNITY
The decision to make mask-wearing optional in most indoor settings in this phase of the pandemic is not arbitrary.
It reflects the timely recognition of the whole-of-government effort to empower the community with already well-informed risks and a high level of trust so people can make the best-informed choices for themselves and increase their sense of social responsibility to live with the virus.
Community resilience during a public health crisis involves sustaining a fine balance between achieving a high level of general well-being and implementing evidence-based, targeted mandatory social restrictions to manage the public health threat.
This timely empowering of trust in the community can help strengthen community resilience over time. It also serves to prepare Singapore to be stronger, together in facing future health threats.
EFFICACY OF PROPER MASK-WEARING
Mask-wearing has been instrumental in limiting COVID-19 transmission and outbreak clusters around the world, especially during the early phase of the pandemic when a vaccine was not yet available.
Proper mask-wearing can reduce the risk of COVID-19 infection and other respiratory viruses, such as influenza, by at least 50 per cent, depending on the type of mask used and type of setting.
Surgical masks and respirators (such as N95 or KN95, which are mostly used in healthcare settings) offer a greater reduction in risk of infection by up to 60 per cent and 80 per cent respectively, when well-fitted.
But it is important to note that proper mask-wearing does not eliminate the risk of COVID-19 infection. Therefore, it is critical to practise multiple concurrent prevention measures, such as social distancing, frequent and proper handwashing, and vaccination to sustain a lower risk of infection.
RISK OF COVID-19 EXPOSURE INDOORS
The risk of being exposed to COVID-19 in an indoor setting is highly dependent on several factors, which include ventilation, population density, duration of stay and type of activities involved.
Indoor settings with a higher ratio of fresh air inflow to used air outflow, and higher flow rate into and out of the indoor setting, respectively, have been shown to lower the risk of exposure indoors.
In addition, a lower density of people over a specific period of time and a shorter duration of stay (less than 15 minutes) within an indoor setting significantly reduce the risk of exposure.
On the contrary, indoor settings where people interact vocally, such as through speaking, singing or cheering can increase the risk of getting the virus.
With sustainable setting-specific herd immunity achieved due to the high population of vaccinees with boosters (79 per cent as of Aug 22), the risk of COVID-19 transmission in indoor settings has been significantly reduced.
Accordingly, the likelihood of a susceptible individual (who has not been infected or vaccinated) being exposed indoors is also reduced.
With highly accessible and available screening tools, such as antigen rapid test kits, as well as high compliance with voluntary testing and self-isolation upon testing positive among our community, the likelihood of a susceptible individual being exposed indoors will be even smaller.
MONITORING NEW VARIANTS
While the upcoming move to make mask-wearing optional in most indoor settings is very "refreshing" for many as we continue to learn to live with the disease, the risk of surges in COVID-19 incidence is still present.
There is still a fundamental need to closely monitor evolving genetic variants of the virus using next-generation sequencing not just locally, but also regionally and globally.
This would also provide insights into incidence trends over time to predict the transmissibility and severity of new variants so prompt action can be taken to manage and prevent future outbreaks.
Epidemiologically, the risk of infection and severe COVID-19 disease would generally be higher among unvaccinated, elderly individuals with pre-existing co-morbidities or those who are immunocompromised than among young healthy adults who are vaccinated.
Therefore, proper mask-wearing among these more vulnerable community groups or in settings like nursing homes, dialysis centres, community recreational centres for seniors and similar, particularly where activities involve active interaction with these highly vulnerable groups would still be highly recommended in indoor settings, in addition to the other preventive measures.
Vincent Pang Junxiong is Visiting Assistant Professor, Centre for Outbreak Preparedness at Duke-NUS Medical School.