SINGAPORE: "Surreal." "Freeing." "Liberation." After two years of having to wear a mask anywhere outside their homes, some Singapore residents described their elation at being able to shed their face coverings on Tuesday (Mar 29), as the country lifted its outdoor mask mandate.
Singapore rolled out its most significant easing of COVID-19 measures from Tuesday, including making the wearing of masks outdoors optional and doubling the group size for social gatherings to 10 people.
Mr Sam Lee, 28 and Ms Winnie Fok, 26, took off their masks after exiting Mandarin Gallery along Orchard Road.
"My face can finally feel the wind," Mr Lee told CNA.
"I'm quite happy to take off my mask, but it was a bit awkward at first. We were just looking around to see, actually not a lot of people have taken off, so we were worried if it's the correct date," he said.
Observing that most people they saw walking along Orchard Road still had their masks on, Ms Fok said that most Singapore residents seemed to still be "quite cautious".
Not having to wear a mask, however, was "very freeing and surreal" for her, she added with a smile.
When CNA visited Ang Mo Kio Central and the areas near Chong Boon Market and Food Centre on Tuesday morning, the only people who were not wearing masks were eating or drinking.
Most people also put their masks on after they finished their meals and left the food centre.
Lunchtime at the central business district painted a similar picture as colleagues headed out to eat together. Even after leaving their office buildings, the majority of workers kept their masks on.
Some had their masks off while carrying their takeaway food. There were also several people sitting around Raffles Place Park without their masks.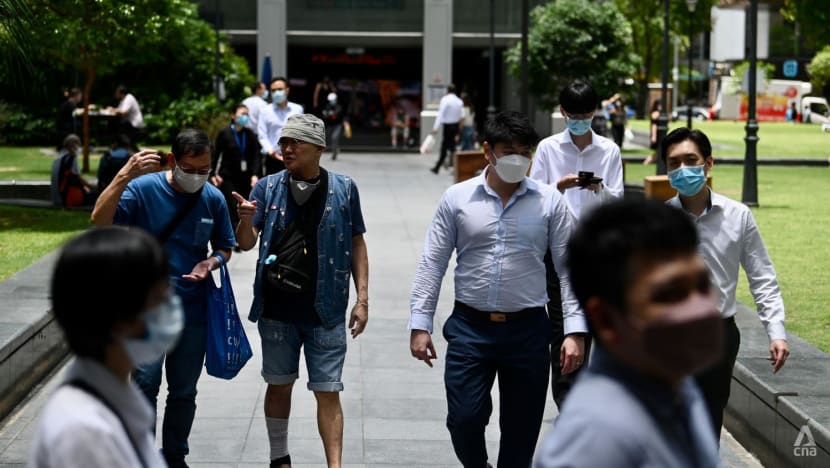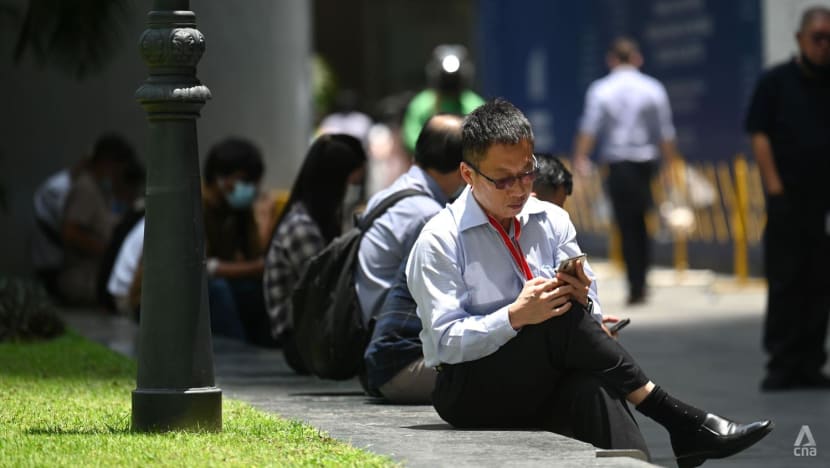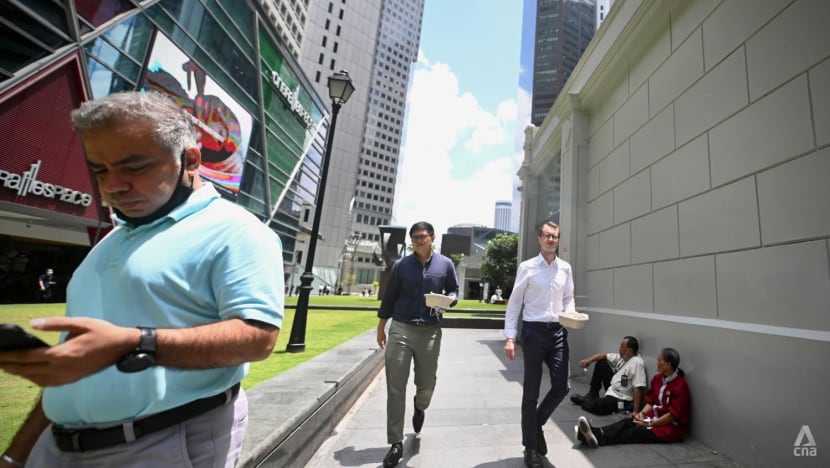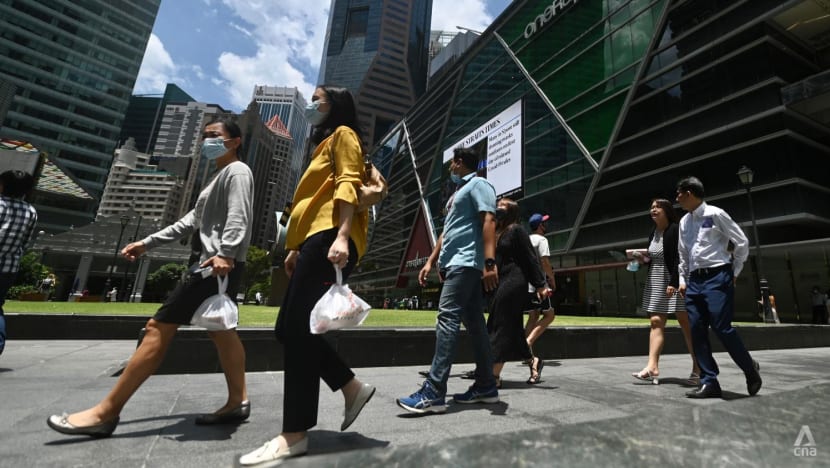 "FEELS LIKE LIBERATION"
At about 1pm in Orchard Road, there were some people walking along the streets without their masks - more than in the heartlands - but most still kept their masks on after exiting shopping centres.
Wesley, a 31-year-old financial advisor who was in the Somerset area, said he decided not to wear a mask because the weather was very warm.
"I don't want to sweat in my mask," he said with a chuckle.
"It feels like liberation. I'm happy about it."
When asked whether he felt safe shedding his face covering, he shared that he would mask up if there was a crowd.
"If I do see a crowd like this, then I'll put on my mask or walk away. But otherwise, I'll just not wear one outside," Wesley said, gesturing at a crowd gathered at a pedestrian crossing nearby.
"This whole infection thing really depends on the viral load. If it's outdoors, anybody who coughs or sneezes, it all disperses very quickly.
"But if it's indoors, not so much... I don't think they should remove it indoors."
Wesley added that he believed most people were still wearing masks outdoors "out of habit" and that "sooner or later", people would do away with them.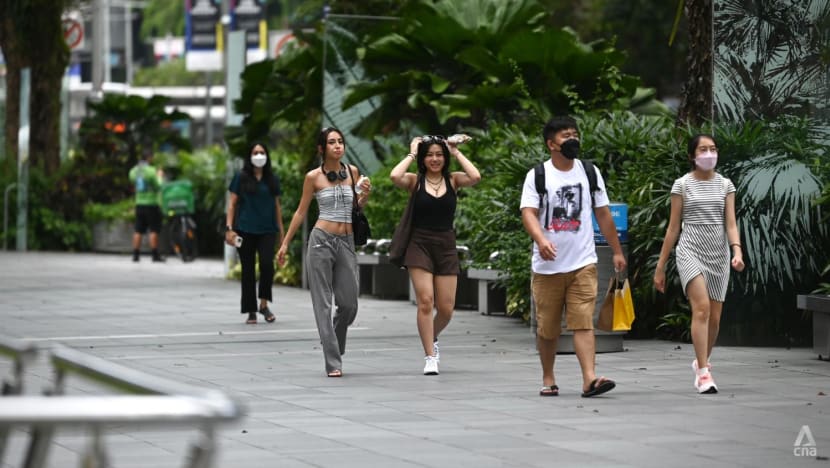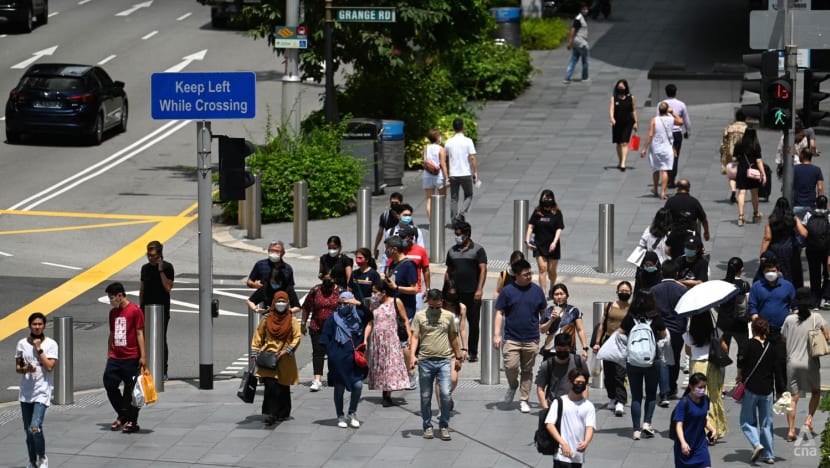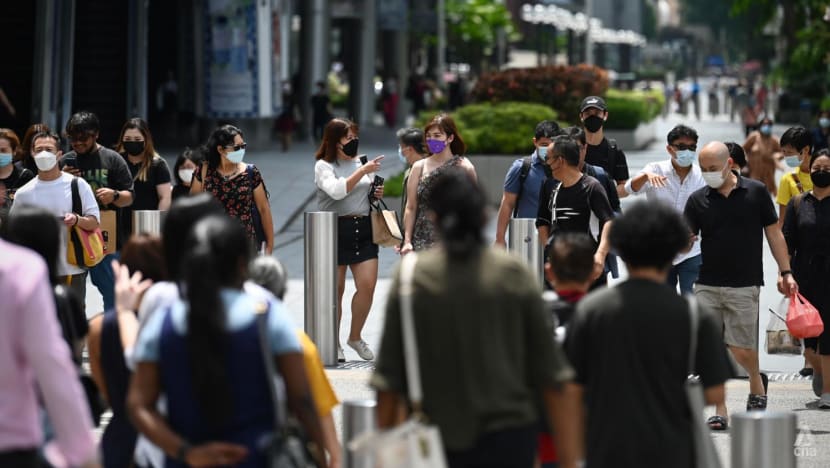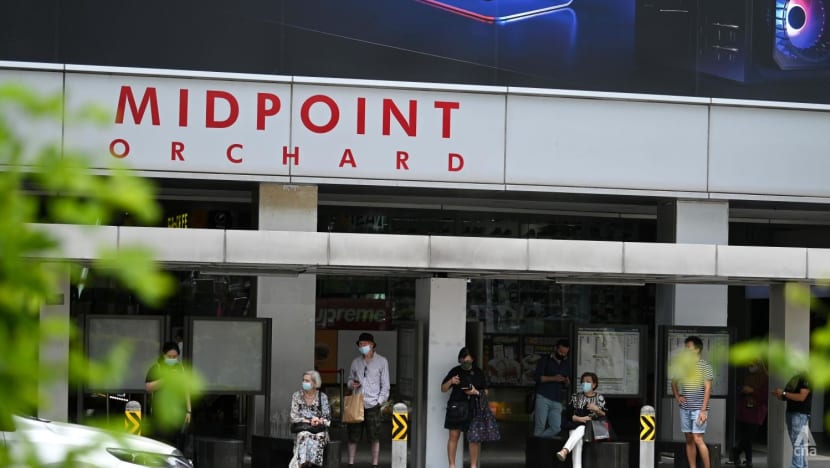 MASK ON, MASK OFF
Other people CNA spoke to were more cautious.
Although Ms Kannagii, 57, was happy to hear that the COVID-19 restrictions were being eased, she still left the house wearing a mask this morning.
"If you go inside somewhere, you still need to wear a mask. What if you forget to bring out the mask? And also for our personal safety," she added.
Ms Kannagii, who was having breakfast with her brother at Chong Boon Market and Food Centre, said she would consider doing away with the face covering if the COVID-19 situation improved or if the mask requirement was lifted for indoor areas as well.
"If I'm going to a park for a walk, and I'm coming straight home, then it's fine to go without a mask. But if I'm going to a market or a hawker centre, then I might as well wear one," she said, adding that it "doesn't make sense" to take off her mask for the short walk from her home to the market.
Even though she will continue to wear her mask outside for now, Ms Kannagii said the easing of restrictions was "still a good sign" that the COVID-19 situation was improving.
Retiree Mdm Tan (not her real name) said she would continue to wear a mask even if restrictions are eased further.
The 63-year-old was wearing two masks, a reusable one under a disposable one, while resting on a bench outside Chong Boon Market and Food Centre.
"I'm already used to it, it's already a habit," she added.
She said her husband was very happy when the announcement was made last week, and declared that he would stop wearing masks. He has heart problems, and feels like he can breathe better when he is not wearing one, Mdm Tan explained.
Despite what he said, he still left the house wearing a mask this morning.
"We're quite old, so I think it's better to protect ourselves," she added.
For Ms Jen Yang and Lyn (who declined to give her full name), masking up outdoors remains a form of protection for them.
The two friends had their masks when they left the house, and did not remove them the whole day, even as they waited at the traffic light outside Takashimaya.
"It's troublesome to take it off and put it back on," said Lyn, 30. "I think I will wear one for quite a while."
Ms Yang, 28, said she would stop wearing a mask outdoors when the majority of people in Singapore do the same.
"I'll remove it when I can remove my mask anywhere. Now it's very troublesome, especially if you forget to bring one, and I don't like to pull it down on my chin."