Commentary: It feels like Singapore has turned a corner on COVID-19 for good
After two years, a circuit breaker and a rollercoaster of measures, life in Singapore is slowly returning to almost how things were pre-pandemic. CNA's Charlene Tan asks if this means we are now in a position to say we can live with the virus.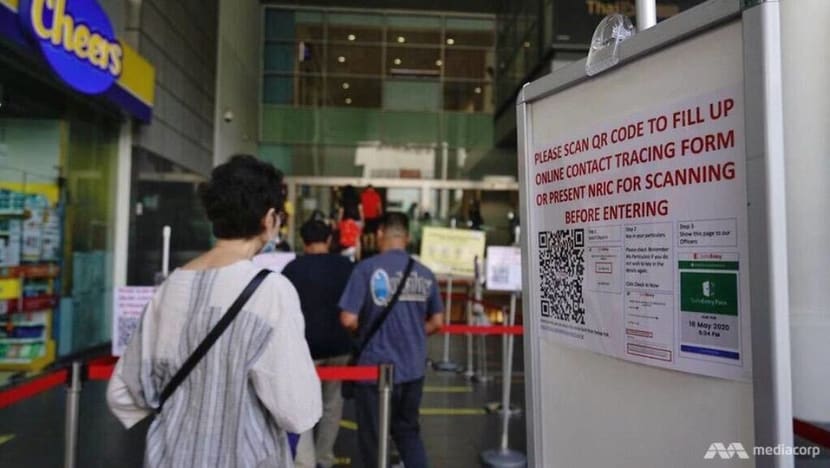 SINGAPORE: We have been waiting for this moment for a long time.
On Tuesday (Apr 26), there was a significant easing of COVID-19 rules and reports suggested that many people were embracing this major shift towards living with the virus.
The SafeEntry gantries have disappeared from shopping malls. The tape marking out safe distancing is being removed. The cheeky otter used on the TraceTogether app to show you weren't using a screenshot to indicate your vaccine status is no longer a ubiquitous part of our daily life.
Venturing out and about, it seemed to me that spaces felt wider and people were more upbeat. 

It also felt strange to think that after more than two years of the restrictions put in place to help Singapore navigate its way safely through the pandemic, we might have turned the corner for good. 
Will life return "almost all the way to how things were" before the pandemic, as Prime Minister Lee Hsien Loong described it?
NO NEED FOR "FREEDOM DAY" TO FEEL OPTIMISTIC
It feels liberating to not check in at malls and supermarkets, to remove our masks in the office (under some conditions) and to finally make merry with as many friends and family as we want.
While this wasn't the "Freedom Day" that some other countries had in their COVID-19 journey – because there isn't a singular turning point for Singapore - it nonetheless feels like a huge load has been lifted and that's something worth celebrating.
However, it's been a bumpy road to get here.
By now, many of us will have had COVID-19 or will know someone who has had it. Vaccines have played a major role in mitigating the worst that the virus could throw at us. And it's worth highlighting that the threat hasn't disappeared completely. 

While the elderly and those with underlying health conditions are still vulnerable even if vaccinated, Paxlovid - the first antiviral pill approved for COVID-19 treatment – is now more easily accessible to those at risk of severe disease.
It feels like we've hit a sweet spot where we could have all the tools to live with the virus, assuming it doesn't mutate again into something more dangerous.
In my circles, many people seem to have already staked a claim on normality. They've found a level of activity they are comfortable with, like gathering in outdoor settings or in smaller groups at someone's home.
Others are making or have made plans to travel, be it to finally meet up with loved ones or simply to scratch that travel itch. Travel demand is already rising, and with pre-departure tests no longer required to enter Singapore, more may take that step without fear of being stranded with COVID-19 overseas.
Even those with elderly parents who cannot get vaccinated for medical reasons or young children seem more restless than fearful. They've learnt to take extra precautions to protect themselves and be more selective about where they go.
Reassuringly, almost a month after masks are no longer mandatory outdoors and increased event capacity limits and group sizes, the number of COVID-19 ICU cases and deaths has stayed low.
HARD TO SHAKE THE NAGGING SENSE OF WORRY
But there's also a sense of anxiety that the current level of personal vigilance and responsibility may not last. Will those with a cough or runny nose be careful about staying masked when other people are nearby? Will unwell colleagues take medical leave or work from home instead of coming into the office now that all workers can return and employers may require us to be more physically present?
Having experienced COVID-19, it's unsettling to hear people saying they wished they had caught COVID-19 to avoid more worry.
My entire household tested positive for COVID-19 a few weeks ago in the thick of the Omicron wave: My parents in their 60s, my husband and I, our toddler and infant.
Getting COVID-19 is no walk in the park. For one, there's the full-blown logistical nightmare – especially in trying to carve out spaces for the infected and non-infected at home. It didn't help that one water heater broke down and we had to solve the conundrum of sharing the remaining bathroom.
My husband had no problem juggling the kids on his own, but we could not split tasks to make things more manageable, such as taking turns waking for night feeds or preparing the milk while the other changed a soiled diaper.
The far greater worry was my family's health. With both parents triple vaccinated, I knew I had less to fear – the statistics said so. But I was no less anxious that COVID-19 could wreak more damage than anticipated or lead to longer-term complications.
Almost inevitably after the adults in the household tested positive, the children also succumbed. Even though my husband and I had comparatively mild symptoms, our brain fog, high fever and body aches meant we found it almost impossible to rest with two sick kids crankily demanding all our attention and what little energy we had.
Again, data told me the risk of severe disease in children is extremely low. But rational thinking went out of the window when my two-month-old started running a high fever and the GP pointed the way to the children's emergency department. Relief is the last thing on any parent's mind when you're on a folded bed beside your hospitalised child.
Relief was far from my mind four to six weeks later, fretting over the slightest skin rash or sign of fatigue that could turn out to be the multisystem inflammatory syndrome in children (MIS-C) – a rare but life-threatening complication. In Singapore, the incidence rate of MIS-C reported in January is about 100 in 100,000 cases, with about half of the children requiring ICU care.
NO LONGER LIVING IN FEAR OF THE VIRUS
Such experiences are far from unusual, and many people will have been through far worse than this. As we move towards a situation where Singapore can live with the virus, remembering those who died and reminding ourselves that some people had a major challenge in recovering from COVID-19 will be helpful in ensuring we do not let our guard down too much, too soon. 
We should relish our newfound freedoms, but also maintain the healthy dose of vigilance the twists and turns in our COVID-19 journey have left us with. Continuing our newly developed good habits such as personal hygiene and not going out when unwell, or even doing an antigen rapid test before meeting vulnerable people shouldn't be a tall order.
We might not know when the next viral variant might disrupt us once again. But we're in a stronger position than ever, armed with the right tools and attitude, to show our resilience – and live with, not in fear of, the virus.
Charlene Tan is an editor at CNA Digital where she oversees commentaries.
How close is Singapore to being able to live normally with endemic COVID-19? Listen to infectious diseases experts weigh in on CNA's Heart of the Matter: