Singapore approves molnupiravir, second oral antiviral drug allowed for treatment of COVID-19
More clinics will also be allowed to prescribe Pfizer's Paxlovid, the first pill that was approved.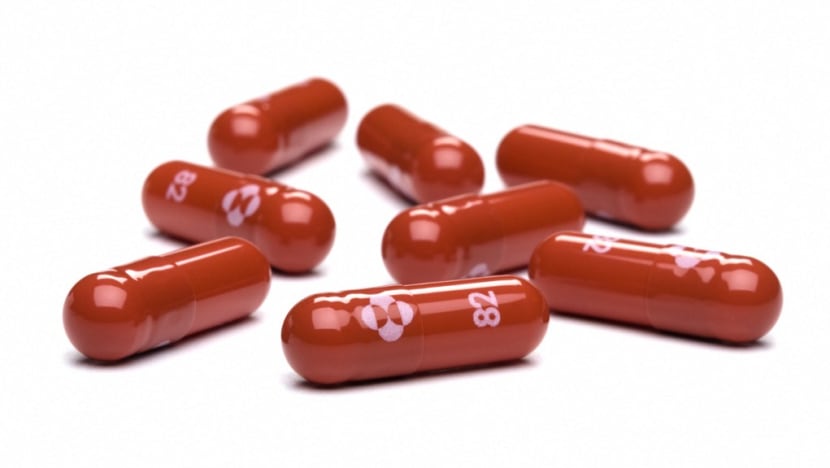 SINGAPORE: The antiviral drug molnupravir will be the second oral medicine approved in Singapore for the treatment of adult COVID-19 patients, said the Health Sciences Authority (HSA) on Tuesday (Apr 19). 
Interim authorisation was granted under the Pandemic Special Access Route (PSAR) for MSD's Lagevrio on Tuesday, said HSA, in consultation with its Medicines Advisory Committee. 
Molnupiravir, marketed as Lagevrio, is the second oral antiviral medicine authorised for treating mild to moderate COVID-19 in patients aged 18 years and above, those who are at risk of progressing to severe COVID-19 or hospitalisation or both, and in whom "alternative COVID-19 treatment options are not clinically appropriate". 
In February, Singapore approved the use of Pfizer's Paxlovid pill for the treatment of COVID-19 in adult patients who are at risk of severe disease. 
Lagevrio should be taken within five days of the onset of symptoms for a duration of five days, said HSA. It will be prescribed to and prioritised for those at higher risk of severe illness, as directed by the Ministry of Health (MOH). 
Lagevrio has been found to reduce the risk of severe COVID-19 by 30 per cent, and the risk of hospitalisation or death by 6.8 per cent, according to HSA's review based on the clinical data from a phase II/III study. The study investigated the use of the drug in reducing the risk of hospitalisation or deaths in patients with mild to moderate COVID-19. 
THE STUDY
About 1,400 people aged 18 to 90 participated in the randomised, placebo-controlled study, said HSA. All participants had one or more risk factors for progression to severe COVID-19. 
A total of 709 participants were given Lagevrio and the other 699 people received placebos, said HSA. 
Results showed an efficacy of 30 per cent relative risk reduction with Lagevrio compared to those given placebos. For those given Lagebrio, the rates of progression to hospitalisation or death were 6.8 per cent, compared to 9.7 per cent in those given placebos. 
As of the latest data cut off date, there were 48 hospitalisations with two subsequent deaths in the Lagevrio group. Sixty-eight hospitalisations with 12 subsequent deaths were recorded in the placebo group, said HSA. 
In a subgroup analysis of participants who had the SARS-CoV-2 antibody at baseline, there was a higher proportion of subjects in the Lagevrio group who had progressed to hospitalisation or death (3.7 per cent) compared to those given placebos (1.4 per cent). 
 "This is a clinically relevant consideration in Singapore given that most of our population has been fully vaccinated and most would have SARS-CoV-2 antibodies," said HSA. 
While the study results indicated that the drug has lower efficacy compared to other authorised COVID-19 treatments, the authority said Lagevrio may have a place in therapy for patients who are at risk of progressing to severe COVID-19, and in whom current available treatment options are "clinically inappropriate". 
"Clinicians must carefully assess that the potential benefits outweigh the risks in the patient before initiating Lagevrio treatment," said HSA. 
WHAT IS MOLNUPIRAVIR?
Molnupiravir, branded as Lagevrio, is an antiviral drug developed by MSD and was touted as a potential game-changer in the fight against COVID-19. 
According to Bloomberg, molnupiravir is the chemical name for a medicine originally developed to treat influenza that is given orally in a capsule. It inhibits replication of SARS-CoV-2 by a mechanism known as "lethal mutagenesis". It causes the machinery that reproduces the virus's genetic material to make mistakes, thereby rendering the copies defective.
At a conference in September, MSD said that early research showed molnupiravir can thwart the most common SARS-CoV-2 variants, including delta and gamma.
Compared to remdesivir, as well as monoclonal antibodies, which are administered via an intravenous infusion, molnupiravir is taken as a pill. This allows COVID-19 patients to be treated at home and is also likely to be cheaper. 
According to the New York Times, a five-day course of molnupiravir will cost about US$700 per patient - a third of the cost of a monoclonal antibody treatment.
Bloomberg said a study earlier in 2021 showed the drug had little effect when it was given to patients already hospitalised with severe disease.
GROUPS THAT SHOULD NOT TAKE LAGEVRIO
Lagevrio is not recommended for use in pregnant women, lactating mothers and those below 18 years old, said HSA. 
"Women of childbearing potential should use a reliable method of contraception for the duration of treatment and for four days after the last dose of Lagevrio." 
The authority also advised men with partners of childbearing potential to use reliable contraceptive methods during treatment for at least three months after the last dose. 
The recommendations were based on findings from animal studies which showed that Lagevrio may affect foetal growth, bone and cartilage development, and DNA. 
Common adverse events of Lagevrio reported in clinical studies include diarrhoea, nausea and dizziness which were generally mild in intensity, said HSA. 
MSD, the company which developed the drug, is required to submit updated data from ongoing clinical studies to ensure the continued safety and efficacy of Lagevrio for HSA's continual benefit-risk assessment. 
"HSA will actively review post-authorisation safety monitoring data and the data submitted by MSD to ensure that the benefits of Lagevrio continue to outweigh the known risks," it said. 
The authority added as PSAR is an interim authorisation, MSD is required to submit the complete dataset based on prevailing international standards to obtain a full registration.
The PSAR interim authorisation may also be terminated at any time, said HSA, for example, if new data suggest that the benefits no longer outweigh the risk.
MORE CLINICS ALLOWED TO PRESCRIBE PAXLOVID 
In a separate press release on Tuesday, MOH said more clinics will be able to prescribe Pfizer's Paxlovid pill to COVID-19 patients who are at risk of severe disease. 
Sixteen more Public Health Preparedness Clinics will be coming on board a pilot programme to prescribe the pill for COVID-19 patients at risk of severe disease and who are accessed by their doctors to be clinically eligible to receive the treatment, said MOH. 
This is part of the Health Ministry's efforts to treat COVID-19 in community settings, it said. 
"This is in addition to all polyclinics and the 20 PHPCs that are currently participating in the pilot programme," MOH added.
List of clinics that can prescribe Paxlovid to eligible COVID-19 patients:
Clinic Name
Address
Acumed Medical Group (Teban Gardens Clinic)
Block 38 Teban Gardens Road #01-318/319 Singapore 600038
Aspen Clinic
Block 283 Bishan Street 22 #01-185 Singapore 570283
Camry Medical Centre
Block 95 Toa Payoh Lorong 4 #01-66 Singapore 310095
Caring Family Clinic
Block 501 Jurong West Street 51 #01-271 Singapore 640501
Dr Joyce & Partners
Family Clinic (Toa Payoh Branch)
Block 177 Toa Payoh Central #01-146 Singapore 310177
Family Medicare Clinic & Surgery
Block 721 Ang Mo Kio Ave 8 #01-2815 Singapore 560721
Frontier Medical Associates (Jurong West)
Block 678D Jurong West Street 64 #01-347 Singapore 644678
Healthify Medical Family Clinic
Block 262 Balestier Road #01-04 Okio Singapore 329714
Healthway Medical Tampines
Block 710 Tampines St 71 #01-134 Singapore 520710
Lifeline Medical Group (Sengkang)
Block 118 Rivervale Drive #02-18 Rivervale Plaza Singapore 540118
Loh & Loh Clinic & Surgery
Block 501 West Coast Drive #01-284 Singapore 120501
Our Family Physician Clinic & Surgery
Block 829 Tampines St 81 #01-292 Singapore 520829
Phoenix Medical Group (Seletar)
Block 1 Seletar Road #02-11 Greenwich V Singapore 807011
Raffles Medical (Causeway Point)
Block 1 Woodlands Square #05-20 Causeway Point Singapore 738099
Raffles Medical (Holland Village)
Block 118 Holland Avenue #05-02/03/04 Raffles Holland V Singapore 278997
Shenton Medical Group (ACB Arcade)
Block 11 Collyer Quay #19-01 The Arcade Singapore 049317
Trucare Medical And Surgery (Hougang)
Block 1187 Upper Serangoon Road #01-53 The Midtown Singapore 533971
Twin City Medical Centre
Block 1 Kim Seng Promenade #01-136 Great World City Singapore 237994
Yang & Yap Clinic And Surgery (Pte Ltd)
Block 537 Bedok North St 3 #01-571 Singapore 460537
Yim Clinic
Block 11A Boon Tiong Road #02-03/04/05 Singapore 161011
List of clinics that will progressively be able to prescribe Paxlovid to eligible patients:
| | |
| --- | --- |
| Clinic Name | Address |
| A Life Clinic Pte Ltd | Block 10 Sinaran Drive #09-21 Novena Medical Center Singapore 307506 |
| Banyan Clinic @ JW | Block 502 Jurong West Avenue 1 #01-817 Singapore 640502 |
| Binjai Medical & Paincare Clinic | Block 23 Binjai Park Singapore 589828 |
| Chua Medical Clinic And Surgery | Block 642 Bukit Batok Central #01-52 Singapore 650642 |
| Chung & Ee Medical Clinic | Block 10 Telok Blangah Crescent #01-151 Singapore 090010 |
| Clover Medical Clinic Pte Ltd | Block 21 Choa Chu Kang North 6 #01-01 Yew Tee Point Singapore 689578 |
| Dr Joyce & Partners Family Clinic (Sumang Branch) | Block 224A Sumang Lane #01-01 Matilda Edge Singapore 821224 |
| Dr+ Medical Paincare Clinic | Block 988 Upper Serangoon Road #01-07 Stars Of Kovan Singapore 534733 |
| Faircare Family Clinic (Clementi) | Block 345 Clementi Avenue 5 #01-94 Singapore 120345 |
| Island Family Clinic (Seletar) | Block 455 Sengkang West Avenue #01-14 Singapore 790455 |
| Lifeline Yishun Ring Medical Clinic | Block 846 Yishun Ring Road #01-3615 Singapore 760846 |
| Lily Neo Clinic Pte Ltd | Block 101 Irrawaddy Road #21-09 Royal Square Medical Suites @ Novena Singapore 329565 |
| Marina Medical Centre (Tiong Bahru) | Block 78 Guan Chuan St #01-39 Singapore 160078 |
| Medlife Clinic & Surgery | Block 684 Hougang Avenue 8 #01-985 Singapore 530684 |
| Redwood @ Tpy Clinic And Surgery  | Block 83 Lorong 2 Toa Payoh #01-457 Toa Payoh Peakview Singapore 310083 |
| Sterling Clinic & Surgery | Block 3 Lor Lew Lian #01-64 Singapore 531003 |
"For now, MOH will fully cover the drug cost of Paxlovid use in primary care settings, regardless of the patient's vaccination status, as it can reduce the likelihood of high-risk patients developing severe COVID-19 and requiring hospital admission," said the Health Ministry, adding that the charging policy for Paxlovid will be reviewed in "due course". 
Early treatment with Paxlovid may be considered for COVID-19 patients who meet certain criteria, including COVID-positive patients aged 18 and older, present within five days of illness and are at risk of developing severe disease, such as those who have active cancer, serious heart conditions, or are on ongoing immunosuppressive condition or treatment. 
"As Paxlovid has potential interactions with many other commonly used medications, the decision to take Paxlovid has to be carefully considered by the primary care doctor, and after discussion with the patients on the benefits and risks," said MOH. 
The Health Ministry will also continue to monitor the usage of Paxlovid and review patient outcomes. It will also monitor the demand closely and maintain a "healthy stock" of the drug.