Wearing a mask to be optional from Aug 29, except on public transport and in healthcare facilities
Masks will be optional on private transport modes such as taxis, school buses and private bus services, says the Ministry of Health.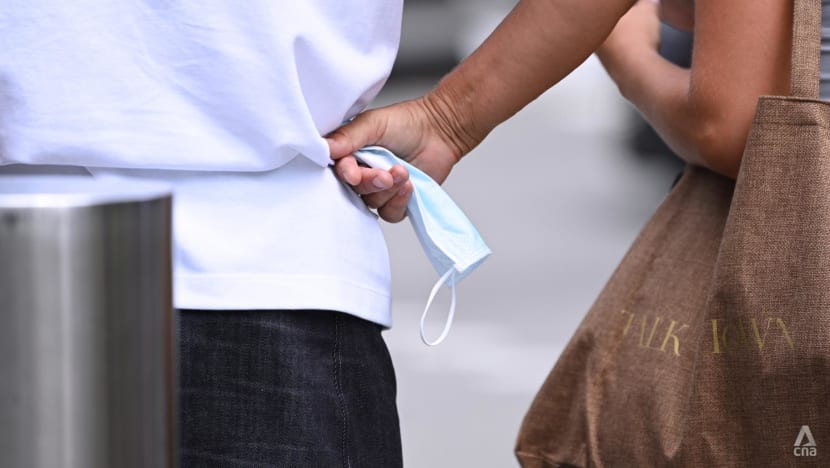 SINGAPORE: From next Monday (Aug 29), people in Singapore will not be required to wear a mask except on public transport and in healthcare facilities, announced Deputy Prime Minister Lawrence Wong on Wednesday (Aug 24). 
Masks will still have to be worn on transport modes such as the MRT, LRT and public buses, as well as in indoor public transport facilities like boarding areas at bus interchanges and MRT platforms, said Mr Wong, speaking at a press conference held by the COVID-19 multi-ministry task force. 
But they will not be required at airports, naturally ventilated bus interchanges and in the retail areas of bus interchanges, MRT and LRT stations.
Masks will be optional on private transport modes such as taxis, school buses and private bus services, said the Ministry of Health (MOH) in a separate press release on Wednesday. 
"The taxi driver can suggest, request, but there is no law to require ... This is not enforceable, there is no basis of law for the taxi driver to say you have to. It's optional," said Mr Wong, who is co-chair of the COVID-19 task force. 
Healthcare facilities, residential care homes and ambulances will keep their mask-wearing requirement. These include welfare and sheltered homes for the aged, as well as adult disability homes. 
On flights, mask-wearing requirements will depend on the rules or laws in the destination country as well as the carrier, said MOH's director of medical services Kenneth Mak. 
"Where there is a mandatory requirement for masks to be worn ... the mask must be worn on the flight itself." 
But passengers will not have to do so on flights to or from countries where mask-wearing is not mandatory – as long as the airline does not have such a requirement, he added.
Prime Minister Lee Hsien Loong first announced the easing of Singapore's mask-wearing requirements in his National Day Rally speech last Sunday. 
Mr Wong said on Wednesday that masks remain required on public transport and in healthcare facilities because these are "areas where essential services are being carried out in enclosed and crowded spaces, and which are frequently used by vulnerable persons". 
WORKPLACES CAN SET THEIR OWN MASK POLICIES
Responding to a reporter's question about whether employers can mandate masks at the workplace, Mr Wong said businesses have the discretion to decide. 
"That option remains because we are lifting the mandatory requirement for mask-wearing. But it is optional, employers may choose to decide. For that matter, in certain settings, industry regulators might also decide that it is a safety requirement." 
For example, food handlers will still have to wear masks or a spit guard. Face shields, which are not considered an "effective physical barrier" due to a large gap at the bottom of the shield that can cause food contamination, are not approved for use, said the Singapore Food Agency.
This applies to all workers who sell or prepare food and drinks, including hawker centres, coffee shops, restaurants and supermarkets, as well as non-retail businesses such as food processing establishments and slaughterhouses.
Those serving plated food to consumers, collecting payments, or who are involved in cleaning need not wear masks, said Dr Amy Khor, Senior Minister of State for Sustainability and the Environment.
Experts have also advised that the elderly and immuno-compromised should continue to wear masks in crowded indoor settings to reduce their risk of catching any respiratory infections, MOH said in its press release. 
On mask-wearing at crowded places such as concerts, Mr Wong said it is unlikely that many vulnerable older people will be at these events.
"For these other settings, we are leaving it optional, but ... event organisers, venue operators may well decide on a case-by-case basis depending on the setting, depending on the event, that they will still continue with masks as a requirement."
Task force co-chair Gan Kim Yong noted that many people in Singapore are "used to wearing masks".
"Going forward even without COVID-19, when you're not feeling well, even though you've tested negative, please wear a mask if you do need to go out, if you need to go to work and interact with people," he said.
"This is basic public health hygiene practices, and I hope that this COVID-19 experience will help us inculcate that good habit." 
Singapore's COVID-19 infection numbers have steadily declined across all age groups since late July, and the number of daily hospitalised cases has halved from its recent peak last month, the Health Ministry said. 
The country last significantly eased COVID-19 measures on Apr 26, when group size limits and safe-distancing requirements were lifted. SafeEntry and TraceTogether requirements were also removed for most settings.
All employees were allowed to return to the workplace, and the Disease Outbreak Response System Condition (DORSCON) level was lowered from Orange to Yellow after more than two years. 
The DORSCON framework, which gives an indication of the current disease situation, was raised to Orange on Feb 7, 2020, at the start of the pandemic.
The requirement to wear masks outdoors was lifted on Mar 29, along with the doubling of social gathering group sizes from five to 10 people. 
RESTRICTIONS ON HOSPITAL VISITS TO EASE
Restrictions on in-person visits to hospitals and residential care homes will also ease from Sep 1, said the Health Ministry. 
Each patient and resident will be allowed two visitors at a time. Hospital visitors will have to abide by visiting hours while those at residential homes will have their visits capped at one hour.
Visitors are encouraged to self-test ART negative on the day of the visit, the ministry said. People should also not visit their loved ones if they are unwell.
Hospitals and homes may impose additional visitor limits or testing requirements, MOH added. They may also suspend visits if they have active COVID-19 clusters.
Vaccination-differentiated measures – such as requiring diners at food and beverage outlets to be vaccinated against COVID-19 – will not change, said Mr Wong. 
"But businesses no longer check because the responsibility is placed on the individual, and we do random spot checks. For now, we are retaining this approach. So for now, there is no change to this because vaccinations are still the best way to protect ourselves against severe disease and COVID-19," said Mr Wong. 
"We are reviewing our vaccination policy to transit to a system where we keep our vaccinations up to date." 
The Government is studying how to define vaccinations that are up to date, and what the definition should be, he added, noting that the current policy stipulates that the first booster must be taken no later than 270 days after the primary series of COVID-19 vaccination. 
"As we transit to this new system, we will at that stage also review and update our VDS (vaccinated-differentiated safe-management measures) requirements."