Singapore eases movement restrictions for migrant workers in dormitories
Under a pilot, some vaccinated migrant workers will be allowed to visit pre-identified community locations for six hours.
SINGAPORE: The Ministry of Manpower (MOM) will "gradually ease" movement restrictions for migrant workers living in dormitories.
It will be a "vaccination-differentiated approach", said MOM on Thursday (Sep 9), with unvaccinated workers required to exercise stricter safe management measures or undergo additional testing.
Movement restrictions were introduced across dormitories in April last year, after an outbreak in dormitories saw tens of thousands of COVID-19 cases.
MOM said more than 90 per cent of workers in dormitories have completed the full vaccination regimen.
"Together with the implementation of a multi-layered strategy to test, detect and contain the spread of COVID-19, we are now better prepared to handle any outbreaks at the dormitories," said the Manpower Ministry.
PRE-IDENTIFIED COMMUNITY LOCATIONS
As part of a pilot scheme, vaccinated migrant workers will be allowed to visit pre-identified community locations from next Monday.
For a start, each week, up to 500 vaccinated workers from dormitories with good Safe Living Measures, no COVID-19 cases in the last two weeks, and with high vaccination rates will be allowed to visit these community locations for six hours.
"In the first instance, we will probably segregate them into six cohorts over three days, so each day about maybe two groups," Senior Minister of State for Manpower and Health Koh Poh Koon told reporters at Westlite Mandai Dormitory.
"We think we'll plan for about Wednesday and Saturday, Sunday, where we can have a segregation of weekday and weekend off days for some of them.
"Each day there will probably be about two groups ... one in the morning and one in the afternoon. Each group about four hours, so about 80 per group."
The first identified location is Little India, and workers will be required to take an antigen rapid test (ART) before and three days after the visit.
MOM said that it will review the pilot after a month to see how to safely expand the scope and scale.
From next Monday, all migrant workers will also be able to visit recreation centres more frequently, up to two times a week.
Visits to recreation centres were suspended temporarily during Phase 2 (Heightened Alert). Once a week visits resumed in July.
MOM will work with non-governmental organisations (NGOs) to introduce activities including movie screenings, wellness, sporting and leisure events, as well as religious services at the centres and in dormitories.
Workers will be able to visit recreation centres within 48 hours of their negative polymerase chain reaction (PCR) test or within 24 hours of their negative ART result. This is part of the new mandatory ART between their rostered routine testing.
Workers who are looking to visit the recreation centres for the second time in the same week outside the baseline test windows can do so with a negative ART result, which can be done at the centre.
"We think that is a very contained - almost like a bubble wrap - of the workers within the dorm to a recreation centre," said Dr Koh.
Organised excursions by NGOs for vaccinated migrant workers to local attractions will also resume, and participants will have to take pre-event ART tests. Such outings were suspended during Phase 2 (Heightened Alert).
MENTAL HEALTH
Dr Koh said: "One thing that we're very, very concerned about for them is the fact that their mental health is under some stress after being segregated from the community for the better part of a year and a half or more.
"But we want to do this (easing of measures) in a very calibrated manner."
With Singapore's community vaccination rate reaching 80 per cent, and some "prerequisite conditions" in the dormitories have been met, the Government is ready to allow workers to return to the community, said Dr Koh.
These prerequisite conditions include the 90 per cent or above vaccination rate in the dormitories and a "multi-layered defence" that includes wastewater testing, rostered routine testing and the segregation of workers into blocks and levels with safe management measures.
In addition, infection rates in the workers' dormitories have settled, vaccination rates have gone up, and the number of vulnerable people in the community has reduced.
"I think we have come to a point where it gives us a bit more confidence now to make this transitional move, just as a community has to transit into an endemic state and take the number of infections that comes on a day-to-day basis in our own stride," he said.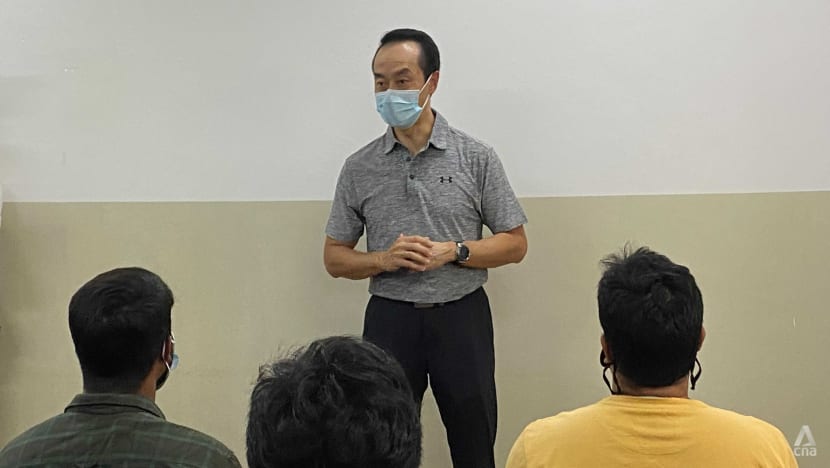 MOVEMENT RESTRICTIONS IN DORMS
Movement restrictions have been in place in dormitories since April last year, when there was a surge in cases.
The outbreak in the dormitories led to more than 50,000 COVID-19 cases, with hundreds of new infections per day at its peak. Since the start of the pandemic, cases in dormitories have formed the bulk of the total caseload in Singapore. 
In October last year, MOM announced that all foreign workers in dormitories who test negative for COVID-19 will be able to visit recreation centres on their days off. They must come from a dormitory with no active cases.
Workers will be able to shop for groceries, remit money, get a haircut or dine with their friends at these recreation centres.
Visits to recreation centres were suspended on May 17 this year as Singapore shifted into Phase 2 (Heightened Alert).
Communal dorm facilities were also closed at this time, with canteens only allowed to offer takeaway services.
Visits to recreation centres resumed on Jun 25, with dormitory residents allowed to visit the facilities once a week after taking supervised self-swab ARTs and testing negative. These tests were provided free.
From Jul 1, dormitory residents were also allowed to visit their designated recreation centres within two days of their rostered routine testing if a negative PCR test was confirmed.
When Singapore reverted to Phase 2 (Heightened Alert) in July, MOM said that it would step up enforcement to ensure that workers only visited centres that were stated in their exit pass applications.
Since Aug 24, vaccination differentiation safe management measures have been in place at dormitories.
Daily case numbers in dormitories have ranged from six to 28 infections in the past two weeks.
Additional reporting by Kurt Ganapathy.