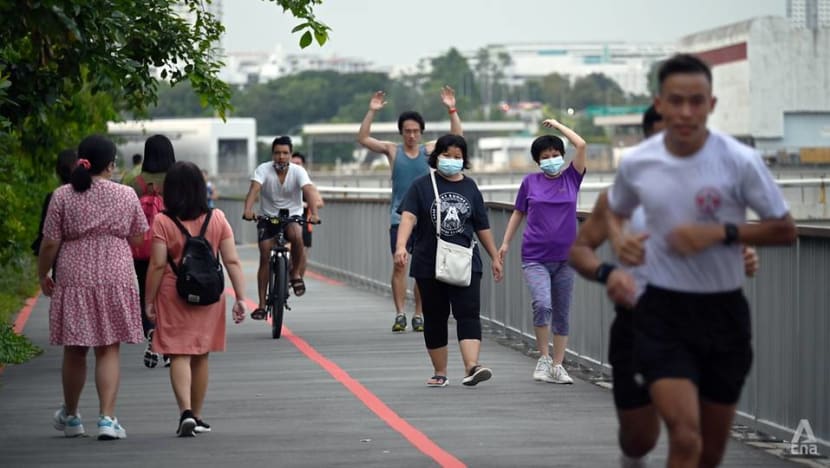 SINGAPORE: On Jul 26, COVID-19 multi-ministry task force co-chair Gan Kim Yong told Parliament that "practically all" social and workplace COVID-19 restrictions could be lifted if Singapore arrived at a "truly endemic state".
An endemic state refers to high vaccine coverage coupled with a low incidence of severe illness from COVID-19, despite clusters emerging from time to time, he explained.
Then from Aug 10, Singapore eased restrictions in what authorities called a "preparatory stage", as the group limit for social gatherings was increased to five, dining in resumed for up to five fully-vaccinated people, and event sizes and capacity limits for large events were raised.
The preparatory stage is when authorities will make important adjustments to healthcare protocols as well as rules on social activities and travel to prepare Singapore for a transition to a COVID-resilient nation, Health Minister Ong Ye Kung said then.
This stage should last for about a month until early September, said Mr Ong, adding that by then, 80 per cent of the population was expected to be fully vaccinated. 
"And by then, we can continue to keep the number of severe cases, illnesses under control, and our healthcare capacity is not overly stretched, we will be able to move to the next stage, called Transition Stage A," he added.
"This is when we will further open up our economy, social activities and travel. Then our lives will be more normal, livelihoods will be better protected. But when we do that, we must expect infection numbers to rise."
A TURN OF EVENTS
But in early September, as daily cases spiked, Transition Stage A did not arrive.
On Sep 3, COVID-19 multi-ministry task force co-chair Lawrence Wong said there would be no easing of restrictions for now as authorities monitored the situation.
Singapore had just reported 216 locally transmitted cases on that day, as clusters emerged in bus interchanges and Bugis Junction.
"We do not intend to make any new opening moves at this juncture, because there is a time lag between the onset of infections to serious illness, and so we want to take some time to monitor the situation," Mr Wong said.
Still, Mr Wong said there was no need to tighten restrictions as Singapore already has a high level of vaccine coverage and was now starting to live with COVID-19.
"In fact, we would only revert to such a tightened posture as a last resort to prevent our hospital system from being overwhelmed," he added.
Then, a few days later, the Ministry of Health on Monday (Sep 6) urged people to limit themselves to one social gathering a day, and banned social interactions at the workplace.
Mr Wong also said on Monday that authorities will not rule out returning to a heightened alert or "circuit breaker" if there is a sharp increase in serious COVID-19 cases requiring intensive care or oxygen.
"As I said last week, these are last-resort measures and we will try our best to refrain from using them, but we should not rule them out entirely," he stated.
Singapore on Wednesday reported 347 new locally transmitted COVID-19 infections. Out of these cases, 18 cases were in the dormitory and 329 cases were in the community, with the latter figure a new daily high.
As of Wednesday, 664 cases are warded in hospital. Twenty-three cases are seriously ill and require oxygen supplementation, and six are in critical condition in the intensive care unit.
While Singapore is proceeding with caution on its journey to living with COVID-19, some countries have entirely moved away from lockdowns and eased many restrictions against the virus.
Their experiences have shown that the path is far from linear. Here is how they are doing it:
ISRAEL
Israel, with one of the highest vaccination rates in the world, began easing lockdown restrictions as early as February, in what authorities called the first stage of returning to normal life.
Under this lifting of restrictions, people were able to enter shopping malls and tourist attractions such as zoos, although some facilities like gyms, hotels and synagogues still required proof of vaccination – called a "green pass" – for entry.
Then on Jun 1, as COVID-19 cases dropped to below 20 a day, Israel retired its green pass system and lifted restrictions on sizes of gatherings.
"The economy and the citizens of Israel will get extra room to breathe," said Health Minister Yuli Edelstein days earlier, although he warned that restrictions could be reimposed if the situation took a turn.
On Jun 15, Israel ended its requirement to wear masks in closed public spaces, citing a robust vaccination campaign that had partially or fully inoculated over half of its 9.3 million population.
But 10 days later, authorities reintroduced the requirement to wear masks indoors, as the country recorded more than 100 new daily cases in successive days after reporting no new cases earlier that month.
"We are seeing a doubling every few days," Israel's coronavirus response chief Nachman Ash was reported as saying. "Another thing that's worrying is that the infections are spreading."
Then on Jul 23, Israel announced plans to reintroduce its green pass system amid a continued surge in cases from the Delta variant, while authorities also rolled out a booster vaccine programme for older citizens before the rest of the population.
The measures are part of Prime Minister Naftali Bennett's policy of "soft suppression" against COVID-19, which urges Israelis to learn to live with the virus by using the fewest possible restrictions and avoiding a fourth national lockdown that could further harm the economy.
On Jul 31, hundreds of Israelis protested in Tel Aviv against the new restrictions and vaccines, as positive cases and hospitalisations in the country rose to levels not seen in months.
The day before, the country reported 2,435 new COVID-19 cases, the highest number since March. There were 326 hospitalisations, the highest since April, although well below the January peak when more than 2,000 people were being hospitalised daily.
On Aug 19, the country's coronavirus commissioner Salman Zarka warned that morbidity was rising day by day, with the next two weeks leading up to the Jewish New Year festival of Rosh Hashanah on Sep 6 "critical".
If things did not improve, "we will get to a lockdown like the first and second ones, where we do not go farther than 100 from our houses", Professor Zarka said, according to the Jerusalem Post.
Nevertheless, Mr Bennett said that a further lockdown would destroy Israel's future. "A lockdown is the last resort, only when all the other options have been exhausted," he said.
On Aug 31, Israel recorded its highest daily COVID-19 case tally of nearly 11,000 new infections. The previous high came on Jan 18, with 10,118 cases.
SOUTH KOREA
South Korea, hailed as a success story for its handling of COVID-19, had planned to allow bigger social gatherings of six people – up from the current four – and longer operating hours for restaurants as well as indoor sports facilities from Jul 1.
The eased nationwide social distancing rules from July include removing mask requirements outdoors for those who had gotten one dose of the vaccine.
These came as South Korea inoculated 29 per cent of its population as of late June, putting it on track to meet a target of 70 per cent by September. Daily new infections had held below 600 for more than a week.
"The new social distancing system is an effort to find a balance between quarantine and daily life recovery amid the prolonged COVID-19 pandemic," Health Minister Kwon Deok-cheol said in a televised briefing.
But on Jul 4, authorities reversed a decision to relax mask rules in the capital Seoul and its metropolitan area after a spike in cases, driven by people in their 20s and 30s and the rapidly spreading Delta variant.
Then, cases had risen to a daily average of 531.3 people, 46 per cent higher than the number a week earlier.
On Jul 7, President Moon Jae-in called for swift action to contain the outbreak, as the country reported a six-month high of 1,212 new daily cases.
The government delayed plans to cut back on restrictions, with Prime Minister Kim Boo-kyum warning that restrictions in Seoul and greater Seoul could be raised to the highest Level 4 if the situation did not improve.
Authorities then raised restrictions to the highest level in Seoul and some neighbouring regions for two weeks from Jul 12, after new COVID-19 cases climbed to a daily record for the second day running, although there was yet to be a significant increase in hospitalisations or deaths.
Under the Level 4 curbs, short of a full lockdown, people are advised to stay home as much as possible, schools are closed, public meetings are restricted to two people after 6pm and rallies or other events are banned.
On Jul 25, authorities announced that they would raise restrictions to Level 4 across most of the country that week, warning that the nation's worst-ever COVID-19 wave might spread further in the summer holiday season.
South Korea has since maintained the toughened restrictions, with Mr Kim saying on Sep 3 that the Level 4 curbs will remain in place in the greater Seoul area for one more month.
The country reported 1,709 new COVID-19 cases that day, with the daily tally staying above 1,000 for nearly two months even as the national vaccination campaign picked up pace.
Health authorities said on Wednesday that they were drawing up a plan on how to live more normally with COVID-19, adding that they expected 80 per cent of adults to be fully vaccinated by late October.
ENGLAND
On Jul 19, England moved to the final stage of easing COVID-19 measures, removing almost all legal restrictions on social contact. It did so ahead of other parts of the UK, with Scotland, Wales and Northern Ireland taking differing approaches to their handling of the pandemic.
In England, there were no limits on how many people could meet or attend events, nightclubs reopened at midnight, and face masks would be recommended in some places, but not required by law.
Despite that, Prime Minister Boris Johnson said it was vital to proceed with caution and warned that the pandemic was not over.
Some scientists predicted that UK infections – then at about 50,000 a day – could reach 200,000 a day later in the summer. 
But with more than 68 per cent of UK adults fully vaccinated, modelling suggested that hospital admissions, serious illness and deaths would be at a lower level than in earlier peaks, the BBC reported.
Still, Labour leader Sir Keir Starmer said the "reckless free-for-all" risked plunging the country back into restrictions.
But Mr Johnson insisted that it was the "right moment" to move into the final stage, saying that he hoped the roadmap would be "irreversible".
"If we don't do it now we've got to ask ourselves, when will we ever do it?" he said in a video posted on Twitter. 
"But we've got to do it cautiously. We've got to remember that this virus is sadly still out there. Cases are rising, we can see the extreme contagiousness of the Delta variant."
As of Tuesday, Scotland and Wales have also lifted most restrictions. Northern Ireland will ease many restrictions from Friday, but measures like indoor social distancing, mask wearing in some public settings and work-from-home where possible are expected to remain.
Although daily COVID-19 cases in the UK fell at the end of July, they have recently risen again, with 37,489 confirmed cases announced on Tuesday, driven by the Delta variant.
Daily deaths from COVID-19 in the UK have remained low, at a seven-day average of 135 people, but the number of patients in hospital is rising. 
The most recent government figures show 7,976 infected people hospitalised in the UK. A week earlier that figure was 7,315. More than 1,000 of those in hospital are using ventilators to help them breathe.
Scientists advising the government had warned soon after restrictions were lifted that face masks and other measures could be reintroduced in England if hospital admissions rose above anticipated levels.
The i newspaper reported on Tuesday that the government has drawn up plans for a partial "firebreak" lockdown in October, including extending a school break, should hospitals be overwhelmed by rising cases.
However, the Department of Education denied the reports in a tweet, saying: "It is not true that the Government is planning a lockdown or firebreak around the October half term."
Download our app or subscribe to our Telegram channel for the latest updates on the coronavirus outbreak: https://cna.asia/telegram