MOM introduces measures to retain work permit holders for construction, shipyard and process sectors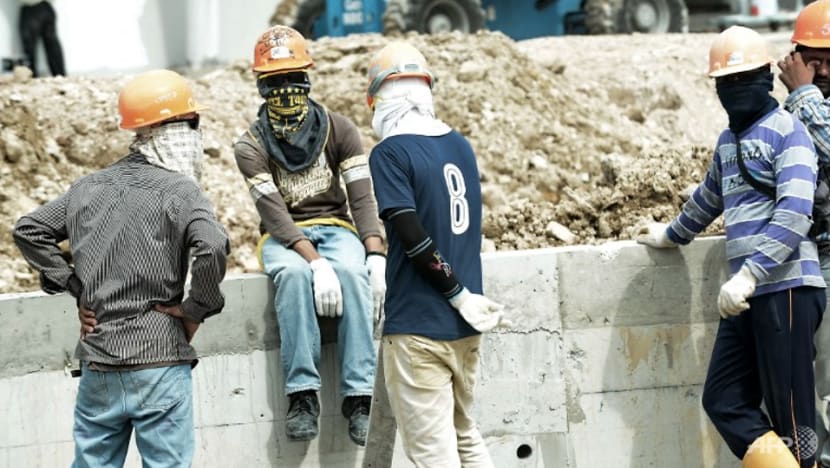 SINGAPORE: Work permit holders in certain sectors whose permits are expiring this year will be allowed to renew their permits for up to two years even if they do not meet renewal criteria, said the Ministry of Manpower (MOM) on Friday (Aug 13).
This includes work permit holders who are reaching the maximum period of employment, or who are reaching the maximum employment age. Firms also do not need to maintain at least 10 per cent of their work permit holders as higher skilled workers.
This is among a number of measures the Government is introducing to help companies retain workers in the construction, marine shipyard and process (CMP) sectors, which are facing a manpower crunch due to COVID-19 border restrictions.
Last year, the number of work permit holders in these sectors declined by about 60,000, said Manpower Minister Tan See Leng. This is about 16 per cent of the number of work permit holders.
"With these measures in place, we hope to support firms in the CMP sectors to ease the immediate manpower concerns due to tighter border restrictions," said Dr Tan. 
"Nevertheless, in the longer term, I seriously urge all firms, and I earnestly hope all of them will continue to transform their businesses, to reduce their manpower reliance, to tapping on technology and redesign the jobs to attract more locals."
He added that these measures are short-term and are meant to help fill gaps in certain industries for the time being.
OTHER MEASURES
From July, the validity of in-principle approvals of all work pass holders, including those with Employment Passes, S Passes and Work Permits who are unable to enter Singapore due to border control measures, are to be extended by up to one year.
This is as businesses have been impacted by successive waves of COVID-19 infection globally and changing border restrictions. It meant that a portion of workers whose work passes have been approved could not enter Singapore.
The Government will also partner the Singapore Contractors Association Ltd (SCAL) to introduce a six-month retention scheme from Sep 1, 2021 to Feb 28, 2022 for experienced construction work permit holders whose previous employment has been terminated.
Migrant workers whose work permits are cancelled or have expired, and wish to continue to work in Singapore, are eligible for the scheme.
Workers who wish to continue working in Singapore will be granted a 30-day stay during which SCAL will provide housing, food and other necessities while they search for employment.
The worker will start work if a job match is found, failing which, he will return to his home country. SCAL will arrange for the migrant worker's return to his home country and will bear the cost of repatriation, it said.
SCAL president Ng Yek Meng said that he is confident that the association would be able to place the workers with firms here as the market is "really, really short of workers".
Giving an update of an earlier scheme to bring in workers from India in a calibrated manner, he said that more than 540 workers came in through the programme after serving an isolation period in India at a hotel and being tested for the coronavirus. 
"We are bringing in more workers in a gradual manner, not only (from) India (but) also other countries in the region," said Mr Ng.
MOM will assess the effectiveness of this scheme together with industry associations and other stakeholders, before deciding if it can be introduced in other sectors.