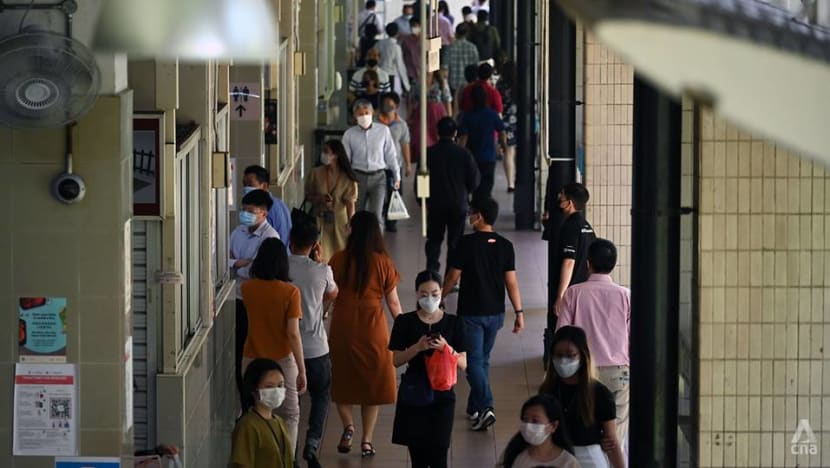 SINGAPORE: Singapore's daily new COVID-19 cases topped 5,000 for the first time on Wednesday (Oct 27).
The Ministry of Health (MOH) reported 5,324 new cases as of noon. Ten more people died from complications due to the virus.
The fatalities were aged between 54 and 96. All except one unvaccinated case had various underlying medical conditions. MOH did not specify what these conditions were.
This brings Singapore's death toll from the coronavirus to 349.
The number of new COVID-19 infections is a sharp increase from Tuesday's daily count of 3,277 cases and the previous high of 3,994 reported on Oct 19.
MOH said the numbers are "unusually high" on Wednesday, mostly due to many positive cases detected by the testing laboratories within a few hours on Tuesday afternoon. 
"MOH is looking into this unusual surge in cases within a relatively short window, and closely monitoring the trends for the next few days," the ministry added.
Among Wednesday's cases, 5,312 infections are locally transmitted, comprising 4,651 in the community and 661 in migrant workers' dormitories.
Twelve are imported cases, MOH said in its daily update released to media at about 11pm.
The weekly infection growth rate is 1.15 as of Wednesday. This refers to the ratio of community cases for the past week over the week before.
Over the last 28 days, 98.7 per cent of the 90,203 infected individuals had no or mild symptoms.
Another 0.9 per cent required oxygen supplementation in the general ward, 0.1 per cent were unstable and under close monitoring in the intensive care unit (ICU), while 0.1 per cent were critically ill and intubated in the ICU. Those who have died make up 0.2 per cent.
As of Wednesday, Singapore has reported a total of 184,419 COVID-19 cases since the start of the pandemic.
HOSPITALISATIONS AND HOME RECOVERY
Among all the COVID-19 community cases that have been onboarded or admitted, 20,895 patients, or 74.3 per cent, are undergoing home recovery.
Another 4,589 are in community care facilities and 849 are in COVID-19 treatment facilities.
The remaining 1,777 patients are warded in hospital, mostly for observation, said MOH. Of these, 308 patients need oxygen supplementation in general wards.
In ICU, 76 cases are unstable and under close monitoring to prevent further deterioration, and 66 are critically ill and intubated.
A total of 3,172 cases were discharged on Wednesday, of which 484 are seniors aged above 60.
"The current overall ICU utilisation rate is 79.8 per cent, and MOH is in the process of standing up more ICU beds," said the ministry.
Over the past seven days, the number of fully vaccinated people who are critically ill in the ICU per 100,000-population are at 0.5, while non-fully vaccinated cases are at 4.3.
In the same period, the number of fully vaccinated and non-fully vaccinated cases who died are 0.1 and 0.8 per 100,000-population respectively.
Among seniors aged 60 and above, the number of fully vaccinated and non-fully vaccinated cases who are critically ill in the ICU are 2.2 and 32.6 respectively. The number of fully vaccinated and non-fully vaccinated seniors who died are 0.3 and 7.7 respectively.
As of Tuesday, 84 per cent of people in Singapore have received the full regimen or two doses of COVID-19 vaccines, while 85 per cent have received at least one dose and 14 per cent have received their booster shots.
ACTIVE CLUSTERS
MOH said it is closely monitoring seven active clusters.
Nine new cases were added to the IMH cluster, bringing the total number of infections linked to the cluster to 153. The majority of the cases involved patients, with ten staff members infected.
Bukit Batok Home for the Aged - the largest of the clusters on the list - reached 157 infections after one more case was linked to the cluster.
Clusters at Maple Bear Loyang, Banyan Home @ Pelangi Village, AWWA Community Home for Senior Citizens, PCF Sparkletots at Zhenghua and MWS Christalite Methodist Home also added new cases.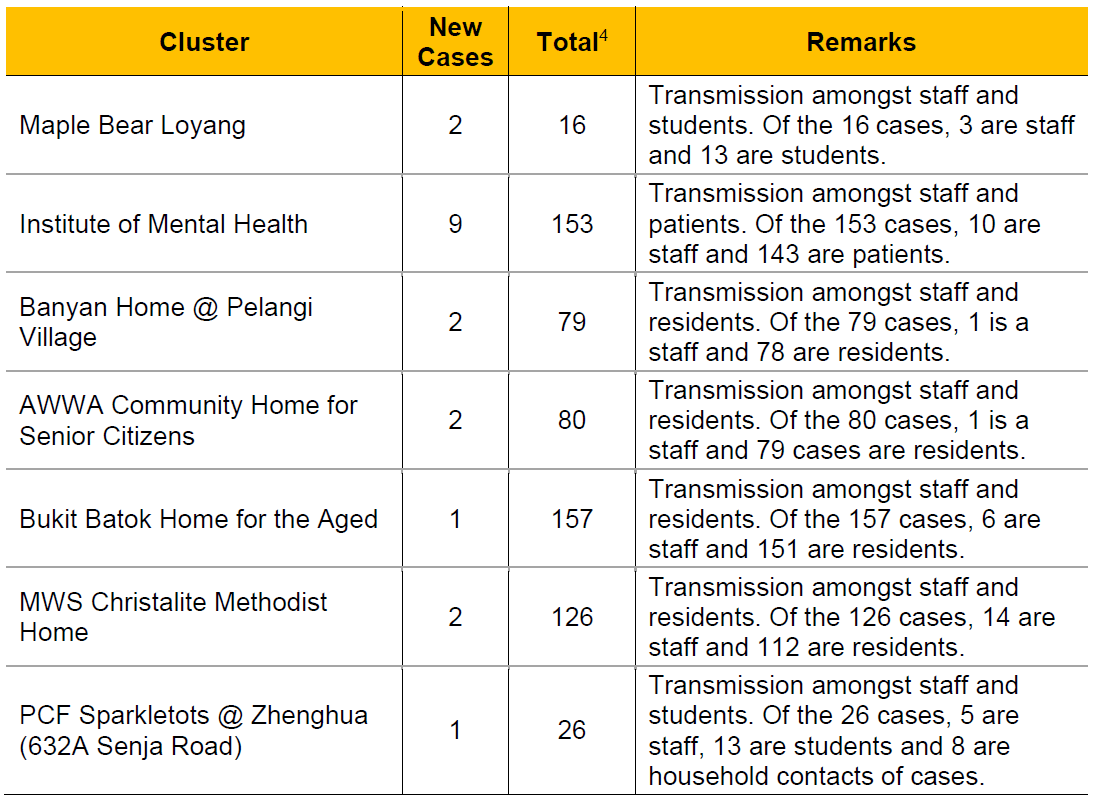 CASES THAT ENTERED SINGAPORE VIA VACCINATED TRAVEL LANE
Five out of more than 5,100 travellers who entered Singapore via the vaccinated travel lanes have tested positive for COVID-19.
Minister for Transport S Iswaran provided the figures on Tuesday, during a virtual media briefing announcing the opening of vaccinated travel lanes with Australia and Switzerland from Nov 8.
The scheme currently covers 10 countries - Brunei, Canada, Denmark, France, Germany, Italy, the Netherlands, Spain, the United Kingdom and the United States. A similar arrangement with South Korea will begin on Nov 15.
Under the scheme, vaccinated travellers can enter Singapore without having to serve quarantine. They will instead have to take a polymerase chain reaction (PCR) test up to 48 hours before departing and when they arrive.