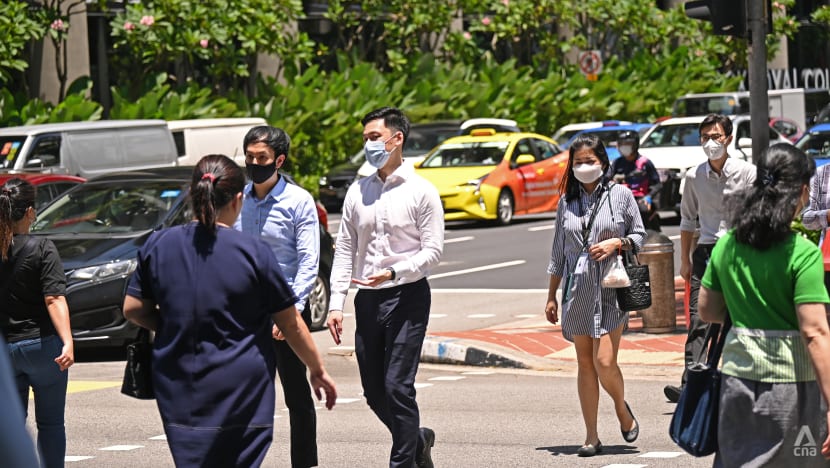 SINGAPORE: Singapore reported 2,809 new COVID-19 cases as of noon on Sunday (Oct 10) as nine more people died from complications due to the virus.
The fatalities are all Singaporeans, comprising eight men and one woman, aged between 70 and 88.
Among them, four were unvaccinated against COVID-19, three were partially vaccinated and two were vaccinated. All of them had various underlying medical conditions.
This takes Singapore's death toll from the coronavirus to 162.
New infections have decreased below the 3,000-mark for the first time in six days.
"The fall in the number of cases today is likely due to fewer swabs being done over the weekend at Public Health Preparedness Clinics (PHPCs) and polyclinics, and is not indicative that the epidemic curve is bending," said the Ministry of Health (MOH) in its daily update released to media at about 11.15pm.
CNA has sought clarification from the ministry on why fewer tests were done.
Among the cases, 2,807 infections are locally transmitted, comprising 2,176 cases in the community and 631 in migrant worker dormitories. Two are imported cases.
As of Sunday, Singapore has reported a total of 126,966 COVID-19 cases since the start of the pandemic.
HOSPITALISATIONS
There are 1,613 patients currently warded in hospital. Most of them well and under observation, said MOH. Among them are 292 patients who require oxygen supplementation and 41 in intensive care.
Over the last 28 days, of the 55,096 infected individuals, 1.2 per cent were in need of oxygen supplementation and 0.1 per cent were in intensive care. Of these, 48.8 per cent were fully vaccinated and 51.2 per cent were unvaccinated or partially vaccinated.
ACTIVE CLUSTERS
MOH said it is "closely monitoring" two active clusters, United Medicare Centre (Toa Payoh) and ASPRI-Westlite Papan Dormitory which added one and four new cases respectively.
The cluster at United Medicare Centre, which is a nursing home, involves transmission among 13 staff members, 60 residents and one household member of a case, said the ministry.
It added the cluster at ASPRI-Westlite Papan dorm, which now has 237 infections, involves intra-dormitory transmission among residents with no evidence of spread beyond the dormitory.
All the new cases in these clusters were already in quarantine, said MOH.
GRACE PERIOD FOR VACCINATION ENTRY REQUIREMENT TO SHOPPING MALLS
Following the announcement by the COVID-19 multi-ministry task force on Saturday of vaccination-differentiated safe management measures at shopping malls, the authorities on Sunday said a week of grace period will be extended from Oct 13 for their implementation.
Once the new measures are implemented, only fully vaccinated people will be allowed to enter shopping malls and large standalone stores that are not supermarkets. Large standalone stores are defined as those that have more than 930 sq m of gross floor area, according to the COVID-19 task force.
The vaccination requirement is intended to "protect unvaccinated individuals and reduce the strain" on the healthcare system, said the task force.
On Sunday, the authorities said children aged 12 and below, those who have recovered from COVID-19, and unvaccinated people with a valid negative pre-event test result will still be allowed to enter these premises.
MOH has also announced that unvaccinated individuals will not be allowed to dine-in at hawker centres and coffee shops from Oct 13. However, they can still take away food.