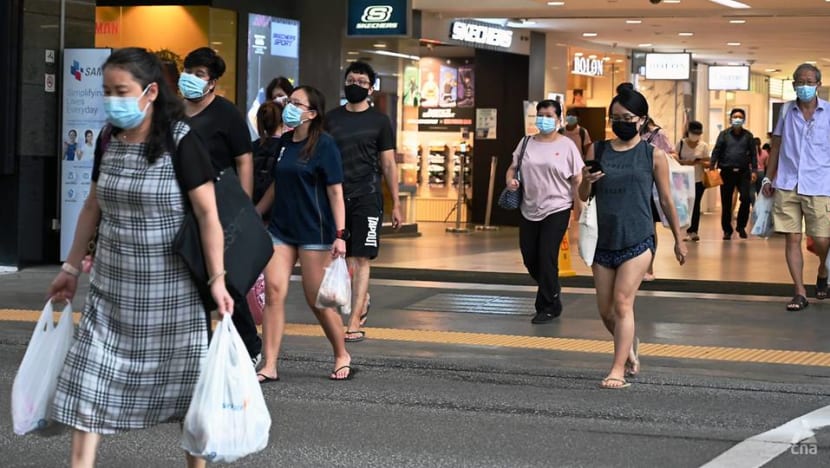 SINGAPORE: Singapore reported a total of four new COVID-19 cases as of noon on Wednesday (Jun 9), the lowest in nearly four months.  
Two community cases were reported, including one with no links to previous cases, said the Ministry of Health (MOH). 

The sole unlinked community case is a 29-year-old Myanmar national who works as a repair worker at Grandwork Interior, a construction company.

The man developed a fever on Jun 1 and sought medical treatment at a general practitioner clinic on the same day. He later developed body aches on Jun 4 and returned to the same clinic.
The man was not tested for COVID-19 on both occasions. 
He was detected when he was tested on Jun 5 as part of rostered routine testing, said the Health Ministry. His pooled test result came back positive for COVID-19 on Jun 7. An individual test was conducted and the result came back positive for COVID-19 on the same day.

His earlier tests from rostered routine testing, the last being on May 8, had all negative for COVID-19 infection.
His serology test result is positive. 
MOH said the man received his first dose of the COVID-19 vaccine on May 31. 
KITCHEN ASSISTANT LINKED TO NTUC FOODFARE CLUSTER
The other community case was linked to an earlier case and had already been placed in quarantine, said MOH.
Case 64117 is a 21-year-old Malaysian man who works as a kitchen assistant at Rice Garden at 308 Anchorvale Road. He is a workplace contact of a previously reported case and was placed on quarantine on May 29. 

The man tested for COVID-19 on May 30 and his test result was negative. He later developed a fever and cough on Jun 7 and reported his symptoms. He was tested for COVID-19 on Jun 8 and his test result came back positive on the same day. 
His test result is pending. 

There were also two imported cases who had been placed on stay-home notice upon arrival in Singapore. One is a Singaporean who returned from Iraq and the other is a permanent resident who returned from India. 
Both cases were tested while serving their stay-home notice. 
No new infections were reported in migrant workers' dormitories.
This is the lowest number of cases Singapore has reported since Feb 23 this year, when four cases were also reported.
Another 38 cases were discharged from hospital on Wednesday, bringing the number of people who had fully recovered to 61,740.
There were 158 cases still in hospital, including one in critical condition in the intensive care unit.
A total of 291 cases had been isolated and were being cared for at community facilities.
Overall, the number of new cases in the community fell from 126 cases in the week before to 71 cases in the past week.
The number of unlinked cases in the community also fell from 26 cases in the week before to six cases in the past week.
Among the 123 confirmed cases reported from Jun 3 to Jun 9, 72 cases had tested positive for their serology tests, 42 had tested negative and nine serology test results were pending.​​​​​​​

Multiple shops within Marina Bay Sands and ION Orchard were added to MOH's list of public places visited by COVID-19 community cases during their infectious period.
Miu Miu and Church's at Marina Bay Sands were on the list, as were Tiffany & Co and Dolce & Gabbana at ION Orchard. 
Shopping mall Yew Tee Point also appeared on the list twice.

UPDATE ON MASS TESTING IN PUNGGOL AND HOUGANG
On Wednesday evening, MOH issued an update on the COVID-19 testing being conducted on residents of several housing blocks in Punggol and Hougang.
None of the residents and visitors of 325A Sumang Walk has tested positive so far in the mandatory swabbing exercise.

As of noon, 419 residents and visitors of the Punggol block had been tested. Of these, 394 people tested negative while the test results for 25 people were pending.   
As for the voluntary testing for visitors of Block 506 Hougang Avenue 8, as well as residents and visitors of seven neighbouring blocks, MOH said 4,236 people were swabbed.
Of these, 4,140 people tested negative and the results of 96 individuals were pending.

The seven neighbouring blocks are blocks 511, 681, 682, 683, 684, 685 and 698.
Testing for these housing areas was initiated after several positive cases were detected in some blocks.

As of Wednesday, Singapore has reported 62,223 COVID-19 cases and 34 fatalities.
Download our app or subscribe to our Telegram channel for the latest updates on the coronavirus outbreak: https://cna.asia/telegram